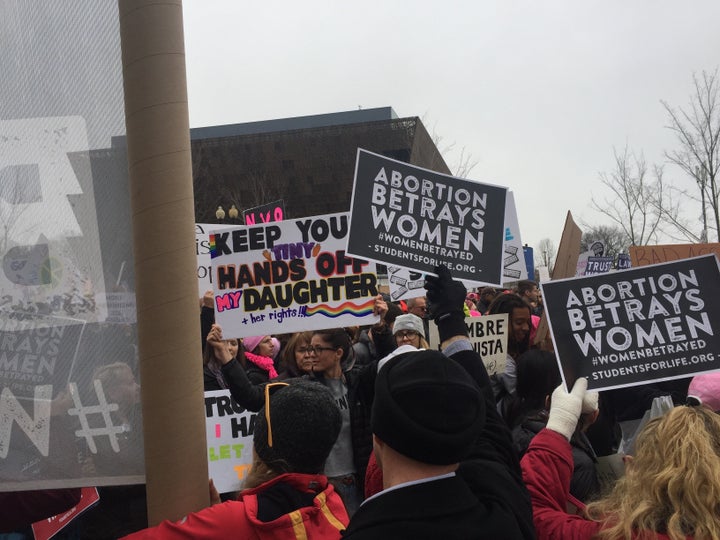 WASHINGTON ― Women who describe themselves as both feminists and against abortion gathered along the route of the Women's March on Washington Saturday, staking out a visible spot on the corner of 15th Street and Constitution Avenue with an "Abortion Betrays Women" sign so big it took five people to hold it up.
The anti-abortion groups came to the march despite being bumped as partners after a kerfuffle last week. The event's most prominent partners included Planned Parenthood and NARAL Pro-choice America, and its unity principles included "open access to safe, legal, affordable abortion and birth control." So the formal inclusion of groups that oppose abortion was not going to go over well.
Still, the women against abortion said they wanted their voices heard during the historic event. Their signs included the slogans "Real feminists reject abortion" and "Life empowers women."
This provoked a fair amount of back and forth with other marchers, which seemed to be what the group was aiming for.
Marchers responded with choruses of "My body, my choice" and expletives. "I had an abortion!" one woman shouted at them.
The anti-abortion contingent said they weren't there to protest the protest. "We're not protesting the march," said Catherine Glenn Foster, general council for Stanton Healthcare, one of the organizations that applied to be a partner. "We wanted to be part of it."
Foster estimated there were somewhere between 50 and 100 people in their group, between Stanton's supporters, members of the group New Wave Feminists and Students for Life.
"We're all in favor of women's rights," Foster said. "We just think they start earlier than some other people do."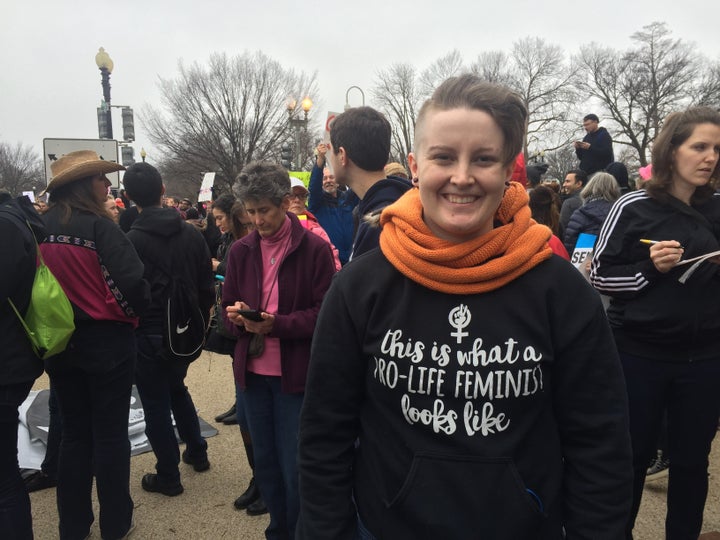 "I consider myself a pro-life feminist, and I didn't think we were being represented in this march," said Mary Grace Coltharp, a 17-year-old from Virginia active in Students for Life. "I as a woman deserve to be represented, and because unborn female fetuses can't represent themselves obviously."
Coltharp was too young to vote this year, and seemed undecided about the new president. "There's a lot of problems with his character and policies," she said. But at the same time, she continued, "he's made a lot of promises about pro-life issues."
Lisa Twigg, 28, of Spotsylvania, Pennsylvania, said she would have come to the march anyway, even though anti-abortion groups weren't formally included. She was wearing a knit hat that looked like a fox and a hoodie that read: "This is what a pro-life feminist looks like."
Twigg said she's also against the death penalty, torture and unjust wars ― not just abortion ― and felt like she needed to be at the march.
"I still wanted to come because I do believe in the spirit of the march. I did not vote for [Trump]. I want to hold him accountable for how he treats women," she said. "I didn't want to crash anybody's party or anything like that. I truly believed that I wanted to be here as a woman, and make my voice heard."
The anti-abortion attendees said they think there is a place for them, given that polling finds about half of Americans believe there should be at least some restrictions on abortion. "This is not a monolithic march. It's a march of so many diverse people and diverse viewpoints," Foster said. "Yes, there have been some who have been against our message, but there have been a lot in favor as well."
The majority of marchers passing the anti-abortion group's outpost would certainly fall into the former category. But there were some kind words as well. "Thank you for being here today," said one middle-aged marcher. "You're very brave."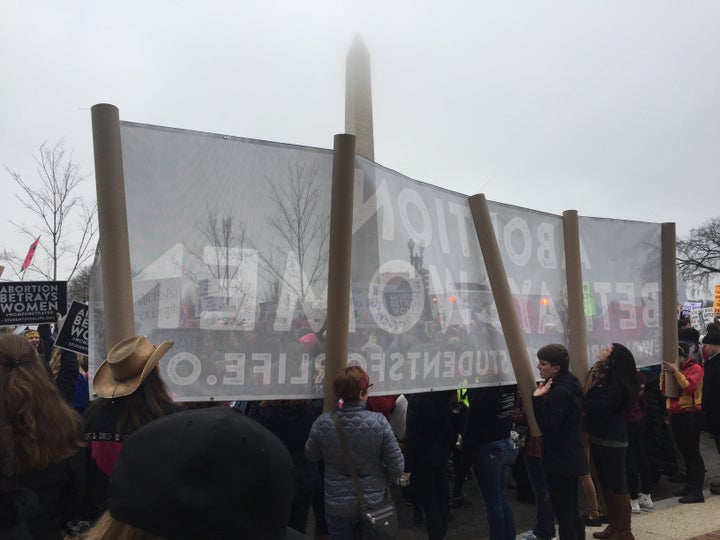 Popular in the Community