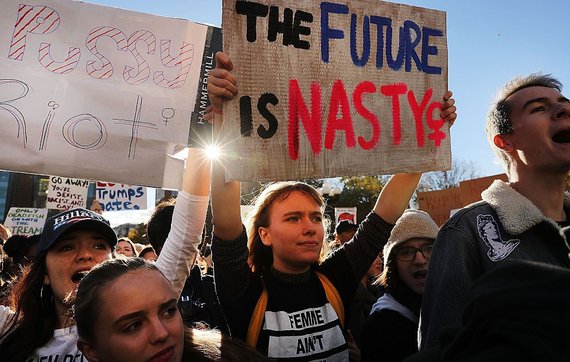 As over 200,000 protestors converge on DC this weekend for the Women's March and other anti-Trump rallies, conservatives have a message: the protestors are marching against democracy and representative government.
Writing in The Spectator, Joanna Williams claimed that "the Women's March on Washington is a protest against democracy," composed of bitter "Trump-haters" who have forgotten basic democratic principles in a "cry of rage."
"Protesting against an incoming president," she declared, "is less a bid to overturn new laws and more an expression of distaste against the electorate."
Dave Jones, a prominent Trump supporter, went further, arguing the planned peaceful demonstration is "direct assault on our democracy."
They're wrong. The hundreds of thousands of women and allies marching in DC--and in 620 cities across the world in solidarity-- are not protesting democracy. They are defending it.
Democracy is more than the scramble to 270 electors in the electoral college. It's more than winning the most votes. (By that metric, incidentally, Hillary Clinton won overwhelmingly).
True democracy builds a society and civic culture in which all people are regarded with respect, dignity, and care. True democracy safeguards fundamental rights. True democracy protects the vulnerable and supports the disenfranchised.
The best articulation of this conception of democratic theory comes from the late Ronald Dworkin, a legal philosopher who taught at Oxford, NYU, and Yale Law School. According to Dworkin, governments gain legitimacy by "treat[ing] all those in its charge as equals, that is entitled to equal concern and respect."
Majoritarianism is part of democracy. To apply Dworkin's framework, granting one vote to each person gives "equal concern and respect" to a polity. But democracy is much more expansive than counting ballots in an election. "Democratic elections" and "democracy" are not synonyms.
To Dworkin, "equal concern and respect" involved protecting individual rights. He called individual rights "political trumps held by individuals."
These political trumps are more important than political Trump. Politicians, even those elected democratically, cannot violate individual rights. And rights, in turn, provide the foundation for democracy.
The marchers (and full disclosure: I am one of them, participating in the Women's March in London) are responding to Trump's failure to respect individual rights and equality. The proposed policies and actions of President-Elect Trump militate against a true democracy, even if he was democratically elected.
Consider candidate Trump. He vowed to discriminate against religious minorities, crack down on the press, round up immigrants, punish women for abortions, and revitalize torture. These policies hardly treat people with "equal concern and respect."
Or take Trump's actions since November 8. He's refused to renounce some of his most odious policies. He's appointed White House advisers who have promoted Islamaphobia, white nationalism, and anti-Semitism. In public statements, Trump has reaffirmed his contempt for the basic rights that are central to democracy.
And most frighteningly, he's double downed on implementing his proposals to restrict individual rights. Just last night, Trump told donors, "We will do what we said we will do. Believe me."
In Freedom's Law, Dworkin posited, "deference to temporary majorities on matters of individual right is... brutal and alien, and many other nations with firm democratic traditions now reject it as fake."
Ultimately, the protestors are refusing to give "deference to [Trump's] a temporary majority on the matters of individual rights." And in the process, they are upholding "democratic traditions," not undermining them.
They're not just marching against Trump, but for democracy.
Calling all HuffPost superfans!
Sign up for membership to become a founding member and help shape HuffPost's next chapter