WASHINGTON ― The nation's capital was a sea of pink Saturday as women ― and many men ― from all over the country streamed into the city to speak out as an opposition force the day after Donald Trump was inaugurated as the 45th president.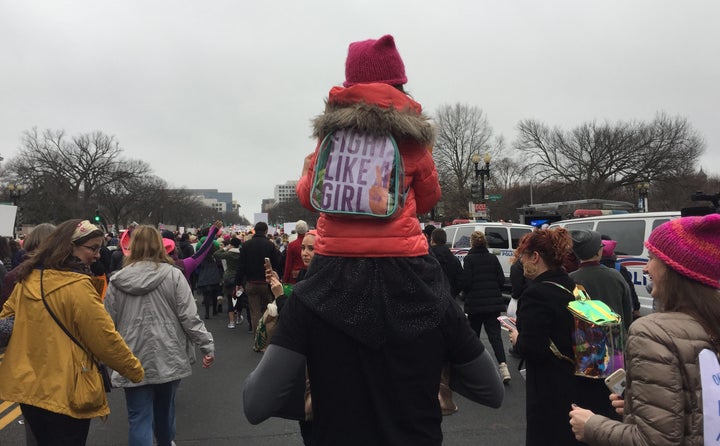 "I've heard a lot of people say they think, 'Oh, this is useless. It's just a big party and a big show.' But I think it can create forward momentum and people will keep resisting. I don't think it's a big party," said Sally Madsen, 65, a Washington, D.C., resident whose sister from Minnesota was joining her at the march. "I think we have to show that we're still here, and we're not going to be silent and we're not going to be railroaded."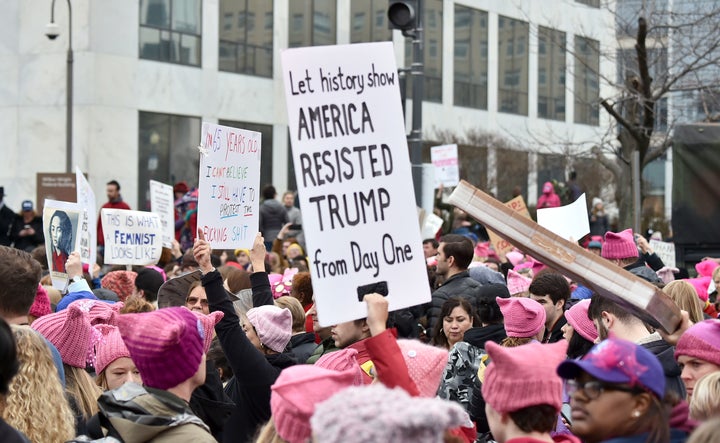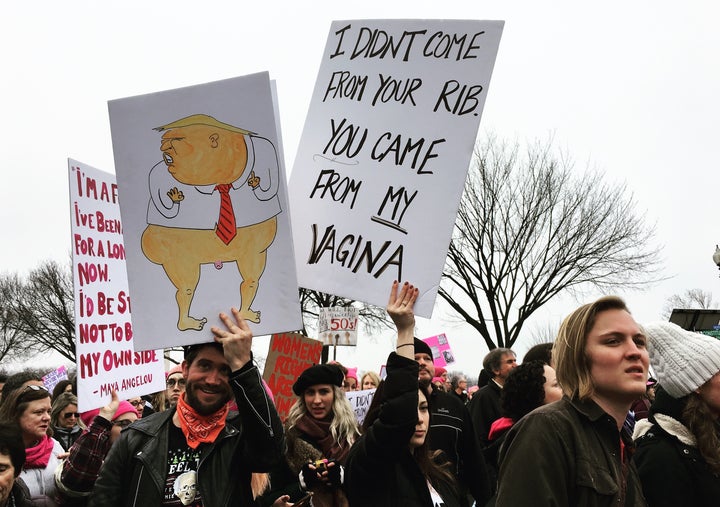 People have been preparing for this event since the day after the election, when word began to spread on social media that there would be a march for women following the inauguration.
"How do you not hear about this march?" said Rob Neff, 46, who came from Baltimore with friends for the march.
As of Saturday morning, the Women's March seemed on pace to perhaps draw more people than Trump's inauguration. There were widespread accounts on social media that the metro system was jam-packed, with people unable to get on trains or smushed together with their fellow marchers when they were lucky enough to squeeze in.
The Women's March also drew far more starpower than Trump's inauguration, which wasn't able to attract big-name performers. Even the acts it did get ― the Rockettes and the Mormon Tabernacle Choir, for example ― were mired in controversy as performers were unhappy that they were being asked to dance or sing for a man they disliked.
The Women's March boasted a lineup of speakers, performers and attendees that included feminist icon Gloria Steinem, actress Scarlett Johansson, singers Janelle Monáe and Madonna, and filmmaker Michael Moore.
"This is the upside of the downside. This is an outpouring of energy and true democracy like I have never seen in my very long life," Steinem said to the cheering crowd. "It is wide in age, it is deep in diversity, and remember, the Constitution does not begin with 'I the president,' it begins with, 'We the people.' So don't try to divide us!"
Women who have been personally hurt by Trump came to the city as well.
There weren't many Trump fans at the march Saturday. But not everyone cited opposition to the new president as the reason they were marching, although his election and what he campaigned on laid beneath the entire day.
Helen Brock was among a group of Flint, Michigan, residents who came in a bus to urge Trump to address the city's water problems. She ended up moving 15 miles outside Flint because her hair was starting to fall out.
She said she's not a Trump supporter, but "I'm going to give him the benefit of the doubt, because I really don't have a choice."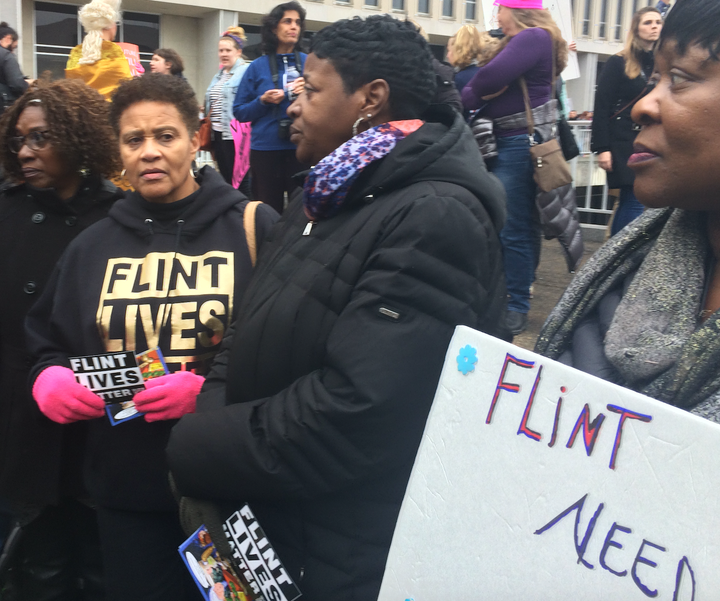 Nellis Kennedy-Howard, who is Navajo, came to the march with her wife and colleagues from the Sierra Club, where she works. Pointing to the statistic on her sign, she said, "We don't want to promote rape culture any further than the problem that we already have, and this president is not doing a very good job of modeling that type of behavior."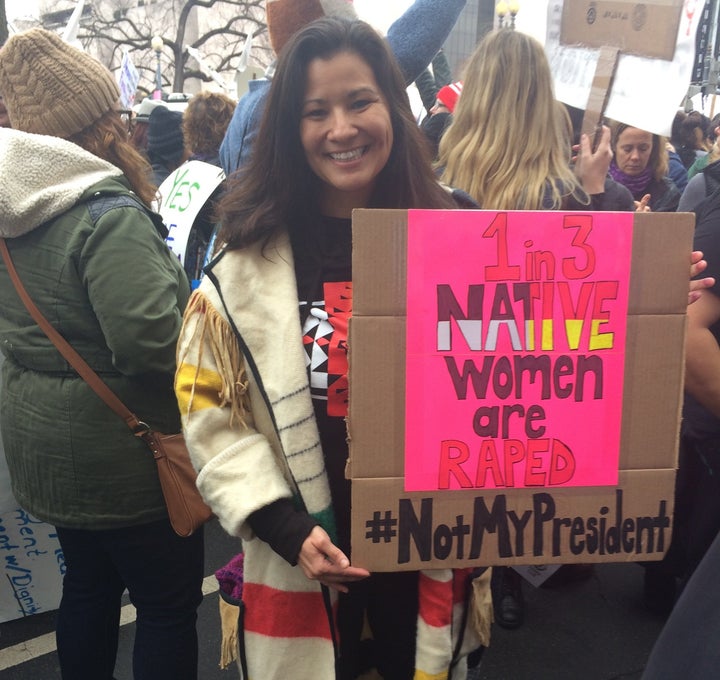 There were still a few Trump supporters wandering around downtown D.C. Saturday. One man who was in town for the inauguration with his family from Ohio ― and was conspicuously sporting a "Make America Great Again" hat ― said they just really wanted to see the White House, even though they knew the march would be happening.
"They have their day, we had ours. ... We're all still one America," he said.
Two vendors selling Trump gear said that while they had great business Friday, they weren't so successful Saturday.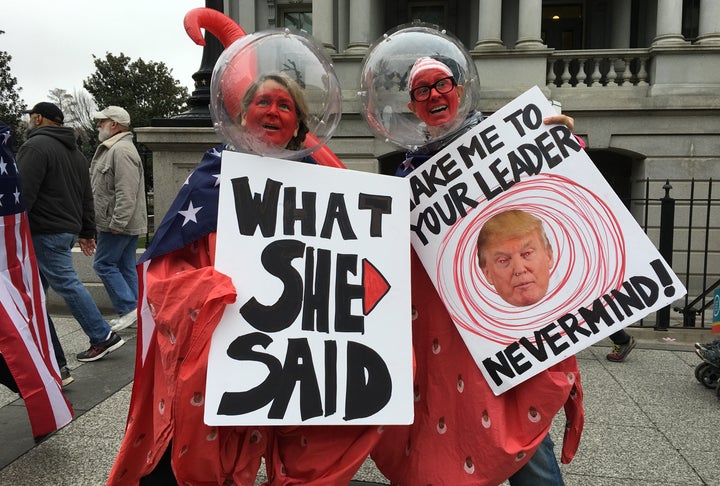 Dana Liebelson contributed reporting.
Want more updates from Amanda Terkel? Sign up for her newsletter, Piping Hot Truth, here.
Popular in the Community