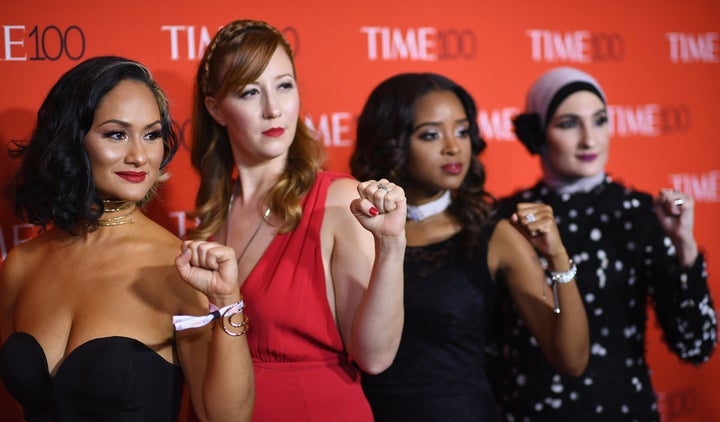 The original founder of the Women's March, Teresa Shook, demanded that the organization's four co-chairs ― Linda Sarsour, Carmen Perez, Tamika Mallory and Bob Bland ― step down for allowing "anti-Semitism, anti-LBGTQIA sentiment and hateful, racist rhetoric" to become part of the organization's platform.
In a Facebook post published Monday afternoon, Shook wrote that the four public faces of the Women's March should resign because they have strayed from the group's goals.
"I have waited, hoping they would right the ship. But they have not," Shook wrote. "In opposition to our Unity Principles, they have allowed anti-Semitism, anti-LBGTQIA sentiment and hateful, racist rhetoric to become a part of the platform by their refusal to separate themselves from groups that espouse these racist, hateful beliefs."
"I call for the current Co-Chairs to step down and to let others lead who can restore faith in the Movement and its original intent," Shook continued. "I stand in Solidarity with all the Sister March Organizations, to bring the Movement back to its authentic purpose."
The organization came under fire this year when Mallory was spotted at an event hosted by Louis Farrakhan, the leader of the religious group the Nation of Islam who has a history of making anti-Semitic and anti-gay remarks. The day Mallory attended the event, Farrakhan delivered a three-hour speech in which he said "the powerful Jews" are his "enemy." Mallory later posted an Instagram video and photo of herself at the event praising Farrakhan.
Mallory explained her ties to Farrakhan in a News One essay, writing that she began attending Nation of Islam events when her son's father was slain 17 years ago.
Outlets later reported that that Sarsour and Perez also had personal ties to Farrakhan. All four co-chairs declined to denounce the controversial religious leader after harsh criticism from fellow activists.
The organizers responded to Shook in a Monday Facebook post, thanking Shook for her work, but saying she had "irresponsibly" commented on the matter.
"Today, Teresa Shook weighed in, irresponsibly, as have other organizations attempting in this moment to take advantage of our growing pains to try and fracture our network," the post reads.
"We are imperfect. We don't know everything and we have caused harm. At times we have responded with hurt. But we are committed to learning," the post continued. "... We are grateful for people who HAVE been with us for the past two years, wrestling with the challenges and opportunities of what we are trying to build. Our ongoing work speaks for itself. That's our focus, not armchair critiques from those who want to take credit for our labor."
"The horrific tree of life shooting happened that took the life of 11 innocent Jewish Americans and all of a sudden Women's March was being asked to condemn the Minister Farrakhan," Sarsour wrote. "There was nothing new that happened between Women's March and the Minister. Folks decided to rehash 8 months ago."
She reiterated that the Women's March rejects all forms of anti-Semitism and racism, adding: "We have been CLEAR that Minister Farrakhan has said hateful and hurtful things and that he does not align with our Unity Principles of the Women's March that were created by Women of Color."
Clarification: Language in this story has been amended to clarify that Perez and Sarsour were reported to have had personal ties to Farrakhan, while the organization as a whole and all four co-chairs came under fire for those ties.
HuffPost's "Her Stories" newsletter brings you even more reporting from around the world on the important issues affecting women. Sign up for it here.
Popular in the Community