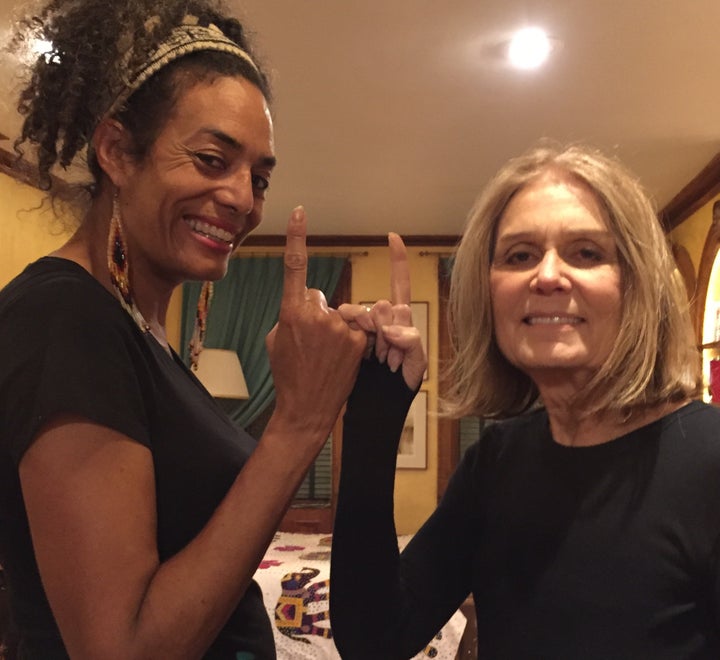 A minute of silence will unite the largest global human rights event in history — the worldwide Women's March — this Saturday (Jan 21) across all time zones on earth.
But for the thousands who cannot attend, there is still a way to take part: by joining legendary feminist, author, and WMW honorary co-chair, Gloria Steinem, in the 1@1 initiative — a global minute of silent solidarity for equality at 1pm Eastern Standard Time.
All who believe in women's equality are invited; whatever age, race, religion, political affiliation, economic status, gender, ability, or language. A countdown by Gloria Steinem will be streamed on YouTube Live.
Gloria Steinem said: "In the 1@1 shared minute of silence for women's equality, wherever we are, we can all be together, whether technology fails or not. We join physically and spiritually together in support of each other, worldwide."
The 1@1 campaign, in partnership with WMG, the Ms. Foundation and the ERA Coalition, was created to unite all women and girls who are unable to be at one of the marches for various reasons, such as: care givers, those who have to work, women who are not at liberty to attend, and the sick.
Founder of 1@1, Aly Palmer, said: "Whether able to attend a rally or not, whether gathered with others or alone, all can join this unifying action on behalf of women, girls and the future of all our nations. Even the time zones asleep can dream of equality.
"No matter where you are, women are encouraged to drop everything and rise any way you choose in one minute of silence. For our mothers, our sisters, our daughters and ourselves. For our human and constitutional rights beyond all boundaries. If you believe that women's rights are human rights, then join your sisters around the world and — for one minute — rise as one."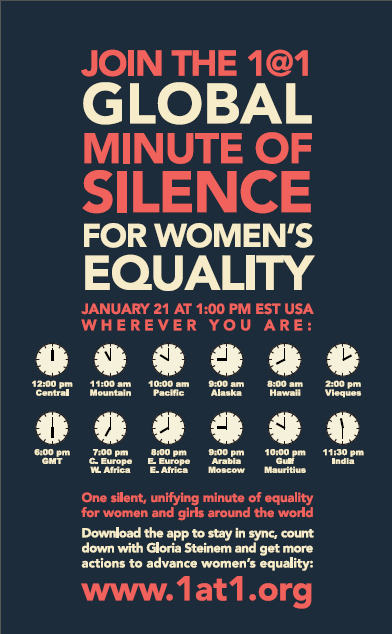 Women across the U.S. and the world have already pledged to synchronize in their own time zones for the minute's silence, including organizations in Norway, The Netherlands, Germany, Israel, Canada and the U.K.. A large group of women in Iraq will rise, as will a group from the #IWillGoOut protests against sexual attacks in Bengaluru, India.
Many WMG organizers from across six continents, will be inviting women to take part.
Women's March Frankfurt organizer, Micaela Leon, said: "We will call for our fellow marchers and supporters to stand one minute in silence; not only to support our sisters in the U.S.A., but to connect with all women worldwide for equality. By standing in silent solidarity, I hope we will raise awareness of how each and every one can help achieve equality for women, not only around us but around the globe."
To find out more and participate fully in the 1@1 global countdown with Gloria Steinem and the 1@1 Action Plan, download the 1@1 app at www.1at1.org.
Related
Popular in the Community