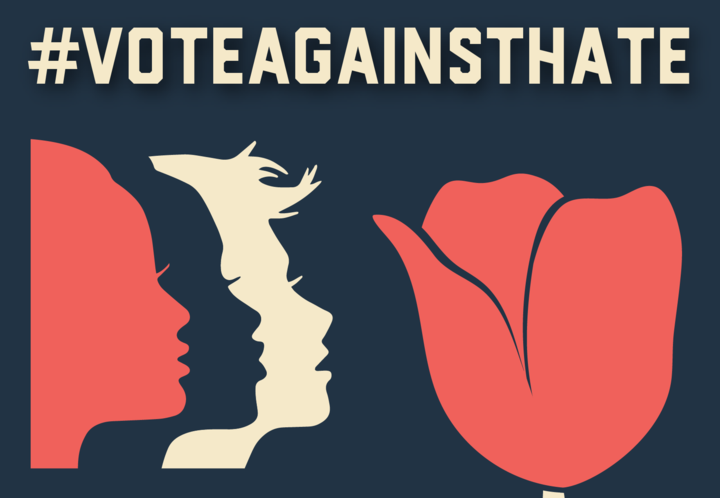 Women's March Global (WMG) is calling for the Netherlands to #VoteAgainstHate in the upcoming Dutch elections in a bid to stop the spread of right-wing populism in Europe.
The WMG #VoteAgainstHate campaign invites the world to stand in solidarity with Women's March for a United Netherlands — to be held in Amsterdam on Saturday March 11 — ahead of the controversial Dutch elections involving far-right candidate Geert Wilders, dubbed by Politico as "the man who invented Trumpism".
WMG is calling on women's march organizers across 200 cities in 80 countries to spread the word about #VoteAgainstHate which launches on Friday March 10 — the day before the Amsterdam march. The campaign aims to highlight the potential impact of the Dutch elections on the world's political stage.
Petra Benach, initiator of Women's March Amsterdam, said: "More than four million women marched across the world the day after Trump's inauguration — and this time, we're taking to the streets for the Netherlands we love, before anything similar could happen here. It's to wake up all our fellow citizens about how much is at stake in these elections and show that their vote really matters."
Everyone is invited to take part in #VoteAgainstHate by taking three simple steps:
Place a tulip in front of the Dutch Embassy or public square in your city or town... or/and
Write a short message of solidarity to the Dutch people
Take a selfie with the above and share on social media with any of these hashtags: #VoteAgainstHate #WomensMarch1NL #WMGlobal
Up to 10,000 people are expected to take to the streets in Amsterdam, on March 11 – the weekend before the Dutch general elections on March 15 – for the Women's March for a United Netherlands. Marchers will be campaigning for a united Netherlands, one that stands for equality, diversity, inclusion, and makes a strong call against sexism and racism. Many will be uniting with the color of the Netherlands' identity – orange.
WMG Netherlands organizer, Anke Kluppels, said: "This election is crucial for Europe and the world. The electoral rhetoric has been one of exclusion and polarization, in the Netherlands as well as in other countries. We cannot just sit still and wait. We have the responsibility to act, to resist and we need to do this together. As a women-led movement we stand against all forms of oppression. According to the constitution, all humans are equal in the Netherlands, however, still the gender wage gap is eighteen per cent, still one out of five women has experienced domestic violence. And still, there are only a few women MPs, let alone women of color. The stakes are high this time."
Recent polls have suggested that the Party for Freedom (PVV), led by Geert Wilders, could receive the largest share of the vote. Wilders was found guilty last December of inciting discrimination, and at his campaign launch in February this year, he referred to Moroccans as "scum".
PVV largely focuses on anti-Muslim measures such as closing mosques and Islamic schools and barring Muslim migrants. It also pledges to withdraw the Netherlands from the EU and close Dutch borders.
Petra Benach, added: "We'll march to show that more unites us than divides us and no one will drive us apart. We'll march for our children to grow up in a world filled with love and compassion, not hate and suspicion. But to do that, we all need to march together – so join us!"
Calling all HuffPost superfans!
Sign up for membership to become a founding member and help shape HuffPost's next chapter
This post was published on the now-closed HuffPost Contributor platform. Contributors control their own work and posted freely to our site. If you need to flag this entry as abusive,
send us an email
.