The rallies, held a day after U.S. President Donald Trump took his oath of office, aimed to promote gender equality and call for an end to the marginalization and discrimination of women.
In London, thousands of demonstrators filled miles of city streets as they marched toward Trafalgar Square. Carrying signs with slogans like "a woman's place is in the White House" and singing anti-Trump songs, the crowd represented part of the outraged international reaction to the new U.S. president and his administration.
Some participants waited more than an hour in the cold to begin marching, but passed the time with chants and excited discussion about why the protest mattered to them.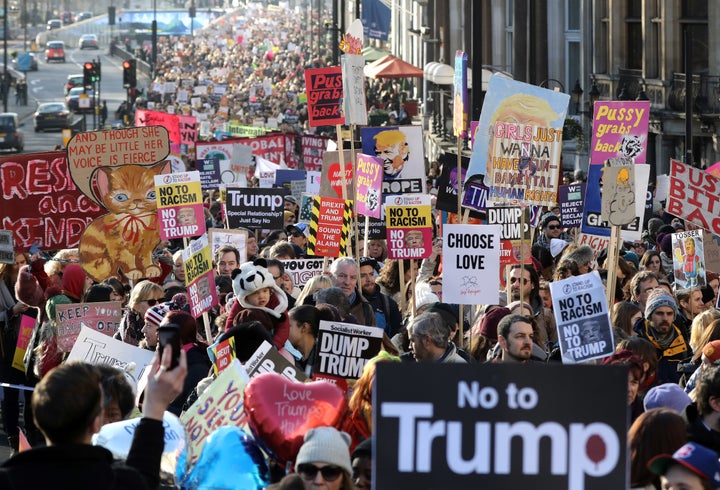 Cara Spelman, 22, said she saw similarities between Trump and some far-right movements across Europe.
"Everyone's just kinda out here because it's the last straw, I think, with Brexit and this, and France and hyper-nationalism. Everyone's just sick of it. That's why I'm here," she said. "People are kind of sick of this wave of bigotry."
Spelman, a graduate student in gender studies at University College London, said she also joined the rally to push for abortion rights in her native Ireland, where the practice is currently illegal.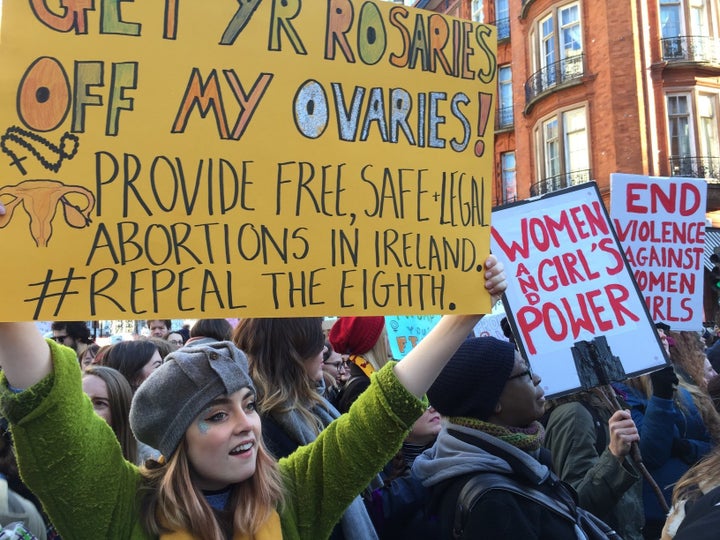 Some marchers brought their children, including Kate O'Sullivan, who said she wanted the world to see that protesters "are not just troublemakers."
"It's important that she knows" what's going on the world, O'Sullivan said of her 4-year-old daughter, Lilly. "I hope she doesn't have to remember this day but if she does I hope it's for this."
Millie Colwey, 27, came with her husband and 7-year-old daughter.
"You gotta start them young, before they even come out," said Colwey, who is pregnant.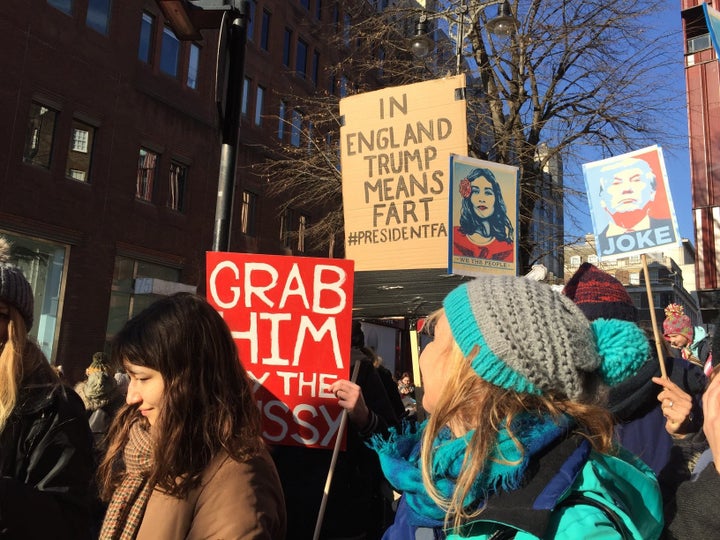 Although women made up the visible majority of demonstrators, the march was open to all. Ryan Cattle, 22, said he thought it was important for men to show up too.
"It's so important that men are getting involved," he said. "There's gonna be no substantial progress in the near future unless everyone gets behind this."
London Mayor Sadiq Khan, who has repeatedly spoken out against Trump's policies, was also present at the demonstration.
"As a feminist in City Hall, I fully support the fight for gender equality," Khan said before the march. "It's wrong that in 2017 someone's life chances and fundamental rights are still dependent on their gender."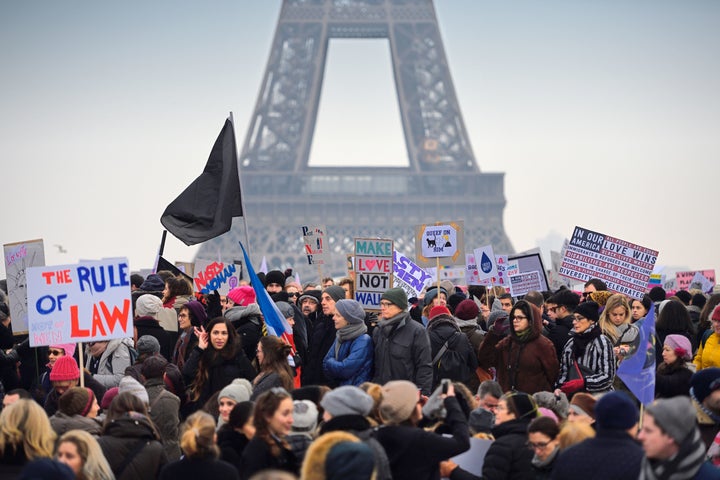 Nearly 700 sister marches in over 60 countries were scheduled for Saturday in solidarity with the Women's March on Washington, according to organizers.
Australia and New Zealand held some of the first marches planned for the day. Thousands of people rallied in Sydney and Melbourne, many of whom wore pink "pussy hats" in reference to a widely viewed video of Trump boasting about being able to grab women's genitals without consent.
In France, where the far-right National Front party is running an election campaign similar to that of Trump's, demonstrators marched in a number of cities. A rally in Paris gathered a large crowd brandishing signs against the backdrop of the Eiffel Tower.
Demonstrators also marched in Kenya, where Barack Obama's father was born, walking through Karura forest in the capital of Nairobi.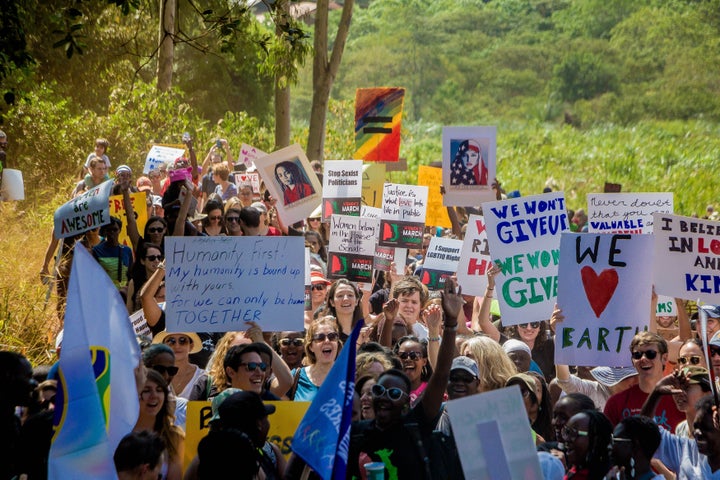 Thousands of people in Canada also marched, including in the cities of Montreal, Toronto and Vancouver. Demonstrators in Toronto closed down major roads by marching from Queen's Park to City Hall.
Brennan Kirby was at the Toronto event with his mother, and said he felt that the rally was necessary to show support for people who are afraid of Trump's administration.
"As part of a global society, I think it's important to come out and show solidarity with progressives, women, LGBT and minority communities," Kirby said. "We're not turning our back because of a choice that some Americans made."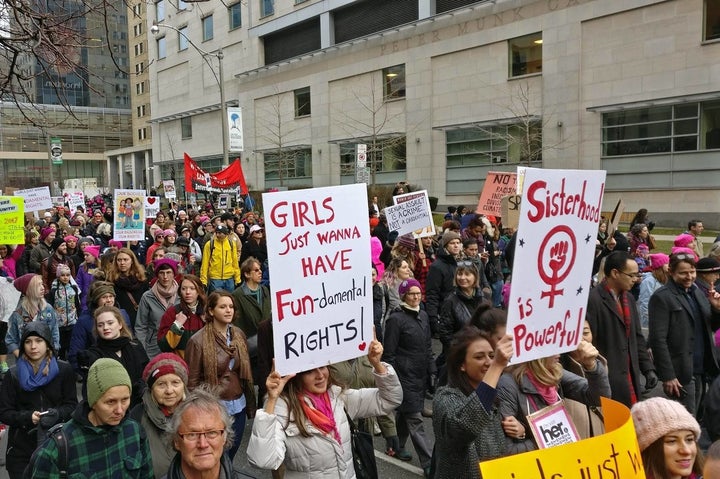 A few of the signs at the Toronto march took aim at Canadian politician Kellie Leitch, who is running to lead the Conservative Party and has a populist, anti-immigration platform with rhetoric similar to Trump's.
A number of the marches featured signs that reflected both opposition to Trump and to local politicians they see as supportive of his policies. One protester in Tel Aviv a held a placard featuring Israeli Prime Minister Benjamin Netanyahu shaking hands with Trump and the caption "existential threat."
Demonstrators at rallies around the world ― in major cities like Oslo and Barcelona, as well as from smaller gatherings on the Virgin Islands and in Puerto Rico ― flooded social media with videos and images from their respective marches as they joined together to advocate for women's rights and show solidarity with the Washington march.
This article has been updated with more details about marches around the world.
Alana Horowitz Satlin and Sara Boboltz contributed reporting from London; Nick Robins-Early contributed reporting from New York; Lisa Yeung contributed reporting from Toronto.
Support HuffPost
The Stakes Have Never Been Higher
Before You Go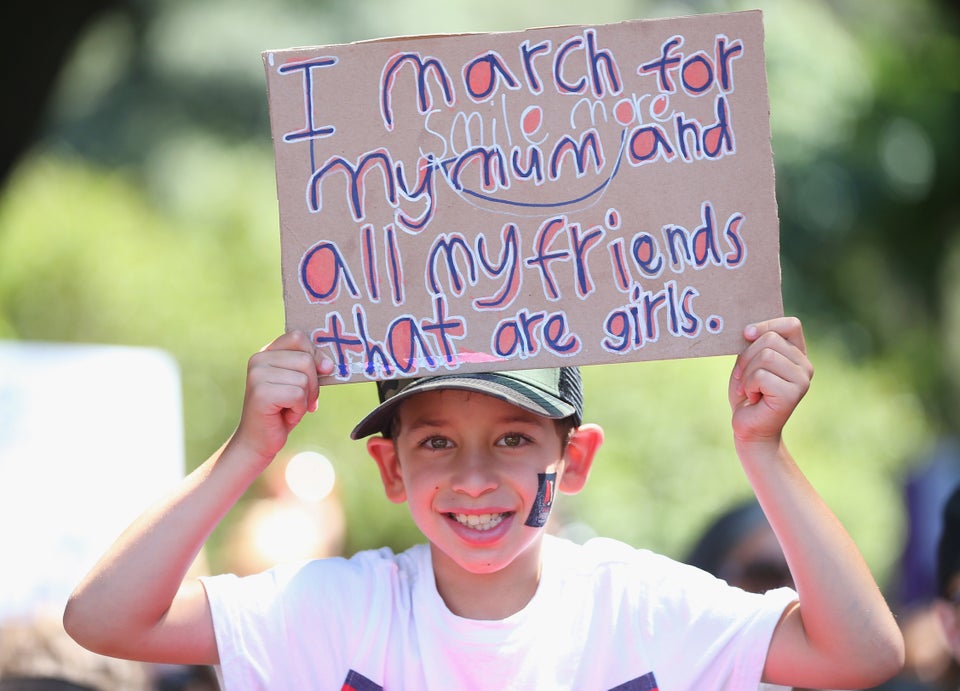 Women's Marches Around The World
Popular in the Community