One could hear a pin drop as Emmy-winning actress and keynote speaker Viola Davis talked about growing up in abject poverty in North Carolina and being inspired by Cecily Tyson. "I'm going to control the narrative out there for people of color. I'm going to be the change. If you own your own story, that is how you live life bigger than yourself," Viola asked the six thousand female executives in the audience at the 2017 Watermark Conference for Women at the San Jose convention center this February to embrace their roots and own their story.
The day long conference brought together the most powerful women across industries to share self-advocacy practices and and expand their networks. Former Secretaries of State Madeleine Albright and Condoleezza Rice, in a fireside chat with the veteran tech journalist Kara Swisher, shared their struggles with being taken seriously, being the only woman in the room, and finding validation that being ambitious was okay. "Don't let people tell you what you look like and what you ought to be interested in. Find mentors you aspire to be like," Condoleezza Rice wrapped up. "There's a special place in hell for women who don't help each other," Ms Albright added to the banter.
The power of role models and the need for mentorship were consistent themes across keynotes and panels. Several corporate leaders shared the need to have internal mentorship programs to develop and retain their employees, particularly women and millennials. Mike Marcellin, the CMO of Juniper Networks, was ahead of the curve after having sponsored a data-driven mentorship program for his sales and marketing organizations.
"Mentorship surfaced as a demand based on our annual Employee Climate Surveys, and we wasted no time in pulling a global task force together to create a mentorship program for the 4,000 employees in my org, which is currently run by my teammate Dr. Bindu Garapaty," Mike shared. "Actually, one of the best ways to engage men in the gender diversity conversation is for male mentees to have female mentors. This or for them to have daughters, which we can't mandate at the company level," he humorously added, while addressing Juniper's diversity practices.
Watermark CEO Marlene Williamson believes that the business case for gender equality in the workplace is pretty clear. "Diversity in thought drives bottom line. It's crucial for companies to recognize how the genders think differently, and recognize that all genders are needed to drive a company forward. Most profitable companies understand this, and hence, they keep innovating," Marlene clarified.
For example, Ericsson's Global Head of Talent Acquisition Gunjan Aggarwal is prioritizing that Ericsson has 30% female employees by 2020. "We take measures across attracting, hiring, developing and retaining talent to achieve our 2020 goal. For example, we've seen that after getting rejected for a job, our male candidates are more likely to reapply than our female candidates. So, we ask our recruiters to be surrogates for these female candidates, and apply on the candidate's behalf for other job openings at Ericsson. At a personal level, I coach young women at Ericsson to not get disheartened by failure or lack of validation," Gunjan shared.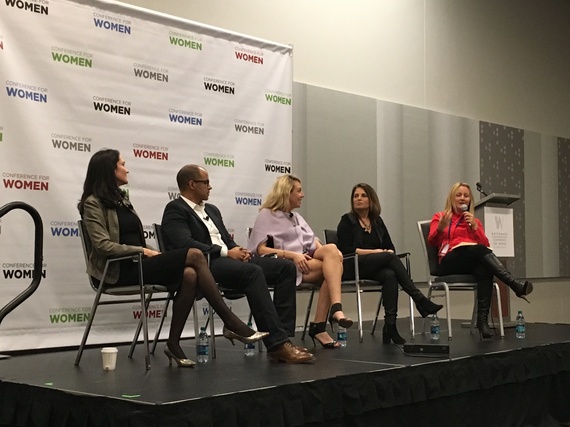 Techstars VP Laura Kennedy, Mastercard SVP Les Matthews, Dell EiR Elizabeth Gore, VC Shuly Galili, SVB Managing Director Claire Lee (L-R)
"Why just women? We all need to find mentors and sponsors who will believe in you before you believe in yourself, who will advocate for you when you're not in the room," argued Mastercard SVP Les Matthew. "My childhood was spent in and out of foster care, and it's only because I found influencers that I was able to stand on my two feet. Mentors can help us early on understand certain things about confidence and leadership that can accelerate our careers," Les remarked, adding that he makes it a priority to pay it forward.
While the importance of mentorship was the highlight of the conference, many successful female executives credited their success to the support they got from their family as much as they credited their mentors at the workplace. Denise Cox, a VP at Cisco, proudly shared that, "I should really credit my mom and my husband Dave who have always believed that there is no limit to what I can achieve. Especially as a mom of two, I had to embrace help from day cares. I couldn't organize big birthday parties for my kids when they were growing up. Instead, they had parents who both worked hard at their jobs, and we'd go to eat out to celebrate after work. And we'd have fun!"
Calling all HuffPost superfans!
Sign up for membership to become a founding member and help shape HuffPost's next chapter