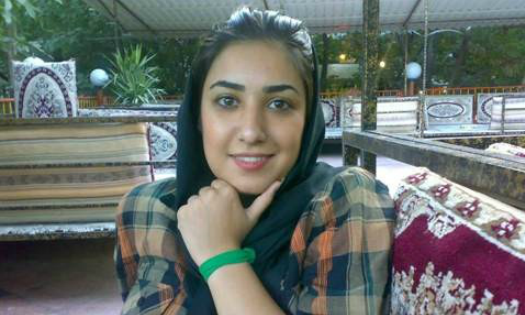 Atena Farghadani, a 29-year-old Iranian painter and women's rights activist, is on trial in Tehran, Iran.
She is charged with spreading propaganda against the ruling establishment, insulting MPs and insulting the supreme leader, but she is considered by Amnesty International to be a prisoner of conscience.
She is known to have spoken against restrictions to access to contraception, for meeting with the families of political prisoners, and for drawing cartoons deemed insulting to the Iranian regime and leaders.
She was previously arrested in August 2014, liberated in December 2014 and arrested again in January 2015 for posting a Youtube video describing her maltreatment while being imprisoned:
"One of the guards opened the cell door violently ... and shouted 'take off your clothes'. I told them that what they were doing was illegal," she said in the video. "One of the guards who swore a lot, held my hands up, because I was resisting the body search... My right hand hit the wall and my wrist became swollen and bruised... I told them that I was on 'dry' hunger strike and that I would file a complaint. One of them told me 'Shut your mouth or I will hit you so hard that your mouth will be full of blood.'"
Calling all HuffPost superfans!
Sign up for membership to become a founding member and help shape HuffPost's next chapter