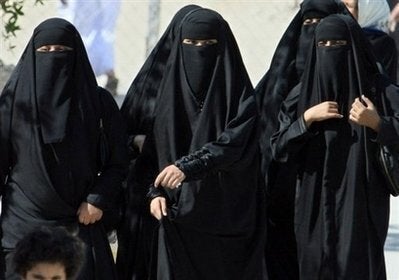 With Michelle Obama's arms being so much in the news, it's hard to imagine that most Afghani women remain entombed in their stifling burkas.
There was a moment, when the Taliban were on the run, that it seemed possible Afghan women would throw off those oppressively prescribed garments, but like so much else that isn't quite the case. Today, it seems increasingly likely that the small gains women have made will be rolled back as the security situation deteriorates and talk about talks with the Taliban become reality. Fashion and Afghanistan are two words not often found in the same sentence, but Bridget Cowper-Coles, wife of the former British ambassador to Afghanistan, who is now working with US special envoy Richard Holbrooke, thought it would be a great idea to stage a fashion show in London featuring the work of Afghan designers (most of whom grew up abroad) to raise money for Afghanaid, a charity that has worked in Afghanistan for over two decades employing mostly locals.
So on Thursday night I went to see the collection, remembering that Tom Ford, the one-time guru of Gucci, once said that Afghan President Karzai inspired one of his collections. Having seen the collection, I can confidently predict that the garments on show won't be marching down the runways of Paris, Milan or New York anytime soon. They need a lot more work to be sold in the west, but it would be wonderful if they could capture the imagination.
The women who are behind the four labels that appeal to the expat community in Kabul are dedicated to making life better for Afghan women. By employing, them they offer a lifeline to the most marginalized section of society in a country ranked fourth-poorest in the world. They are given training and skills so they can earn money, and have hope.
The idea started to germinate when Bridget Cowper-Coles visited her husband in Kabul and was shocked by what she saw -- the malnutrition, the poverty, the despair. Women have incredibly difficult lives and she wanted to help. The result was the fashion show and the sale of clothes and jewelery, all made in Afghanistan, with 100 percent of the proceeds going to the charity. Designers in Afghanistan marry traditional skills and designs trying to create a modern Afghan look. It seemed pretty popular judging from the amount of people rushing to buy the jackets and jewelery on sale.
So much money has been plowed into Afghanistan in the form of aid with not much to show for it. Brigitte Cowper-Coles liked dealing with people who know the area and its problems and who don't splash money around. Afghanaid works on small projects that have huge impact, which includes opening schools in rural areas.
Despite the restrictions that bedevil almost every aspect of women's lives, the girls want to go to school. Not even an attack on young girls going to school in Kandahar last year -- they were sprayed with acid -- could dampen their enthusiasm. Despite their appalling injuries, and the stifling restrictions that will face them in the future, their appetite for learning remains amazingly alive.
Support HuffPost
The Stakes Have Never Been Higher
Related
Popular in the Community