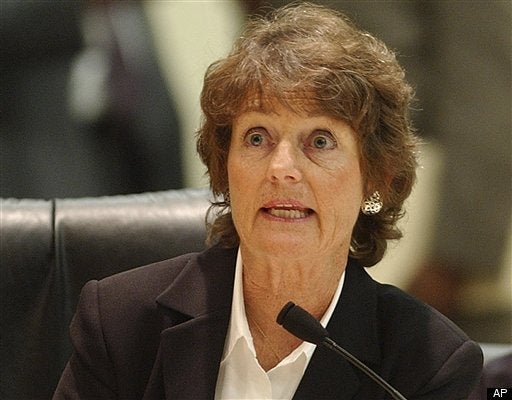 WASHINGTON -- With less than a week to go before the election, women's rights groups are growing despondent about what they feel is an imbalance in the Democratic Congressional Campaign Committee's 2010 priorities.
On Tuesday evening, the latest and perhaps last batch of expenditures made by the DCCC's independent expenditure arm was made public. They confirm, for the skeptics, what has been a troubling trend in the committee's funding breakdown. While money was sprinkled (in large doses) across a host of races, several prominent female candidates and some noticeable progressives were not on the list.
Reps. Suzanne Kosmas (D-Fla.), Carol Shea-Porter (D-N.H.), Betsy Markey (D-Colo.), Debbie Halvorson (D-Ill.), and Kathy Dahlkemper (D-Penn.) found their re-election contests shunned. So too did Rep. Mary Jo Kilroy (D-Ohio), though earlier in the cycle the DCCC spent roughly $20,000 attacking her opponent.
"What I find of high concern is that here are women who do what women do when elected," said Siobhan "Sam" Bennett, President and CEO of Women's Campaign Forum. "They are far better on health care, education, and the extension of unemployment benefits... and what we are seeing is these women are being punished for being leaders around these critical issues... I think it is enormously shortsighted of the party to go in this direction.
"To be abandoned, or neglected, or under-invested in is not only the height of irony it is short-sighted by the party."
Looking at individual races, the DCCC's strategic choices actually seem logical. Each of these candidates trail in the polls, some by double digits (Halvorson) others by less (Kosmas and Kilroy). Female candidates in strong positions were buoyed by the committee's independent expenditure arm. Even then, the DCCC insists it has made sure no one is hung out to dry, either by aiding field programs or by only backing off once third-party groups assumed the financial load.
"The DCCC is invested in each of those members," said spokeswomen Jen Crider. "Our spending decisions are based on a variety of factors including what other Democratic-leaning outside groups are doing in the district. We are confident that each of them will win on Election Day."
In politics, however, investing money trumps exhibiting confidence. One female Democratic operative, speaking on condition of anonymity to express her frustrations more frankly, noted that various polls showed several of those candidates within striking distance. "Those women are all good soldiers, they're all running good campaigns, and those races are all winnable."
And while each of the aforementioned female candidates may have ground to make up against their challenger, so too do several male candidates who have been given healthy backing by the DCCC. Rep. Travis Childers (D-Miss.) has received more than $950,000 from the committee's independent expenditure fund despite trailing his opponent by an average of six percentage points. Rep. Chet Edwards (D-Tex.), down ten points, has received more than $620,000. Rep. Jim Marshall (D-Ga.), down six, has received roughly $40,000.
Officials who work closely with the committee say there are clear reasons to make such investments and not one of them involves gender. More often than not, it's intel from the ground suggesting that an infusion of cash could make the difference between winning or losing. But the message the money sends has resonated beyond a cadre of women-in-governance activists. Marshall has said he would vote against retaining House Speaker Nancy Pelosi should he win office. Edwards and Childers have campaigned against her. Another Pelosi-critic (though an election frontrunner) Rep. Bobby Bright (D-Ala.) has received more than $1.4 million from the DCCC.
"It's absolutely unconscionable that the DCCC is spending money on races and in places where these members of Congress, not only do not support the Speaker's agenda, but don't support the Speaker," said a Washington D.C.-based Democratic strategist and self-professed progressive. "F---ing Bobby Bright? Give me a break."
There is, of course, a glaring counterpoint to the theory that the DCCC has abandoned women at the behest of Blue Dog Democrats and Pelosi critics. While Chairman Chris Van Hollen directs committee strategy it's not done without major input from several prominent female lawmakers, including Pelosi herself.
"You are basically saying that the Speaker, the first woman Speaker of the House, is against women candidates," said a committee adviser.
Likewise, as the adviser notes, the DCCC has made major investments in the re-election efforts of prominent female candidates. Rep. Anne Kirkpatrick (D-Ariz.) has received more than $1 million; Rep. Dina Titus (D-Nev.) has been given more than $1.3 million; Rep. Gabrielle Giffords (D-Ariz.) got a $132,000 infusion on Tuesday evening. A common feature that all these candidates share: they're much closer in the polls than the list of the abandoned.
"They very much want Bobby Bright to win," said a Democratize operative who works closely with the DCCC. "So it shows you how they are looking at it. But I don't think there is any calculation that says we want him to win at the expense of a Mary Jo Kilroy."

Popular in the Community