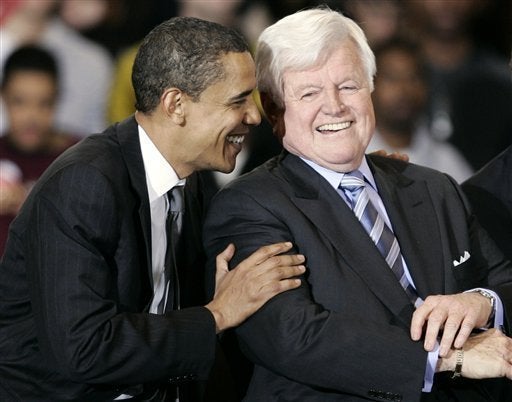 In a rant that was described as greater-than-scathing, the head of the New York chapter of the National Organization for Women ripped into Sen. Ted Kennedy on Monday for "betraying" woman by not endorsing Sen. Hillary Clinton.
In an interview with the Huffington Post, Marcia Pappas said that Kennedy's decision to back Sen. Barack Obama reflected a long-standing tradition of the "old guard" turning its back on gender equality.
"What goes on has been going on from the beginning of time," said Pappas. "Woman have been very supportive of male politicians who have not been so easy to convince of woman's rights. You sometime have to twist their arm to go along on something. We think that Ted Kennedy, who claims to be a supporter of women's rights, who now has come out and joined the [Obama] bandwagon, is basically saying that a qualified woman, Hillary Clinton, is not qualified enough for him."
Pappas comments were an elaboration on an earlier press release she distributed in which she called the Kennedy endorsement an "abandonment" that "really hit women hard."
"He's joined the list of progressive white men who can't or won't handle the prospect of a woman president who is Hillary Clinton," the release read, "(they will of course say they support a woman president, just not "this" one)."
Reached by phone in her Albany office, Pappas insisted that Kennedy's decision was just another example of "good old boys," who have "decided that they will support anybody but a woman... He knows in his heart that Clinton is the best person for the job, and for whatever reasons he seems he's not willing to support her."
Pappas said her press release had generated an influx of press calls, as well as a fair share of supportive and angry emails.
Asked whether Obama would be worse for women's issues than Clinton -- beyond, of course, the symbolism of not being a woman -- Pappas said yes.
"I think [Hillary] is absolutely better," she argued. "We all know about the present votes. We are not interested in strategy, we are interested in politicians who stand up for woman. We are interested in the truth and politicians who stick their neck out for us."
Obama received a 100 percent rating from NARAL, a leading pro-choice organization, in 2005 and 2006. The Clinton campaign, however, has argued that his State Senate record of occasionally voting "present" on abortion bills (which Obama says was part of a broader legislative strategy) show he is "unwilling to take a stand on choice."
Pappas' remarks are noteworthy not only for their harsh attack on Obama's record, but for their sharp-edged, caustic tone. The NOW head made no reservations about her disappointment with Kennedy -- she called his decision an "ultimate betrayal." And while Pappas recognized the historical significance of a black politician ascending to the presidency, she was not persuaded that Obama's cause was any more urgent than Clinton's. "This is really to me a woman's issue," she said.
Others at NOW were a bit more diplomatic. Sonia Ossorio, the president of the organization's New York City chapter, said she respected Pappas' right to her personal opinion. But she added, "The real point is that Sen. Kennedy has been a tremendous friend to NOW and to the movement. NOW has endorsed Hillary, we think she is going to make a fantastic next president... I think that neither Ted Kennedy nor Barack Obama is the enemy."
Popular in the Community