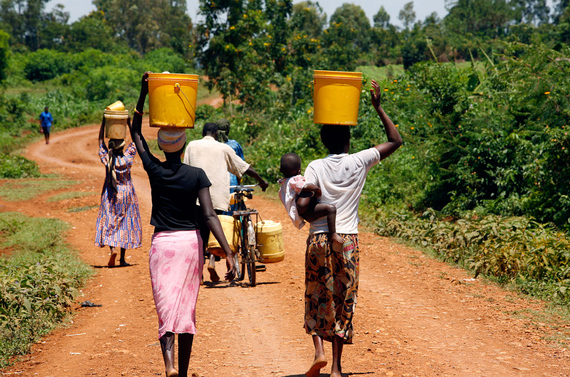 This Human Rights Day is particularly significant. In Paris, negotiators are trying to come to agreement on a global climate treaty, and a lot is on the line -- especially for women. Women and girls are the most affected by climate change and have the most to lose, or gain, from a deal. They make up the majority of those displaced by climate change, and they are 14 times more likely to die from natural disasters than men.
In many settings, women and girls are responsible for fetching water and feeding their families. Drought and deforestation force them to travel farther to get water and find firewood to cook, and they face physical and sexual assault and other hazards on these long journeys. Women also perform most agricultural work in the developing world -- a huge challenge when weather is unpredictable and often violent.
Women and girls in such contexts have limited access to contraception and other sexual and reproductive health services, which further endangers their lives and welfare. Unintended pregnancies increase expenses for families already living on the edge. Limited access to maternal health services and restrictive abortion laws place women at heightened risk of unsafe abortion and childbirth-related injury or death. Not surprisingly, in places struck by natural disaster, girls are more likely to be pulled out of school and married as children -- a devastating blow to their lives and health.
Worldwide, 225 million women -- many of them in Africa -- want to avoid pregnancy but are still not using modern contraception. While governments the world over renounced coercive, top-down "population control" programs at the 1994 International Conference on Population and Development in Cairo, the concept has recently reared its ugly head in climate discussions in reference to population growth in countries such as Nigeria. Yet the African continent only contributes 4 percent of annual CO2 emissions, and the country with the most stringent population policies, China, has become the greatest polluter.
It's clear that all countries must do their part. Women's groups have called for the conversation to be re-centered on women's rights -- including their right to control their own bodies and fertility. Ensuring women's and girls' reproductive rights, and improving women's access to contraception and reproductive health services, must be at the core of climate agreements. We will not save our planet and safeguard our environment without making women's rights a priority.
Related
Popular in the Community