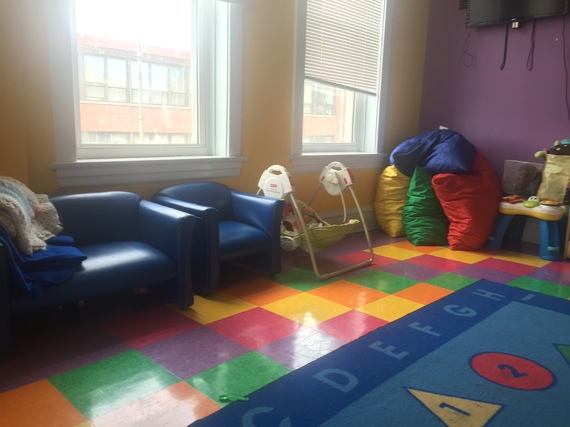 It came down to a matter of matching blinds.
Women, removed from shelters, lived in their cars, awaiting the opening of Family Rescue's Ridgeland Transitional Housing because the state objected to the fact that some window blinds did not match. After six long years of jumping through the state's hoops and convincing private investors that Ridgeland and domestic violence was worth their money, Family Rescue found the only thing standing between 22 families in need of a home and the December elements was matching window blinds. So, housing center officials opened anyway, ready to face whatever fines the state would throw at them.
In an interview, Joyce Coffee, the executive director and chief executive officer of Family Rescue's women's shelter on Chicago's South Side, recalls this moment in December as one she'll  never forget.
Finally open, women stood inside Ridgeland for the the first time, never having met each other, and around them spun a little girl. She went woman to woman, offering a hello and kind smile, before off again she'd twirl. The girl turned to her mother to ask, "Mom, will this be our home? Can we have a Christmas tree?"
Shelters like Family Rescue pull off more than just Christmas trees and Christmas miracles every day. Coffee and the other workers at Family Rescue prove every day can be miraculous through the work they do shepherding women through recovery from domestic violence. Family Rescue provides women with more than shelter, food, and clothing. They also offer court advocacy, helping women navigate a complex court system. They are the only agency with offices inside a Chicago police station to aid victims. Open since 1981, Family Rescue was only the second domestic violence shelter in the city of Chicago and the first and only shelter operating on the South Side until February. The numbers, from  the most recent anual report, show:
12,358 nights of safe shelter were provided

23,242 nights of affordable housing were provided

1,462 crisis called were answered

938 orders of protection were obtained for victims
Throughout its 35 years, Family Rescue has faced hardships--struggling through the recession, the state budget impasse, and other funding challenges. As a result, the management of the women's shelter faced expensive yet necessary building renovations that could have resulted in them having to close their doors. Instead, Family Rescue got a lifeline when it was won an Impact 100 grant that allowed the shelter to continue its work. Impact 100 is a volunteer organization of metropolitan women who pool $1,000 donations into four, $100,000 grants they award annually.  
Illinois faces many challenges. And there are many ordinary Illinoisans rising up daily to meet those challenges. In the first of an occasional series of Illinois success stories, Reboot Illinois sat down with Coffee to learn more about Family Rescue's struggles and how it is rising up to achieve success for women who need help. The interview that follows has been edited for brevity and clarity.
Bulletin board in Family Rescue.
Q: What is the mission of Family Rescue?
Joyce Coffee: It basically says that we are an agency that is dedicated to eliminating domestic violence in the Chicago community, and we do that through direct services, through systems advocacy, and through community education, which fosters prevention...The mission statement has enough flexibility to allow us to experiment and do things but enough structure so that we don't stray from ... the original purpose of the organization.
Q: How did Gay Northrup start Family Rescue?
A: She went to England and worked for a year for a woman by the name of Erin Pizzey, who is generally credited with opening the first battered women's shelter...Erin had written a book called Scream Quietly or Your Neighbors Might Hear...Then [Gay] came back to Chicago and coordinated a speaking tour for Erin to come here, and Gay started the Domestic Violence Project with the Salvation Army. The Salvation Army was like her incubator; they knew she was going to spin off to become Family Rescue, and that lasted a couple of years. Then she incorporated Family Rescue and bought this building. This was a convent, and she bought it with money from Angela Lansbury, the actress...and the Benjamin J Rosenthal Foundation.
Playground at Family Rescue.
Q: How did you get involved with Family Rescue?
A: My first job was running a day care center, and I had women in my day care center and DCFS was taking their children away from them. This woman finally came to me and she was crying and...said 'Joyce, can you help me?' And I said, 'Well, why are they taking them away? Are you abusing your child?'...and she said, 'No no no!' Well, someone was doing something, and you know what she said? She said, 'My boyfriend did this or did that'...I didn't know about domestic violence, didn't even know the word, and I wrote this proposal and it was funded. Judges would allow women to keep their children if they went to counseling ... so that was my first touch with domestic violence even though I didn't know that's what it was.
My second real job was as a HeadStart coordinator ... in Michigan, and the bus drivers would come to me and say, 'Joyce, you know, I think you need to look at this particular child.' 'Well, what's happening?' 'Have you ever noticed that if you move real fast around that child they'll flinch?' I said, 'No, but we'll pay attention.' Now there's my second go around, and I'm finding there's women, who'd joined HeadStart and whose children were being abuse ... Still didn't know any words about domestic violence.
I left, went to California, and worked in a residential facility for severely emotionally disturbed teenagers, and then moved back here--moved to Chicago. Gay was looking for a shelter director and put an ad in the paper, so I applied ... I looked up Family Rescue and saw it was a domestic violence agency, and I didn't know anything about domestic violence, so I went to the library to get a book ... The book at the library was Scream Quietly or Your Neighbors Might Hear. So I read this book and said, 'Man, I've come in contact with domestic violence.' So I come into the interview, and Gay gets to this thing about do you know anything about domestic violence? And I said, 'You know, I didn't think that I did, but I've been working with this issue ... and I read this book ... And remember what I told you about that book? She was sitting there smiling, and she hired me right on the spot.
Joyce Coffee, executive director and chief executive officer of Family Rescue.
Q: What are some obstacles that Family Rescue has had to overcome?
A: We've had challenges all along. This period has certainly been very difficult and not just because of what is happening to Family Rescue, but what is happening to the social services community period. It's being decimated. Partners that we rely on to help us with our clients to meet their goals ... are closing or their wait-lists are getting longer. It's harder for us to transition women into housing and get them off of welfare. The safety net underneath them is crumbing. So the challenge has been in trying to adequately fund these services during a recession where even in times of plenty, domestic violence services have never been funded to the degree they should and could have been ... But the issues that you're dealing with and the complexity of the problems that the families bring, you need the brightest and the best, but we don't have the brightest and the best money.
Children's playroom at Family Rescue.
Q: How is the Impact 100 grant going to help relieve some of the funding stress you might have today?
A: Obviously with the funding constraints that happened and even as we were seeing the recession coming to an end, the funding community hadn't rebounded and then the state did a tail spin, so last year and this year, no budgets ... Domestic violence fortunately got our contracts paid, but in the beginning of the fiscal year last year, it was a slow path. I think we went five months with no state funding before that kink got worked out, so we used up our reserves. We used our line of credit, and the interest on your line of credit you can't pay back with government funds, so you have to pay it back out of private funds. Even though we were able to live, we didn't have any reserves, so last year ... well, towards the end of 2014, some critical renovations needed to happen. This building needed significant tuck-pointing. The brick facade was pulling away from the parapet ... There was all of this stuff that was going on with the building, and it was going to cost a little over a $100,000 to fix it. And we didn't have any money to fix it, so when the Impact 100 opportunity came, we applied and fortunately we were selected. The $100,000 is paying for this major rehab of the facility that we wouldn't of had the reserves to do, and eventually we would have had building and code violations, which would have endangered the operations of the shelter.
Q: What was it like applying to Impact 100?
A: "They are the most amazing group of women...'You're among friends.' 'You're among friends.' They kept coming over to the table ... and they'd come up and ask you questions, and they would all say a variation of that: 'You're among friends' ... You don't jump through hoops. Yeah, you have to present your cause and et cetera, but after you got selected, the helpfulness and...the ease of stuff that happened ... for a hundred thousand dollars? Do you know, I've got government grants that make you go through heck and high water for $10,000, and this is a hundred thousand dollars? ... They are so amazing.
Q: How have you seen the field of domestic violence services changing for the better?
A: One of the good things that has happened over the years is that there have been corporate sponsors who have stepped up and as a corporation championed domestic violence. When before, for many years, corporations and business would say that's a negative image or cause, and they didn't want their brand associated with it...so you've have Liz Claiborne...Chico...Avon, Mary Kay...Kraft Foods...these corporations began championing domestic violence, and now you've got Verizon, Allstate...these champions had opened the door and made it more acceptable to acknowledge domestic violence and the impact that it's having. So that's a good thing--that's a very, very good thing.

Next article: How does Illinois stack up when it comes to bullying prevention
Calling all HuffPost superfans!
Sign up for membership to become a founding member and help shape HuffPost's next chapter