A national campaign to pressure FIFA to pay women's soccer teams fairly gained wide attention in its first day, after the international soccer governing body awarded the U.S. women's soccer team, winners of the Women's World Cup, $6 million less than it paid men's teams that lost in the first round of last year's World Cup.
Yet FIFA paid the winning women's team a $2 million prize, which is four times less than the $8 million it pays men's teams that lose in the first round. The total payout for the Women's World Cup this year is $15 million, while FIFA awarded a total of $576 million to men's teams in the World Cup last year.
Ultraviolet, a women's rights advocacy organization, started a digital campaign on Monday to press FIFA to pay women's soccer teams fairly for equal work. Roughly 60,000 people signed the campaign in the first 24 hours -- more than twice the signatures a typical Ultraviolet campaign receives on its first day.
"This is what we would call a breakout campaign," said Shaunna Thomas, the organization's founder. "It's a testament to how popular women's soccer actually is and a reflection of the fact that this is not some marginal side show thing for FIFA. This is a very big deal for people in this country and around the world."
FIFA did not immediately respond to a request for comment. But Jerome Valcke, its secretary general, said last year that the idea of paying women's teams as much as men's team for World Cup tournaments is "nonsense" because women have participated in fewer of them.
"The comparison between the prize money of the men's World Cup in Brazil to the women's World Cup in Canada, that's not even a question I will answer because it is nonsense," Valcke said at a news conference. "We played 30th (men's) World Cup in 2014 and we are playing the seventh women's World Cup, so things can grow step-by-step. We are still another 23 World Cups before potentially women should receive the same amount as men."
Thomas said FIFA's logic is inherently unfair, because women will never have played as many World Cups as men. "That means women can never expect equal prize money," she said. "We don't think it really makes sense at all."
Rep. Carolyn Maloney (D-N.Y.) joined the push on Monday to urge FIFA to end its discriminatory pay policy.
"This year's World Cup proved that women playing soccer can inspire a country and bring a crowd to its feet just as men can," Maloney wrote in a letter to FIFA executives. "But women will never achieve equality in the sport if FIFA itself discriminates against them. ... We have heard the excuses for centuries, but the time has come for change. I urge you to take a stand and commit to rewarding men and women equally for excellence on the field."
Ultraviolet plans to deliver the petition to FIFA next week.
This article has been updated to include comment from Rep. Carolyn Maloney. It has also been updated to reflect that the U.S. men's soccer team was not eliminated during the round-robin portion of last year's World Cup.
Before You Go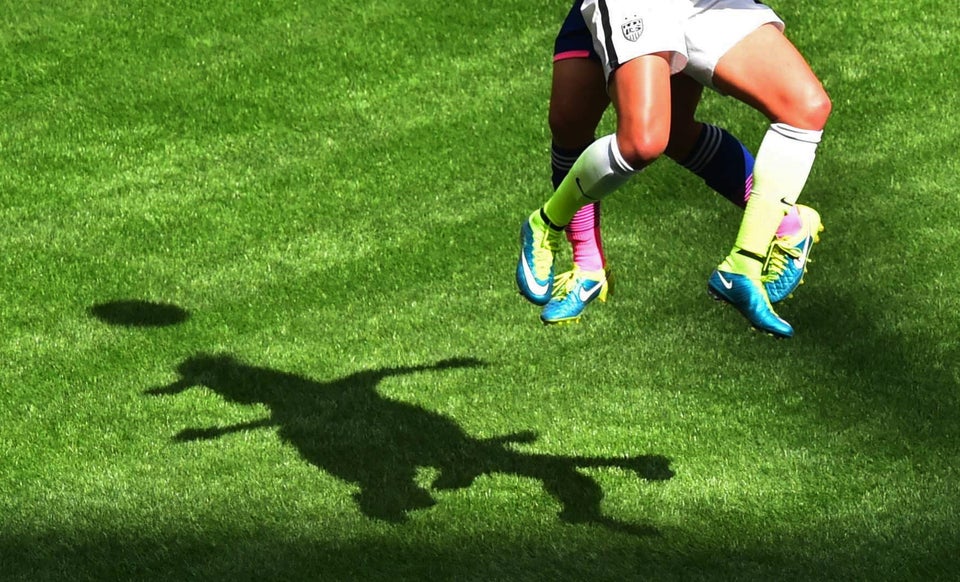 The Most Badass Photos From The Women's World Cup Final
Popular in the Community