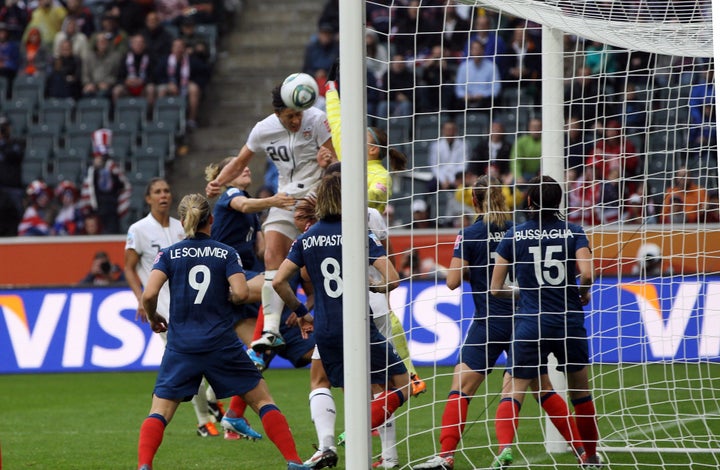 You think you know a guy after 31 years of marriage, but last week, I saw my husband break new ground. We'd been watching the Women's World Cup finals, when the doorbell rang. Our friends had arrived for dinner, and after I let them in, I went back to tell Phil it was time to fire up the barbecue.
And there he was, standing in front of our TV, screaming at the screen.
The behavior itself wasn't so strange. It's how Phil gets whenever the Yankees are in a close one, or the Cubs are making an attempt to win one, or -- bar the doors -- when Notre Dame is playing USC. I love sports, too, but Phil is one of those guys who thinks every game is a playoff. It reminds me of that great Erma Bombeck quote: "If a man watches three football games in a row, he should be declared legally dead."
But this was soccer Phil was watching -- women's soccer -- and he wasn't the only guy up on his feet. They were standing across America, cheering these young women on, with all the gusto they usually reserve for macho sports. (And it wasn't lost on me that one of the event's major sponsors was Rogaine.)
We've talked a lot on this page about how women's equality is still a work-in-progress -- from equal pay to equal opportunity to equal respect. And, yes, it was heartbreaking to watch those final minutes of the World Cup (we were so close!). But to see those young women get under the skin of sports fan everywhere, with their fire and their skill, did more to level the playing field than all the debating ever could.
This kind of recognition was unthinkable when I was growing up, when "girls' sports" were pretty much relegated to tetherball and, when space allowed, community softball games. But all of that changed in 1972, when Congress enacted Title IX of the the 1964 Civil Rights Act. The law forbade discrimination on the basis of sex in any federally-assisted education program, ultimately guaranteeing gender equality in everything from the scheduling of games to the provision of locker rooms to the compensation of coaches and tutors.
As I watched those young soccer players with their ponytails flying, I couldn't help but think about the fight for Title IX -- and how it has taught a new generation of girls, from the time they enter grammar school, that they have every right to their own playing field in whatever sport they choose.
As with any civil rights battle, credit is also due to those pioneers who embodied the promise of Title IX by fighting for -- and earning -- their place in sports history.
Like Olympic champs Olga Korbut, Nadia Comaneci and Mary Lou Retton, three stunningly talented young women who not only changed the face of their sport forever, but would help women's gymnastics vault over all other men's events as the centerpiece of Olympic broadcasts.
Like superstar runner Jackie Joyner-Kersee, who not only sprinted into the record books carrying armloads of medals, but, like Jesse Owens before her, also overcame racial discrimination to do what she did best: run faster than anybody.
Like Billie Jean King, who on September 20, 1973, less than 15 months after the enactment of Title IX, obliterated former champion Bobby Riggs on a Houston, Texas, tennis court, in what was called "The Battle of the Sexes." In three straight sets (6-4, 6-3, 6-3), King dispelled Riggs' outrageous claim that "any half-decent male player could defeat even the best female players."
King's victory was seismic, putting to rest, once and for all, the myth of male supremacy in sports, while reminding young girls across the nation that not biology, but skill and talent, were destiny.
After the World Cup, I called Billie Jean. I couldn't wait to hear her reaction.
"Title IX!" she said. "We have to be grateful for all the people who made that happen. I feel very connected to these soccer women. It's like a relay race -- every generation passes the baton on to the next generation, and each generation pushes the envelope for the next. And our generation is the guardian of Title IX.
"Many little girls grow up with the dream of playing sports," she added, "but that dream can't just take place every four years. And though it's great that the whole country was excited about the World Cup, we need to encourage people to support Women's Professional Soccer all year long. That's how to make these girls' dreams come true. But I'm very encouraged. Sports are a microcosm of society, and women are taking the lead in every field."
To all the women on the American Women's World Cup team, congratulations. Final score notwithstanding, you have won big.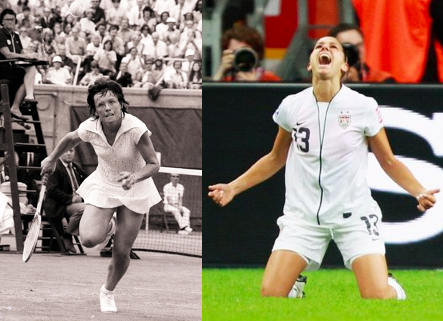 Calling all HuffPost superfans!
Sign up for membership to become a founding member and help shape HuffPost's next chapter