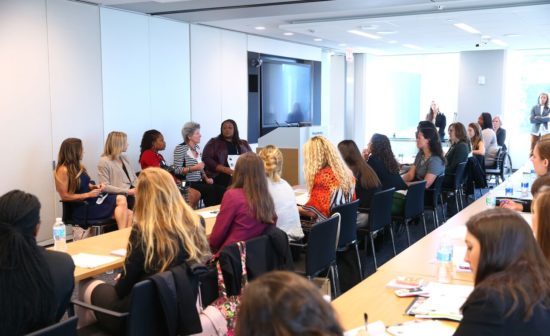 Two years ago the Women's Sports Foundation (WSF) hosted the first-ever Athlete Leadership Connection , a full-day event dedicated to advancing and inspiring champion women athletes. The Connection provides participants an opportunity to gain unparalleled insight and interactions with sports and business industry leaders.
"I had such an amazing experience. It's really neat to hear that all these women who had such incredible success some way through sport have taken so many unique paths," said athlete ambassador and Paralympian, Scout Bassett.
"It's really encouraging to know that there are several different turns you can take to get to the same destination. There's no right or wrong way and I'm really encouraged by that. I just gained so much knowledge and a lot of encouragement today for the future and I'm very hopeful," said Basset, who got into sports and running to distract herself from her problems.
A direct result of feedback received from athletes at the 2014 President's Athlete Welcome Dinner, hosted by one of the most prominent ice hockey players in the world — Angela Ruggiero, The Connection was made possible by WSF National Partners Chevrolet, espnW, FOX Networks Group, Gatorade and NBC Sports Group, and event partners Citizen Watch USA, the New York Mets and the Ohio University Master of Sports Administration Program.
"Now more than ever it's incredibly important for females to support one another, and through the Athlete Leadership Connection (ALC) conference, the Women's Sports Foundation is able to provide the resources, mentorship and connections that will help female athletes successfully transition from active competition to their next business or professional career," said Dr. Deborah Antoine, CEO of the Women's Sports Foundation.
"Nearly 100 [NCAA student-] athletes," engaged prominent business leaders alongside "accomplished athletes such as Billie Jean King, Bonnie St. John, Michelle Kwan and LaChina Robinson," Antoine said.
Lyn St. James, former WSF President and seven-time Indianapolis-500 driver, noted that the day was, "high energy and full of information. I think that everybody who comes here, whether a mentor or a mentee, a young athlete or a mature athlete, can walk out of here feeling very powerful and feeling like you can really do anything.
"Welcoming guests to kick-off the conference, WSF President Grete Eliassen and Lisa Cregan — WSF Board of Trustees member, former Olympic equestrian contender and Managing Director of the Mid Atlantic Region at Morgan Stanley — provided opening remarks.
Reminding the predominantly female audience "pressure is a privilege and we are reminded of that privilege through sport," Billie Jean King led an inspirational keynote with Emmy Award winning sportscaster, Michelle Yu.
"Supporting sport, Chevrolet is bringing positive changes to countries around the world by encouraging youth in need to use their passion for sport to solve problems and inspire tolerance," Barra said.
WSF recently announced Chevrolet as a national partner and the official automotive sponsor of the organization founded by King, one of the 20th century's most respected, influential champion for social change and equality.
The leading authority on the participation of women and girls in sports, WSF is the charitable partner of the Chevrolet GoalKeepers Project [#BeAGoalKeeper], a program that provides the tools and resources to inspire and empower girls to become the next generation of female leaders, to stay in sport, and to pursue their athletic and professional goals.
WSF is recognized globally for its leadership, vision, expertise, influence and unwavering committed to advancing women's leadership through sports. A proponent of female athletes pursuing and possessing high career aspirations, both on and off the field, WSF proudly provides athletes with skills and exposure to help them advance in their respective sports, or transition successfully into prosperous post-competition careers.
Related
Popular in the Community