When Lena Waithe took the stage on Sunday night to accept the Emmy for Outstanding Writing for a Comedy Series alongside Aziz Ansari, she became the first black woman to win in the category. She'd already made history when she was nominated for her work on the "Thanksgiving" episode from Season 2 of "Master of None" earlier this year, since no other black woman had even received a nod in the group before her. But the 33-year-old actor's eventual win felt especially sweet for another reason: the eighth episode of Ansari's semi-autobiographical Netflix series is based on Waithe's own experiences coming out to her family.
Waithe is one of several women to win statues at the 69th annual television awards ceremony. But better yet, she's one of several women to win for writing, directing and acting in stories that center on women's lives. "The Handmaid's Tale," "Big Little Lies" and "Black Mirror: San Junipero" each won recognition across categories, including Outstanding Drama Series, Outstanding Limited Series and Outstanding TV Movie, respectively.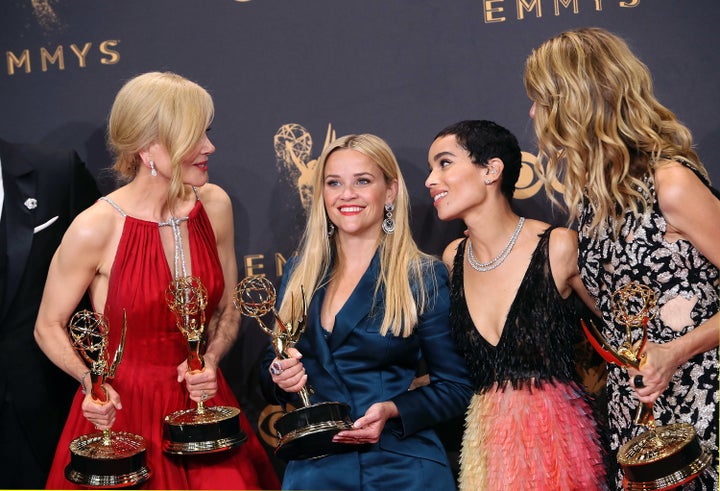 The first is an adaptation of Margaret Atwood's 1985 reproductive rights dystopia, directed by Emmy-winning Reed Morano and starring a women-dominated cast led by first-time victor Elisabeth Moss. The second is a tale of domestic violence based on a novel by Liane Moriarty and, again, led by a cast of women. Behind the scenes, co-stars Reese Witherspoon and Nicole Kidman served as executive producers on the show, too. The third is a queer sci-fi love story acted out by Mackenzie Davis and Gugu Mbatha-Raw that quickly became a fan favorite, standing out amid a series of otherwise bleak, near-future catastrophes.
Their wins ― eight each to "Big Little Lies" and "Handmaid's Tale" ― felt like a breath of fresh air in an awards ceremony that's long reflected its industry: largely white, or largely male. To compare, "Game of Thrones," ""The People v. O.J. Simpson" and "Sherlock: The Abominable Bride" swept the same categories last year.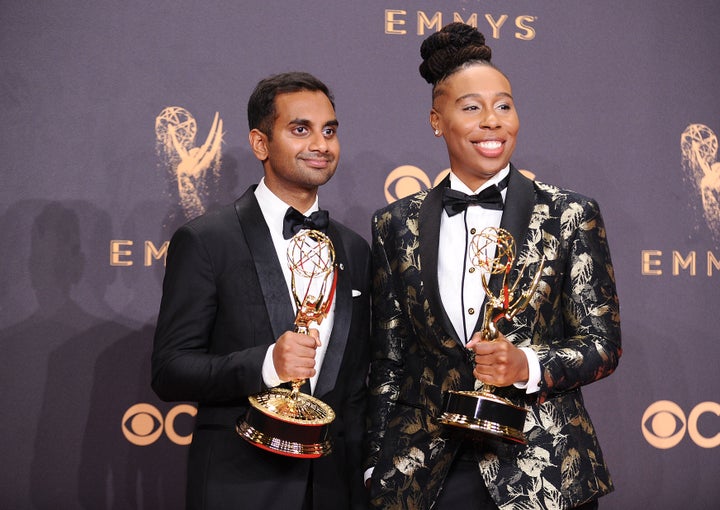 As female cast and crew members took the stage one after another to accept their accolades, more than a few honorees took the televised opportunity to point out how revolutionary their wins felt.
"The things that make us different, those are our superpowers," Waithe proclaimed, speaking directly to her "LGBTQIA family." "Every day when you walk out the door, put on your imaginary cape, and go out there and conquer the world. Because the world would not be as beautiful as it is if we weren't in it."
Not long after Laura Dern, the "Big Little Lies" actress who's been working since she was 11 years old, admitted to working "with maybe 12 women" throughout her decades-long career, her colleagues Witherspoon and Kidman declared 2017 "an incredible year for women on television."
"This is a friendship that then created opportunities," Kidman said during one of her acceptance speeches of her relationship with Witherspoon. "It created opportunities out of our frustration because we weren't getting offered great roles. So now, more great roles for women, please. Thank you."
"Can I just say, bring women to the front of their own stories," Witherspoon added, "and make them the hero of their own stories."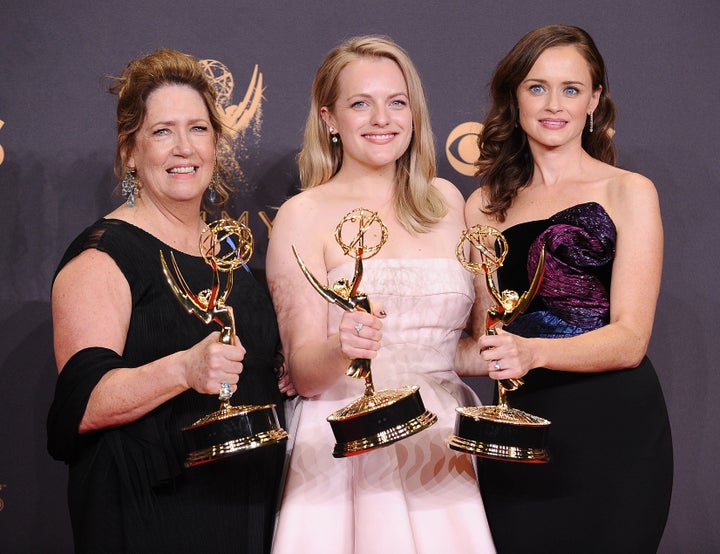 "Veep" star Julia Louis-Dreyfus also managed to make history with her Outstanding Lead Actress in a Comedy Series win, becoming the first actor to earn an Emmy six times in a row for the same role. ("Veep" also snagged the Outstanding Comedy Series Emmy.) But beyond the acting categories, women still remain underrepresented in writing and directing. According to the Los Angeles Times, only 21 of the 114 writers nominated for drama series, comedy series, variety series and limited series, movie or dramatic special in 2017 were women. Meanwhile, only three of the 25 directors nominated across the same categories were women.
And while Waithe broke barriers with her contribution to "Master of None," many critics have called for the entertainment industry to avoid patting itself on the back for minimal strides in 2017. ("Atlanta" and "Black-ish" led the most diverse array of Emmy nominations this year, but the actual awards show painted a different picture for actors of color.)
"Hollywood is a white world and it's a man's world," Ira Madison III wrote for The Daily Beast on Monday. "It usually benefits white men, white women, and then black men. There will plenty of more shows like 'Big Little Lies' on the air, but will there be more like 'Being Mary Jane?' 'Jane the Virgin?' 'Fresh Off the Boat?' 'Master of None?' Asian-American actors are barely on television at all, and when they are, they usually portray terrorists in shows like '24′ and 'Homeland.'"
Like Kidman said, please and thank you.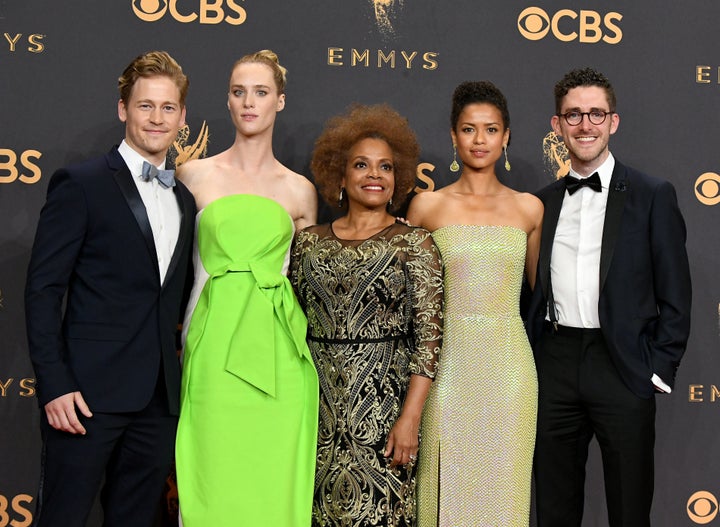 Before You Go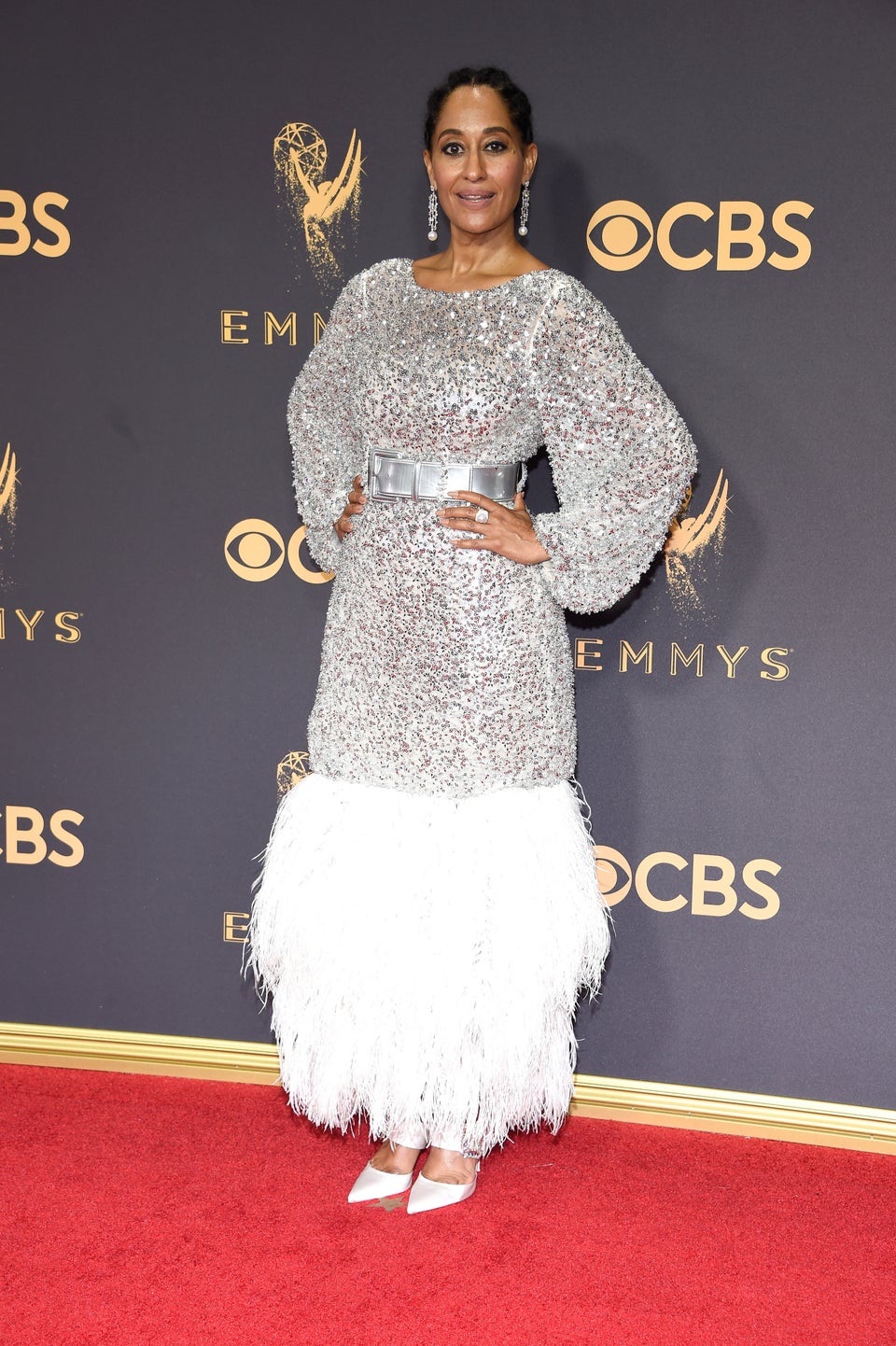 Emmys 2017 Red Carpet
Popular in the Community