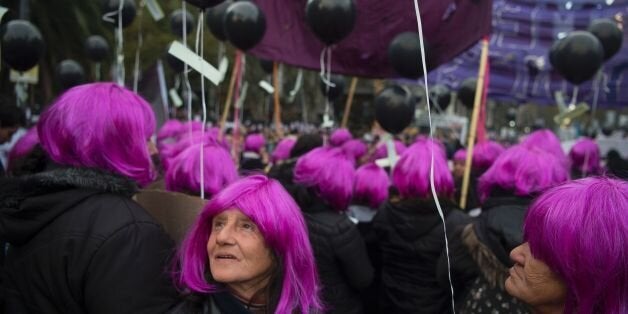 They walked out on the street, dressed in black. Silence engulfed the crowd in a collective mourning ceremony. This is how Polish women resisted the government's abortion ban proposal.
This is also how the people of the city of Mar del Plata, Argentina, will march on the streets on Wednesday, October 19. Women will go on strike for an hour, to condemn the brutal rape of 16 year-old Lucía Pérez earlier this month. Lucía was raped and drugged. She died after a horrible episode of torture. Lucía suffered terribly. She was the victim of femicide: a new word for an old crime.
The death of Lucía is shocking for various reasons. The first is how the perpetrators treated her body. The crime was heinous: she died after being tortured even beyond rape. The second reason is how the assailants acted after they committed the crime. They washed her body and claimed that she had overdosed on drugs.
The cruelty and audacity of the assailants is a sign of impunity. They are men, which seems to give them the green light to plunder women's bodies. They faced the police as if they were socializing with their neighbors. They acted if they had sympathy for the victim.
The third reason why Lucía's death is so outrageous is that it shines a spotlight on how abandoned women are in Argentina. It is a boundless abandonment. They are abandoned by the state, so all they have is the street. That's why they will march, in silence, dressed in black.
If Poland's protests were condemning the abortion ban, Argentina's protests are denouncing femicide. In reality, there is a long list of reasons why women are angry, including the failure of legal abortion services, zika virus, and femicide. These are all pressing issues in this time of political and economic crisis, and they severely impact the survival of women. So why is protesting the only option?
To march is all that's left for us: We don't believe in parliaments, we are ignored by the political powers, and we're tasked with domestic jobs and childrearing -- as if that was our destiny.
We are experiencing deep political turmoil in the region -- just take a look at our neighboring Colombia, where peace is being negotiated by people with conservative agendas with regards to women's issues. But in such brutal times, women's rights must become a priority.
This post first appeared on HuffPost Brazil. It has been translated into English and edited for clarity.
Popular in the Community