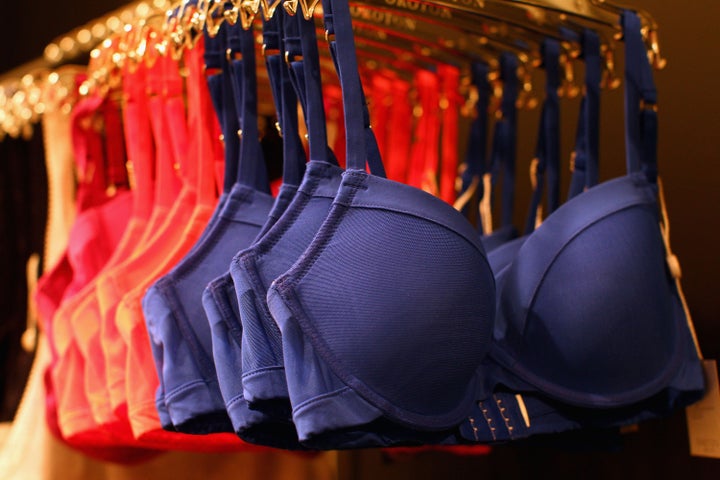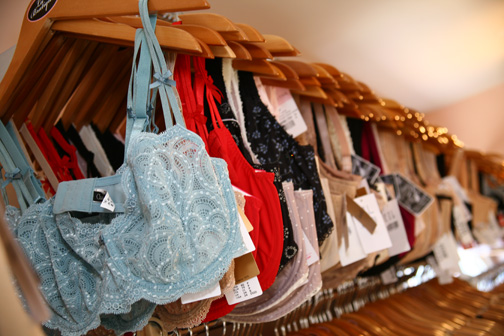 Two weeks ago, I went for a bra fitting. Having been told by dozens of style experts that 137 percent of women wear the wrong bra size, I fully expected to be told that my 34C was FAR too small/big/narrow/high/thick/whatever for my frame. Miraculously, the lingerie shop owner confirmed that I was already wearing the correct size. I will admit to feeling slightly smug about this.
My smugness dissipated as she began to show me a dazzling assortment of silky, frilly, and coyly transparent bras in every style and shape imaginable. I'd worn my one cute bra to the fitting: A satin leopard print that fit beautifully, but featured thick straps and strangely stodgy detailing. Somehow, just glimpsing the universe of beautiful underthings that I'd been studiously ignoring for the past 20 years made me feel anxious. Virtually all of my friends wore and adored gorgeous lingerie, but I'd dismissed it as a frivolous expense and focused on flattering but practical underthings for myself. Yet as I discussed the physics of bras with the owner -- learning about underwire placement, the importance of band fitting, and how different styles would achieve different silhouettes -- I knew I needed to formulate a plan. A panty plan.
My private bits are fantastically fussy. I have been blessed with perpetually erect nipples that defy even triple ply fabrics, so it's naught but padded bras for me. I also suffer from a group of reproductive issues that would turn your head around, and my gynecologist has browbeaten me into wearing cotton panties. Forever. As a younger gal, I splurged on satin Vicky's Secret bras and lacy thongs, but eventually I resigned myself to nude bras (they never show through anything) and whatever cotton panty options I could find at Target (they're easy and cheap). In the days after my fitting at the lingerie shop, I strapped on my plain nude Bali bra and nude cotton hi-cuts feeling utterly dissatisfied. I don't believe that wearing comfortable underwear is a symptom of "letting yourself go," or that tight, sheer underthings are inherently superior to soft, opaque ones. But in my specific case, I'd decided that there couldn't possibly be any options that fit my rather specific physical and comfort-related needs that were ALSO cute or sexy. I mean, when do you actually get the best of both worlds? Approximately never, right? So why even look?
But my curiosity had been piqued at that bra fitting, and look I did. As it turns out, my beloved and perfectly-fitting Bali bra comes in red, bright blue, and several cheeky prints. I tracked down lace-trimmed cotton panties from Vanity Fair, Hanes, and Natori. I even gave Victoria's Secret a second look, and discovered that their cotton offerings are absolutely darling and surprisingly affordable. It felt utterly liberating to consign those old, oversized high-cuts to the rag pile, so exciting to place that fire-engine red bra lovingly into my lingerie drawer. Don't get me wrong: The nudes stayed. I wear a lot of white, and haven't quite embraced the dark-bra-sheer-top trend, so I'm not about to relinquish my skin-tones. But now I have options, color, print, embellishment. Now I can choose.
And I feel transformed. I've heard so many women sing the praises of pretty lingerie as a tool for boosting personal power, and the practice always made sense to me intellectually. Wearing a gorgeous bra and knicker set beneath your clothes can be a way to honor your body, to keep a secret and subtle sexual charge going throughout the day, to feel pretty and powerful in a very private way. Yes, lingerie is lovely in the bedroom, but it can be fun and empowering in daily use, too. Or so I was told. But I'd stubbornly decided that I couldn't play the game myself, that my own needs were too specific and my own plain options wholly sufficient. How wrong I was. I am delighted to find that wearing my new bold bras and bright panties makes me feel polished and pulled together in entirely new ways. I'm walking taller, smiling more, feeling beautiful and strong from the inside out.
Finding clothing that suits your needs, body, and budget can be challenging. Finding undergarments that suit your needs, body, and budget can be an absolute nightmare, especially if you fall outside the narrow spectrum of average sizes. There are a few resources that cater to specialty sizes -- Itty Bitty Bra, Cacique, and the wonderful world of Bare Necessities to name a few -- but they can be expensive, fitting can be tricky, and that perfect bra and panty set may still elude you. I know full well that I'm lucky to have spent an afternoon scouring my local Marshalls and trolling Amazon, only to unearth an entirely new, utterly perfect lingerie wardrobe for myself. For many, it won't be so easy. Not by a long shot. But I feel compelled to recommend color, pattern, and embellishment to anyone feeling bored and dissatisfied with her undergarment options. Look when you can, buy when you find, wear when the mood strikes.You, too, might be astonished to discover how powerful a set of pretty panties can be.
Image courtesy Michael McGraw. Pictured is a row of bras at La Bratique, the Minneapolis lingerie boutique that brought me in for a fitting.
Support HuffPost
A No-B.S. Guide To Life
Related
Popular in the Community