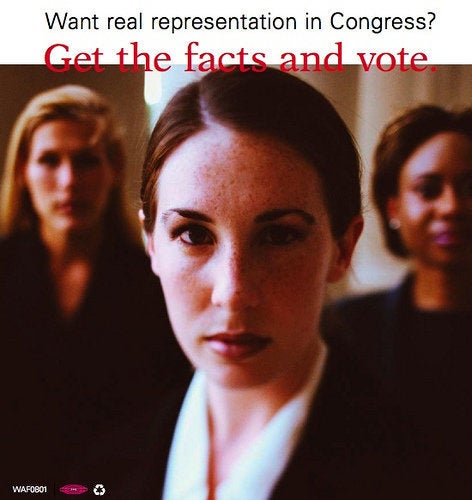 Barack Obama's campaign may get a major electoral boon from an organization that was accused of conspiring against him in the primary.
Women's Voices Women's Votes (WVWV), a non-partisan organization whose mailers caused confusion in the days prior to the North Carolina primary, is set to launch a historic, $2.4 million voter registration effort for the general election. The group's effort, "You Count. Be Counted!" will target 7 million unmarried women in 24 states during the late summer and early fall. The result could be a big boost for the Illinois Democrat.
"In the 2004 election, 20 million unmarried women did not participate, 15 million of whom were unregistered and 5 million of whom did not vote," said Page Gardner, President of WVWV. "If more and more unmarried women comprise a greater share of the electorate, elections will naturally change... Although a third of unmarried woman have traditionally voted Republican, because we are at such a place in our country -- they think the country is on the wrong track, they were first against the war, they need health care improved the most -- you do have a very important progressive constituency and a constituency in the most need for change. That is a snapshot of now, how it will play overtime remains to be seen."
The states being targeted by the group, which does not endorse or collaborate with candidates or parties, include Arkansas, Illinois Kentucky, Maine, Maryland, Michigan, Missouri, Montana, New Jersey, Ohio, Oregon, Pennsylvania, South Carolina, South Dakota, Virginia, and West Virginia, Colorado, Nevada, Washington, Arizona, Florida, Iowa, Minnesota, and Wisconsin.
"Our overall goal for the cycle has been to make sure that we reach and register 900,000 and a million applications," said Gardner. "We are hoping and we think we will reach that goal with this mailing. So far our response rates have been completely off the charts in terms for the last mailing that we did."
In the days before the North Carolina primary, WVWV was accused of making robo-calls deliberately designed to confuse Obama's supporters. The calls, some of which were narrated by a deep-voiced, black male, told voters that the state's election was on a date that had already passed. Moreover, the group failed to provide contact information or a way to decline future calls -- a violation of North Carolina law.
WVWV has since apologized for the mistake, which seemed to have been the product of haste and over-ambition rather than politics. For the current effort, Gardner insisted that firewalls would be in place to prevent any confusion.
"Women's Voices Women Vote has contacted election officials in each state where the campaign will be active to notify them of the mailing, let them know to expect an increased number of registration forms that will need to be processed, and ensure the registration materials meet state standards," read a press release. "WVWV will continue to work with election officials and do everything it can to ensure unmarried women are able to exercise their right to vote in this historic election."

Calling all HuffPost superfans!
Sign up for membership to become a founding member and help shape HuffPost's next chapter