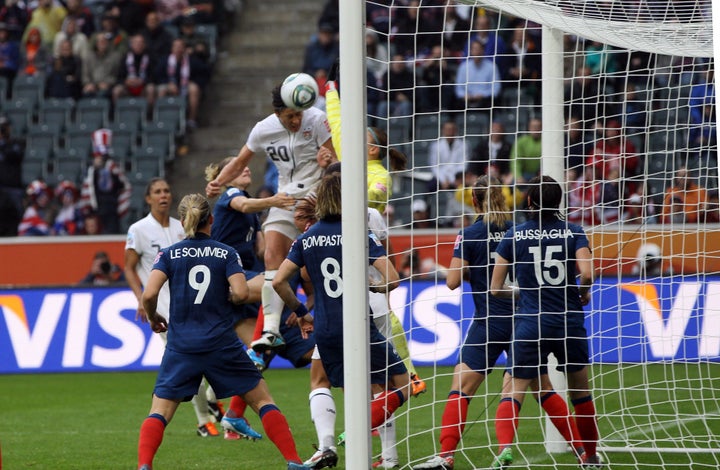 Once a soccer mom, always a soccer mom! How else do I explain organizing my lunchtime in front of ESPN, beaming in smile as the US Women's World Cup team beats France to win a chance for the championship trophy in the finals?
The years of cheering and schlepping as my youngest daughter (now a college grad) played travel and varsity soccer has indelibly marked a soft spot in my heart for "the beautiful game." I remember the day, twelve years ago, when Brandi Chastain impulsively lifted her shirt, exposing her sports bra for the world to see, as a sign of her joy and strength.. She, along with her teammates, had just won the World Cup in a penalty kick shootout. While shocked at how she broke female traditions, I was elated at her bravery to be herself and match her male counterparts on the field.
This week, asked by a sports broadcaster how the team was able to hold in the games to the very end, Abby Wambach, the team's leading scorer, replied with one word: "resilience." "We are resilient," she said, "we don't give up."

Tears welled up in my eyes. I thought back to the thrilling memories of indoor soccer championships and to the heartbreak of the much coveted outdoor championships never to be had. I instantly saw images of girls faces, growing through middle school and high school years, the team work involved to build cohesive teams and the tremendous commitment on the part of parents and coaches.

Then comes the commercial -- women in soccer uniforms and the announcer's voice: "What if there were no Mia, no Brandi, no legends to live up to. What if there was no pressure?" A pause... The announcer's voice continues, "then we wouldn't have a chance."

"Yes," I scream out to the television. No one's around, just me. Me and my deep appreciation for how great it is to work hard, to work together and to use "pressure" in a way that's empowering.

"Yes," I echo "then we wouldn't have a chance."
Related
Popular in the Community