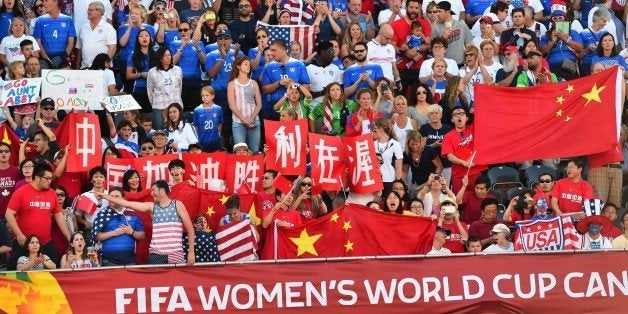 Everyone benefits from the growth of women's global soccer - EVERYONE! So FIFA let's not make it more challenging than it has to be.
[About Fred Astaire] "Sure he was great, but don't forget Ginger Rogers did everything he did backwards... and in high heels." - Bob Thaves in 1982.
[About Women's World Cup] "Sure, FIFA's Men's World Cup is great, but don't forget the women are playing the same game on fields of hot coals (artificial turf), getting paid A LOT less, in a manipulated tournament bracket, with their fans waiting 2-plus hours to buy merchandise, all while staying in the same hotel with opposing teams." - Jennie Matt in 2015
FIFA's 2015 Women's World Cup enters its final stages this week with only four teams remaining. There are many positive results from the tournament so far, in the form of viewers, tickets sales, and for the first time in Women's World Cup history, the televised broadcasting of every single game. According to Bloomberg Business, "Women's soccer has achieved what most new shows have failed to deliver at Fox: a surge in viewers."
The Women's World Cup has been successful, yet FIFA's approach to managing the women's game leaves a lot of room for improvement. In most cases, the best approach for FIFA would be to simply run the Women's World Cup like they run the Men's World Cup.
Seed the four highest ranking teams to meet as late as possible in the tournament.
Play on natural grass, not artificial turf.
Stop being surprised about (and start being prepared for) merchandising opportunities, attendance, viewership and growing interest in the women's game.
Put opposing teams in different hotels.
Bracket Manipulation
Any sports fan understands the idea of a playoff bracket where teams are "seeded" according to their performance in the regular season or their ranking. Imagine the outcry if:
Germany and Argentina met in the quarterfinals of FIFA's Men's World Cup?
Seattle Seahawks and New England Patriots met in an early round of the NFL playoffs?
Duke played Kentucky in the NCAA Elite 8 instead of the Final Four?
Sports tournaments are already optimized to sell tickets and draw viewers by making sure the best teams don't meet early in the tournament. This way we (the fans, the consumers, the people who are actually funding this entire ecosystem) can watch the best teams play the most. Why did FIFA determine that the Women's World Cup is different and feel the need to place teams for the tournament not based on their world ranking, but on what they thought would sell more tickets and produce higher TV ratings? Yes, you heard it right; a global tournament which athletes dedicate their lives to play in was manipulated by bureaucrats with the results being that I, as a fan, consumer, and supporter, don't get to see France play anymore. So sorry to see you go France; when your game is on, it is a thing of true beauty.
No. 3 France met No. 1 Germany in the quarterfinals. No. 2 USA will meet No. 1 Germany in the semifinals! The top four ranking teams leading into the World Cup should be put in four different brackets so if they advance we see them in the semifinals and then the finals. This is sports. This is how it works. The manipulation of this is the best evidence that FIFA is operating under a conscious or (less likely) unconscious bias towards the women's game. As was stated by Camille Abily, a member of France's World Cup team, in a Washington Post article, "Stop taking us for idiots." I would add that FIFA should stop taking us (the fans and consumers who support FIFA's sponsors) as idiots, too. We want the best teams playing furthest into the tournament. That's what will grow the women's game.
Artificial Turf
This is the first World Cup to ever be played on artificial turf. The initial concerns discussed were all about the impact on the athlete's bodies in the form of skin abrasions and general wear and tear. Syndey Leroux, a forward on the USA's Women's National Team, posted this photo of her legs after playing on artificial turf (ouch!).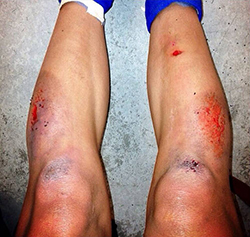 Nowhere could you see the impact of artificial turf more than in the Australia vs. Japan semifinal game where heat surely had a negative impact on Australia's ability to play their attacking, aggressive style of play. Again, FIFA management of the tournament impacted me as a fan -- I wanted to see Lisa De Vanna, the star of the Australian team, score again and again against teams other than the USA. We can't control the weather, but the artificial turf can almost double the heat on the field. NASA satellite maps of New York City show that some of the hottest spots in the entire city are artificial turf fields. As fans, we witnessed a very different semifinal game because the field was like playing on hot coals, which sucked the energy out of the players.
A Dearth of Preparedness -- and Merchandise
I traveled to see the USA's opening game in Winnipeg against Australia. We waited four hours at the border crossing between the USA and Canada (are we surprised instead of prepared that so many Americans would make the drive to see women's soccer?). At the game, there was a 2-plus hour wait to buy merchandise. You have a stadium full of teenagers girls (a segment of the consumer market that most brands are killing themselves to reach), and what does FIFA do with all those potential buyers -- make them wait in a 2-plus hour line and then run out of merchandise. What a missed opportunity for FIFA, for women's soccer, for all those girls who wanted to take home a souvenir of the experience. The women's game needs more funding, but short-sighted FIFA missed out on a huge revenue generating event.
Athlete Lodging
Apparently FIFA has been putting the women's teams in the same hotels, so when France lost to Germany in the quarterfinal game that should have never happened, they had to ride in elevators with their opponents. Could you imagine Luis Suárez, the Uruguayan striker who bit Giorgio Chiellini, an Italian defender, during a Men's World Cup match last year staying in the same hotel with his victim? Close quarters (aka elevators) with a known biter -- how many more players would have been bitten? The men's teams would never get placed in the same hotels as their opponents.
You Have the Playbook for the Men's Game, Use It
FIFA, stop making the growth of the women's game harder than it has to be -- simply get out of the way! The sport is growing in spite of your mismanagement. We can't continue to let you run it like this anymore. Consumers are standing up and insisting that you be a better steward of the sponsors' money, which ultimately comes from us, the consumers. Our planet needs more girls participating in sports; we need more women in FIFA to make sure this happens.
Calling all HuffPost superfans!
Sign up for membership to become a founding member and help shape HuffPost's next chapter