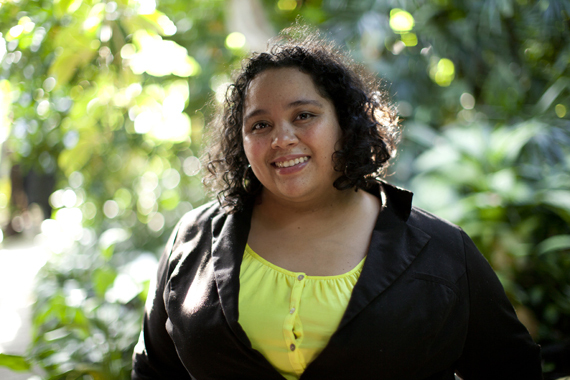 Joliz Cedeno, photo courtesy of Julie Hassett-Sutton/Frantic Studio via Global Kids
From 1998-2002, I attended The Beacon School, a very progressive high school in Manhattan, which required students to do hours of community service as part of a graduation prerequisite. My first placement had me in a windowless room stuffing envelopes for an organization. After my first day, I immediately went to my advisor and claimed, "I will go crazy if you make me do this." Knowing my love of media -- or perhaps having an interest in maintaining my mental stability -- he reassigned me to Global Kids.
I was placed in "Youth Pulse," the Global Kids radio program through WBAI. It was completely youth driven -- produced and hosted by us, for us. The live, monthly show was designed to focus on health issues, but the discussions always shifted to what we felt were more pertinent at the time.
Our time slot was Fridays at 1:00p.m. It was the middle of the afternoon and despite our intentions to attract a youth audience, no youth were listening because they were all at school. It came as no surprise that we often took calls from people who weren't particularly keen on the idea of young people having opinions.
It was a struggle to get adults to understand that you can have a conversation and disagree without being combative. This became a learning experience, forcing us to express ourselves in a way that showed people we knew what we were talking about. Our training at Global Kids (GK) emphasized critical thinking which helped us understand the complexities and nuances of a law or social issue.
Comprehensive sex education had been an issue that was really important to us at "Youth Pulse." Our episode on sex ed was the first one where we really took the reigns and brought on a sexologist as our special guest. We weren't interested in just discussing putting on a condom and not getting a disease, we wanted to explore what your body goes through and what the real questions youth have about sex like, when are you really ready or how do you know you've had an orgasm?
Our guest asked us to define virginity and my co-hosts both agreed it was any form of penetration. I decided to challenge them by asking would they consider it losing your virginity if someone were to masturbate with a dildo or any other object. It was a question we continued to discuss on air, although I got quite a glare from my mother when I got home that day. At 16, I was fearless enough to ask the questions that I knew added to a much larger and necessary discussion. It was through the training that we did at Global Kids that I was able to feel confident and comfortable in myself enough to know that I could push the issue without it being seen as salacious.
After graduating from high school, I interned at Global Kids for the development team. Later, I interned for GK's Online Leadership Program to create a college prep program for a local high school. After a few years working elsewhere, I was hired at Global Kids as a Program Assistant. My main focus was on GK's annual youth conference. Things came full circle when again my love of media led me to become Online Leadership Program Associate where I helped to infuse the Global Kids mission with our digital media programs.
My passion for sex education and women's issues still remained with me, which is why I mobilized our Global Kids youth to work with V-Day, the movement to end violence against women, for their One Billion Rising campaign. Last year, I joined the V-Day team where I focus on managing V-Girls, the youth component of the movement.
In just the last month we have heard stories of over 200 girls being abducted and possibly trafficked for trying to get an education; a high school girl being stabbed and killed for rejecting a boy's prom invitation; and just this weekend, six people were murdered because of a young man who wanted to exact revenge on women for not having sex with him. These ongoing incidents point to larger conversations that need to be had in our country about masculinity, misogyny, and how we are raising our boys. V-Girls recognize the culture of violence we are in and have been working towards making their own communities safer places.
In South Africa, our V-Girls have been leading empowerment workshops in their schools and communities. They have also initiated a successful head scarf campaign in solidarity with the young women of Nigeria. In New York, V-Girls are going to be working all summer on ways to bring these conversations to their schools including looking at what is consent to the power of language in rape culture. If I have learned anything from having been a Global Kids Leader, it is the power of youth voice and its ability to make an impact. At V-Day, we have seen these young women rise for justice and now look forward to seeing them create a revolution to end violence in our culture.
In my journey thus far I have found myself in places and situations that cause me to take pause and wonder, "How did I get here? Do I even belong?" It's an unfortunate reality that as a brown woman from a disenfranchised community, these are questions that are consistently raised. I learned while doing radio that my mere presence on the air made a difference, bringing a voice and a perspective that the audience may have never heard otherwise. My experiences at Global Kids are ones that remind me not only do I belong, but much like activists all over the world struggling to be heard, I am necessary to the conversation.
Popular in the Community