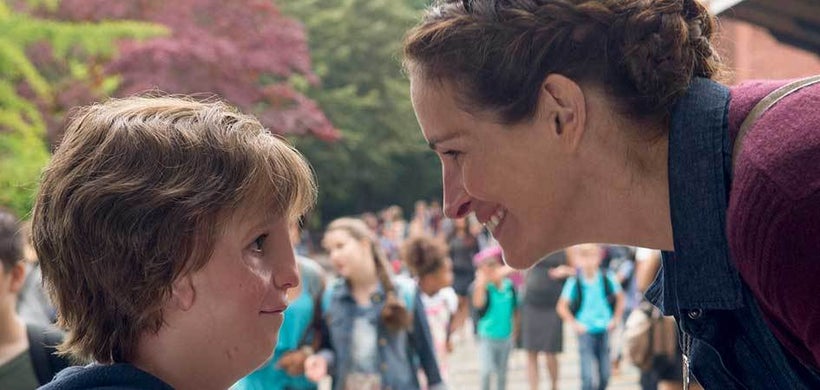 Movie Review - Jackie K Cooper
Once in a blue moon a movie comes along that touches audiences with its charm and simplicity. In these movies it is all about the story, the characters and the message. "The Blind Side" was such a movie, and now we have "Wonder." This amazing movie presents a message to its audience to "be kind" and it enforces it with a story about a little boy named Auggie who has facial disfigurations. Everything in this movie blends together to make "Wonder" wonderful!
The film, which s based on the YA novel by R. J. Palacio, starts with Auggie (Jacob Tremblay) going to school on the first day of fifth grade. Prior to this time he has been homeschooled by his mother Isabel (Julia Roberts), but nowshe thinks it is time he mixed with other children. His father Nate (Owen Wilson) is apprehensive but on board as is Auggie's sister Via (Isabela Visovic).
The movie is all about that school year. It shows how Auggie adjusts to the school and how the school adjusts to him. He faces some intense bullying but he also discovers friendships along the way. Some children are bulllies while others find their better selves.
Tremblay is the heart of the movie as Auggie and he brilliantly presents all the right nuances to his character. Auggie has all the traits of any other fifth grader but his humanness to make mistakes and then recover makes you love him even more. Love him you do, but you also have to find room in your heart for his close friends Jack Will (Noah Jupe) and Summer (Millie Davis).
That is one of the wonders of this movie. You not only learn Auggie's story but you get insights into the worlds of Jack Will, Via, and Via's's one time best friend, Miranda (Danielle Rose Russell)> Auggie's life impacts on theirs but not everything is about Auggie.
Julia Roberts is perfectly cast as earth motherish Isabel. She never tries to dominate a scene but rather steps back to give the spotlight to others in the cast. However we do get to hear the best laugh in Hollywood. Opposite her Owen Wilson provides much of the humor of the film. He has the perfect delivery of all his lines and comes across as a compassionate, loving father.
The movie is rated PG for mild violence. It is amazing they actually made a movie with little to no profanity, and no crude humor. This is a movie the whole family can watch, enjoy and from which they can learn.
"Wonder" is a wondrous sight to behold because of the depth of its story, the talent involved (especially by the young actors), and the emotional message it challenges the audience with in scene after scene. You have to see it. It is one of the best movies of the year – and in my opinion maybe the best of all.
I scored "Wonder" an awesome 9 out of 10.
Jackie K Cooper - www.jackiekcooper.com
Calling all HuffPost superfans!
Sign up for membership to become a founding member and help shape HuffPost's next chapter
This post was published on the now-closed HuffPost Contributor platform. Contributors control their own work and posted freely to our site. If you need to flag this entry as abusive,
send us an email
.