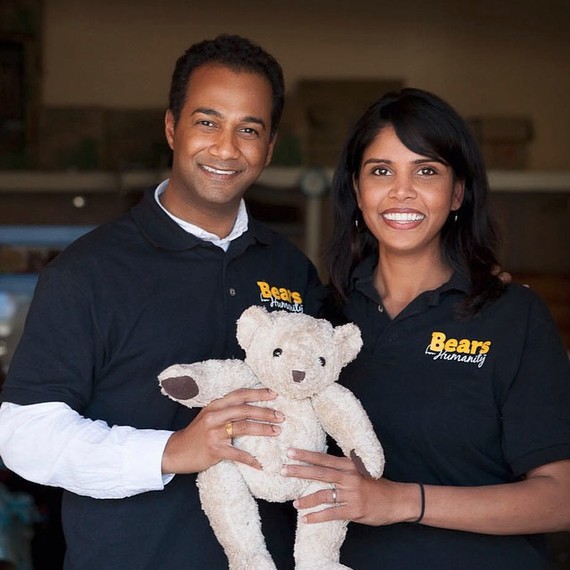 Wonder Mom #9: Renju Prathap

Renju Prathap is a STEM girl's idol for staking her claim in the male dominated world of tech as IT Program Manager at VISA in San Mateo, CA. She is also the proud and dedicated mother of 3-year-old twins and co-founder of Bears for Humanity. Started in their humble garage, Bears for Humanity is a manufacturer of certified organic teddy bears that creates jobs for at-risk women in the USA and worldwide through a fair trade supply chain. Bears for Humanity has also given over $1 million in teddy bears to children around the world through their buy one give one program and partnerships with charities. With partners like Whole Foods, Zulily and NPR over the last four years, it's safe to say that her business is not just a hobby. So how does she do it all and still maintain a fabulous glow? Let's get to her answers to find out!
How did your do-it-all lifestyle come into being and how did you know it was the one to run with?
I wanted and still want to make a positive impact in the lives of human beings, women, children, animals and our environment. When I became pregnant with my twins, my life changed. I started searching for safe organic toys and gifts for my children and well, as they say, the rest is history.
How did you fund your business?
My husband and I made the daring and right decision to take our savings, IRAs and retirement fund and invest into Bears For Humanity. Lots of anxiety and no hesitation.

5 words to describe your personal sense of style?
Real, Classic, Conservative, Professional, and Modern
Where do you get your energy?
I am exhausted every day - I just don't let myself feel exhausted mentally. I just don't have the choice right now to simply think about slowing down
How do you find time to get ready and maintain your style?
I really don't have any time for too much style. I always want to be authentic and real and it fits what I do. I want people to see me for who I am and be inspired by what I do.
Who are your role models and why?
Mother Teresa for giving unconditionally to humanity.
Any words that you live by?
My favorite quote is one that I have always heard my husband quote, "I am just a pencil in the hand of God, writing his poem to the world" by Mother Teresa.
What is your favorite thing to do with your children?
Eat. Play. Sleep. I think they should make a movie like this for all moms!
How do you balance family and work?
What balance? We live in perfect imbalance!
What time do you get up and go to bed on a typical day?
My day starts at 5am and ends at 10pm.
What do you typically eat for breakfast?
Eggs on the go.
Coffee, tea, wine, tequila, or other?
Coffee
What is something that you struggle with fitting into your lifestyle and how do you deal with it?
I am running on a 4-year-old hair style. I don't have time for extra beauty and pampering, but when I give teddy bears to children at hospitals, kids at orphanages and women in abused women shelters, I feel reassured that I am doing the right thing.
Any advice for new moms, or moms who are struggling to make it all work?
What I have learnt from building Bears For Humanity is that everyone needs a purpose in life. It is up to us to learn from within what makes us happy and what is the real purpose of our lives. A bit philosophical but I believe this to be true. It is not acceptable to me for women to have our lives purely defined by being mothers and wives. There is something in each and everyone of us that calls us when we are alone with our thoughts. I encourage you to listen and go with it.
From Sheryl Sandberg to Marissa Mayer, women are not sacrificing themselves for their kids like they used to. Why? If you ask me, a confident and happy woman makes a better mother and role model. And whatever it takes to get her feeling that way should be done. But as a mother myself, I know how hard it is to maintain a sense of style, run a successful business and to feel like an okay parent all at the same time.
Women who are flawlessly manifesting this enchanting trifecta are the new wonder women of our times and they are my idols. So I got to wondering how they actually do it all and have it all. Is it really possible? Are they hiding something? Do they secretly never floss? I hope to answer these questions and to give the rest of us moms motivation to stay true to ourselves, live fulfilling lives and love our families as much as ever through interviews with moms who are already doing it. These are the Wonder Moms.

If you know a woman who fits this mold, please share her info with me on Twitter @metromomclub
Related