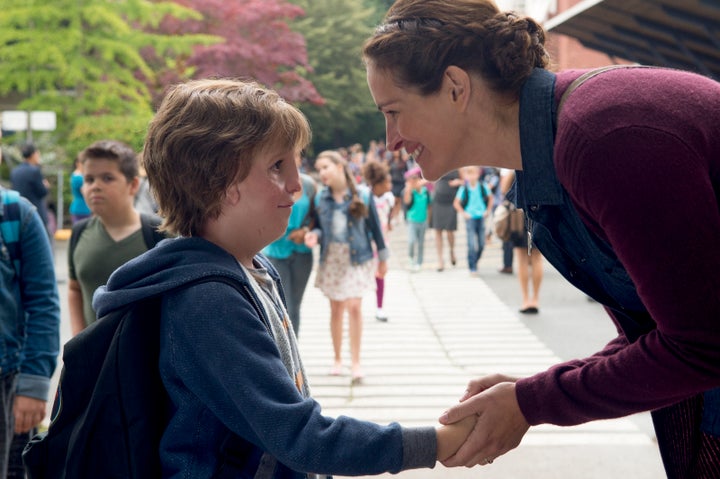 That's why it's a better time than ever to embrace a film genre long maligned: the classic tear-jerker. Enter Stephen Chbosky's latest film, "Wonder," a poignant effort that, melodrama be damned, arrived in the nick of time.
"Wonder" is based on the bestselling novel by R.J. Palacio, which follows Auggie Pullman, a 10-year-old boy with a congenital facial deformity, played beautifully by "Room" standout Jacob Tremblay. In both Palacio's and Chbosky's stories, we meet fifth-grader Auggie as he's being mainstreamed into a public school after being home-schooled by his devoted, protective mother (Julia Roberts) for most of his life.
Auggie has had over 20 surgeries to treat what's presumed to be a form of Treacher Collins syndrome, which affects the development of bones and tissue in the face. But other than his outward appearance, his interests and hobbies are ordinary. Halloween is his favorite holiday. "Star Wars" is his favorite movie. Science is his favorite subject.
His family ― with a "cool" dad (Owen Wilson) and seemingly perfect teenage sister, Via (Izabela Vidovic) ― makes his day-to-day life bearable, but Auggie struggles to embrace who he is and what he looks like outside of this safe space, choosing to wear a plastic astronaut helmet every time he leaves the house. His mind is in outer space while his body is tethered to the ground, in a world where his classmates look past their similarities to harp on all the ways he's different.
What happens to Auggie over the course of Chbosky's nearly two-hour film is both troubling and triumphant. He's siloed, picked on, made an outcast. He's bullied for being smart, for being "ugly," for being weird. People gawk at him as he walks solemnly into school, and he sits alone with his head down in both the classroom and cafeteria. He collapses as soon as he gets home, telling his parents he just doesn't belong. It's hard to watch these scenes, and deliberately so.
"You are not ugly, Auggie," his mom tells him when she hears about the name-calling he endures each day.
"You just have to say that because you're my mom," he says through tears.
"Because I'm your mom it counts the most because I know you the most," she assures him.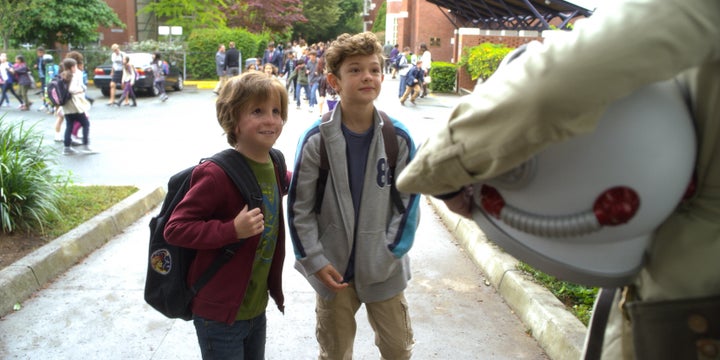 Auggie eventually picks himself up and returns to school. He makes a new friend, Jack Will (Noah Jupe), paving the way for other students to side with Auggie over the school bully, Julian (Bryce Gheisar). The tear-jerker turns rosier with the help of a teacher (Daveed Diggs) and principal (Mandy Patinkin) who see Auggie for what he is: a kid who could teach them a little something about humanity.
Today, movies like "Wonder" ― and the admittedly mawkish messages they put out into the world ― are welcome additions. Although this particular genre tends to fall prey to saccharine stories, sentimental dramas play a specific role amid a deluge of bad news.
"This film promotes kindness as a successful way of living your life, in a time when we're being inundated with our leaders preaching hate," Daveed Diggs, who plays teacher Mr. Browne, told HuffPost. "It also is a film about the bravery that it takes to just show up and be honestly who you are. The more we can all be responsible for presenting our whole selves in any situation, the more the world has to embrace difference, the less that we hide the things that are different about us, the more we force everybody else to deal with that ― and not only to deal with it but to celebrate it."
It's worth noting that many teachers have already found the novel Wonder to be essential reading for their students; it's not only a redemptive case study on bullying but a lesson on a new generation of kids who operate within their own set of social constructs. (Tremblay told HuffPost that his class is taking a field trip to see the movie upon its release.) With access to smartphones, tablets and social media, they distance themselves from one another, slamming the door on physical and emotional connectivity. Teachers, who spend more time than most with kids coming of age, stand to have an inarguable impact on the way their students grow up.
In a memorable scene from the film, Mr. Browne poses an unforgettable question on the first day of school: "Who is it that I aspire to be? That is the question we should be asking ourselves all the time."
Moments like this are sugary, yes, but they're also a salve. As Tremblay explained to HuffPost, "Humanity could learn a few things about choosing kind." And sometimes, a movie about kindness deserves a shot at the box office.
"Wonder" is in theaters Friday.
Popular in the Community