"Art is very often put into categories, and the canvas dominates the art category," explained Jason Ostro, owner of the Gabba Gallery, and co-curator of "Wood, Metal, Screw 2." Opening on Saturday, August 22, the group exhibition celebrates alternative media, and will feature the work of forty-five artists. Ostro continues, "'Wood, Metal, Screw 2' is a new style art show where the medium of art on canvas is not allowed."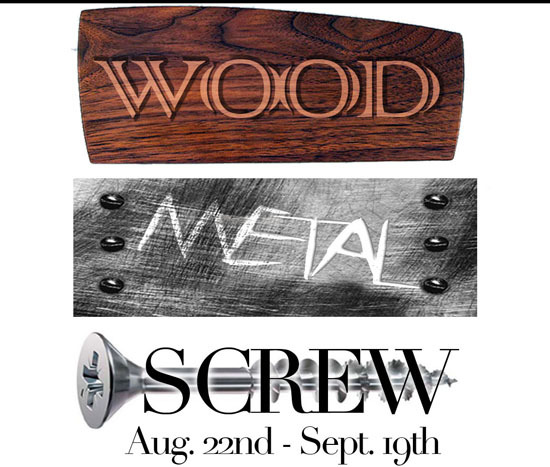 Gabba Gallery is an up-and-coming gallery that has presented a long list of unique exhibitions since it opened in 2012. Unlike the typical gallery owner, Ostro is also a street artist. He has a diverse background that also includes fashion, music as well as art. Citing his mother as the impetus to luring him to the art world, Ostro has helped many emerging artists sell their work and is responsible for organizing numerous art shows. For this exhibition he and co-curator Phil Santos have gathered together a varied assortment of talented artists. "I'm looking for art that captures imagination, expresses happiness, love or sorrow," said Ostro. "I want art that makes people feel!"
Since moving to Los Angeles in 2008, the Canadian born artist Jennifer Verge has immersed herself in her art as well as the LA art scene. Although it has not always been an easy road, Verge has persevered with a positive attitude, which is ever present in her art. "I am grateful to be a part of this particular show. This type of mixed media art really excites me," said Verge. This will be her second time showing with the Gabba Gallery. "I'm really proud to be showing at this gallery. Jason the owner is amazing! He and Phil have curated fantastic shows together. With over 45 different artists the opening is going to bring a huge crowd...a guaranteed fun night."
"Jennifer Verge is an artist with heart and love," said Ostro. "It shows up in her work perfectly. Jennifer's combination and use of materials to convey her messages are the perfect art for 'Wood, Metal, Screw.'"
Verge will be showing one of her brand new works titled Some People Feel the Rain Others just Get Wet, which was inspired by a recent outing with her sister and some close friends during a rare LA rainstorm. "It's important to surround yourself with people who live by these words."
Verge has found inspiration in family and friends before. She incorporated the phrase "Enjoy your Life 24/7" into one of her first mixed media works to be shown at a gallery. "It was the last thing one of my favorite aunts said to me before she passed away," she revealed. "It will always be one of my favorites." The work sold that night - one might say it was a sign from above. http://www.jenniferverge.com/
Nathan Cartwright, probably best known as the owner/curator of the Hive Gallery. Cartwright has played an active part of the downtown art community for over ten years. Prior to owning his gallery, he curated underground art exhibitions at Hangar 1018.
For "Wood, Metal, Screw 2," Cartwright will be showing a sculpture titled the Ladder. The above image is a photo of just one portion of the entire sculpture. He explains, "This piece illustrates the evolution and transformation of self through playful images, robotics and lights." The multi-dimensional work is influenced by Alchemy. The artist incorporated symbols of from several religions and perhaps a bit of his own sarcasm while commenting on the destructive roles that people choose to play. The piece also celebrates transformation. "My mission is to move my viewers to a place of play and communicate about the evolution of the self," said Cartwright.
When asked what he thought of the theme of the exhibit, he said, "I love the concept - it is basically mixed media, constructed work and this is what I love to do! Plus, I love looking for new junk and shapes and toys to make art with...it makes every trip out of my door an adventure. Who knows? You may find the perfect cabinet door to make a masterpiece on!!! http://www.artwrightstudio.com/ http://hivegallery.com/honey/
Chicago based artist Nate Otto has been creating as long as he can remember. He is known for his imagined cityscapes, which he will be showing as part of the "Wood Metal Screw" exhibition.
Photo Courtesy of the artist; Nate Otto, Connection to the city, wood panel "Connection to the City 24" x 20" X 2"
"For this piece I wanted to show one building set off from the rest of the city, as living in a large city can sometimes be lonely and alienating. I was thinking about Los Angeles and I wanted to show the city tapping into a dwindling water supply below. Some of the pipes don't reach the water level." http://nateotto.com/home.html
Jason Ostro continues to be an active implement of change and a positive force for the survival of the arts in the Rampart District (adjacent to Silverlake). In 2013, he began the Gabba Arts District Mural Tour, which is a true labor of love. To date, he is responsible for creating over eighty murals in the area. He has utilized talented artists from all over the world to better his community.
Both Ostro and Phil Santos will each have one work in "Wood, Metal, Screw" showing along with over forty artists. When asked what he loves most about curating, Ostro answered. "The energy, the art, the pulse of fresh art." @jasonostro @philsantosart
There will be an opening reception for "Wood, Metal, Screw" on August 22 from 7-10pm at Gabba Gallery (3126 Beverly Blvd, Los Angeles, CA 90057). The event will feature guest DJ Jonathan Williams, and is sponsored by 7/11, Hubert's and Perrier. For a full list of artists and more information about the gallery, visit http://www.thegabbagallery.com/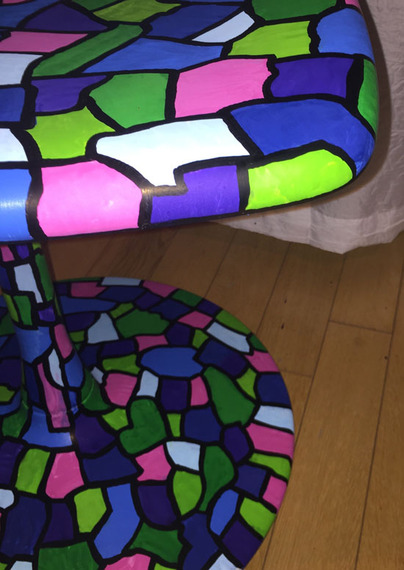 Photo courtesy of artist; Jason Ostro, Expression in flow - seated, Acrylic on mid century modern chair 2015
Calling all HuffPost superfans!
Sign up for membership to become a founding member and help shape HuffPost's next chapter