Scandinavian practice C.F. Møller and DinellJohansson have been announced as winners of the HSB Stockholm architectural competition. Their winning scheme includes three "ultra-modern residential high-rises" planned for Stockholm's city center. Only one of these proposals will actually be built, including the world's tallest wooden skyscraper.
Completion of the chosen tower is set for 2023, the 100th anniversary of the competition organizer, and Sweden's largest housing association, HSB. View the three project proposals below.
1. World's Tallest Wooden Skyscraper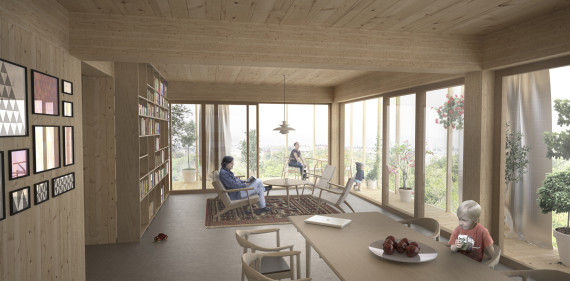 Wooden Skyscraper. Image © C.F. Møller, DinellJohansson
The residential skyscraper, which will reach 34 stories and be built from a wooden structure with stabilizing concrete cores, will make the building the tallest wooden skyscraper in the world. Each apartment will have a glass-fronted balcony and the roof will be home to an array of solar panels. In including a café, nursery, gym, bicycle storage and a winter garden for shared allotments in the scheme, the "social sustainability" of the project is made clear.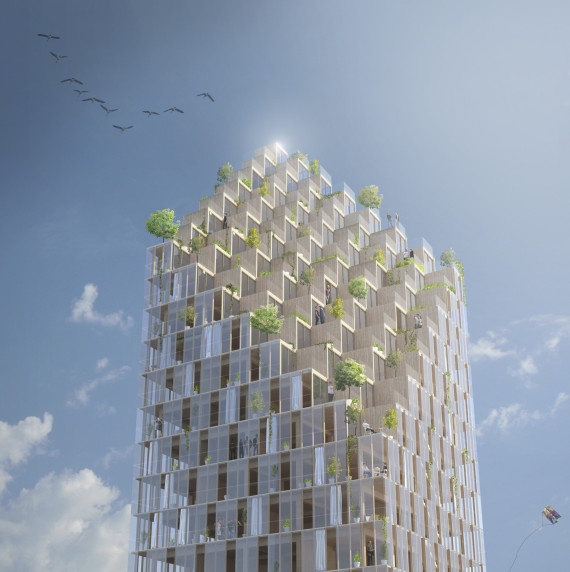 Wooden Skyscraper. Image © C.F. Møller, DinellJohansson
According to the architects, "pillars and beams will be constructed using solid and cross-laminated timber and inside the apartments floors." "Ceilings and window frames will be made from wood, allowing the material to also be visible from the outside through the large windows." For C.F. Møller and DinellJohansson, wood was the natural choice when it came to selecting a material for innovative residential development: "It is an environmentally friendly and durable material which creates a comfortable and healthy indoor climate and also constitutes a very efficient protection against fire." More details here.
2. Office Conversion, Fleminggatan 4
A combination of new-built and transformative design work has been applied to a building formerly occupied by Tekniska Nämdhuset, part of the City of Stockholm. A large proportion of the existing structure has been retained in the three structures with the addition of two mediating buildings. Together with the jetty and a set of new terraced stairs facing the water, the buildings are opened up "to their surroundings [creating] a new, recreational meeting place in central Stockholm."
All three new buildings have "a characteristic façade and a wooden structure." Described by the architects as "a resource-efficient and durable housing project", the proposal offers opportunities for a variety of different kinds of apartments aimed a diverse clientele. A staffed lobby area on the ground floor could provide residents with, for example, a walk-in fridge for take-away food, the opportunity to book bicycles and cars from a shared pool, offering people ways to make their everyday life more socially sustainable.
3. Vertical Urban Quarter, Hagastaden
This multi-story housing complex is intended to be a landmark in the new quarter of Hagastaden. Alongside four other planned buildings, the design will accommodate a supermarket, café and restaurant, magazine library and large outdoor spaces. According to the architects, the complex "will also give the city new visual experiences including its timber structure, green rooftop terraces and a playground on one of the stories, as well as a dynamic, varied façade that reflects the various types of flats behind it".
The building, described as "deceptively simple", houses a large number of homes within a series of simple volumes. The project will ultimately house family homes, student housing, urban villas, lofts and penthouses and even care homes for senior citizens. Residents will have access to a number of communal facilities, such as a kindergarten and workshops, all designed to make life easier for those who live there.
Competition: HSB StockholmAward: First PlaceArchitects: C.F. Møller and DinellJohanssonLocation: Västerbroplan, Kungsholmen, Stockholm, SwedenArchitects: Berg | C.F. Møller Architects in cooperation with DinellJohanssonCollaborators: Tyréns, Transsolar, AKT II, DeBrandClient: HSB StockholmArea: 11450.0 sqmYear: 2013Photographs: C.F. Møller, DinellJohansson
Related
Popular in the Community