As Chicago prepares to shutter six of the city's 12 mental health clinics, clients, providers and advocates barricaded themselves in the threatened Woodlawn Mental Health Center to protest the closures Thursday evening. They vowed late Friday to return to the clinic for a Saturday rally.
Protesters entered the clinic at 5 p.m. Thursday and barricaded the doors with steel piping and quick-dry cement, refusing to leave until they were granted an audience with Mayor Rahm Emanuel. The action marked an attempt to stay the April 30 closure date scheduled for four of the city's mental health clinics, according to a release from the Mental Health Movement and Southside Together Organizing for Power (STOP). (Northwest Clinic in Logan Square and the Northtown Clinic in Rogers Park were closed last Friday.)
(Scroll down to view photos from the sit-in protest.)
Around 12:30 a.m. Friday, police entered the building, using chainsaws and bolt cutters to break through the barricades, according to STOP. Officers arrested 23 people -- eleven were released without charges, and protesters say charges are pending against the remaining 12.
"Our fight is not with the police, it's with the mayor," one participant said to a police officer in the clinic on the live stream being broadcast from inside.
N'Dana Carter, who goes to one of the city clinics and is a spokesperson for the Mental Health Movement, expressed the group's frustrations in a release:
"We have tried everything we could to be heard. We visited Mayor Emanuel when he was a candidate. We delivered him over 4,000 letters. We have talked to almost all 50 Alderman. We have held press conferences, rallies and even sat-in for 10 hours on the 5th floor of City Hall. We are the ones who know the disaster these clinic closures will mean for our communities and our city but Mayor Emanuel been unwilling to listen to us, so we are taking drastic measures to avoid a tragedy and defend our human rights."
The city notes that community mental health providers have been preparing to accommodate displaced patients, and insist that all current clients will be seamlessly transitioned to new care centers.
"All who depend on the city for services will continue to have access to quality care and with these reforms, the city is expanding access to mental health services and increasing support for the uninsured," Dr. Bechara Choucair, Commissioner Chicago Department of Public Health, said in a statement responding to the protest. "These reforms have already allowed the city to invest $500,000 so that 1,000 more people can access psychiatric care, client transitions to new centers have gone smoothly over the past few months, and our focus continues to be expanding access to the quality care people deserve in their communities."
Meanwhile, protesters vowed in a statement issued late Friday to return to the mental health clinic Saturday, accompanied by U.S. Rep. Danny Davis (D-Ill.), for a rally to be held on a vacant lot across the street from the center.
"We are not going to be turned around," Linda Hatcher, one of the 23 protesters arrested early Friday who is also a Woodlawn patient, said in a statement. "This is a question of life and death for us and we will not give up the fight."
Related
Before You Go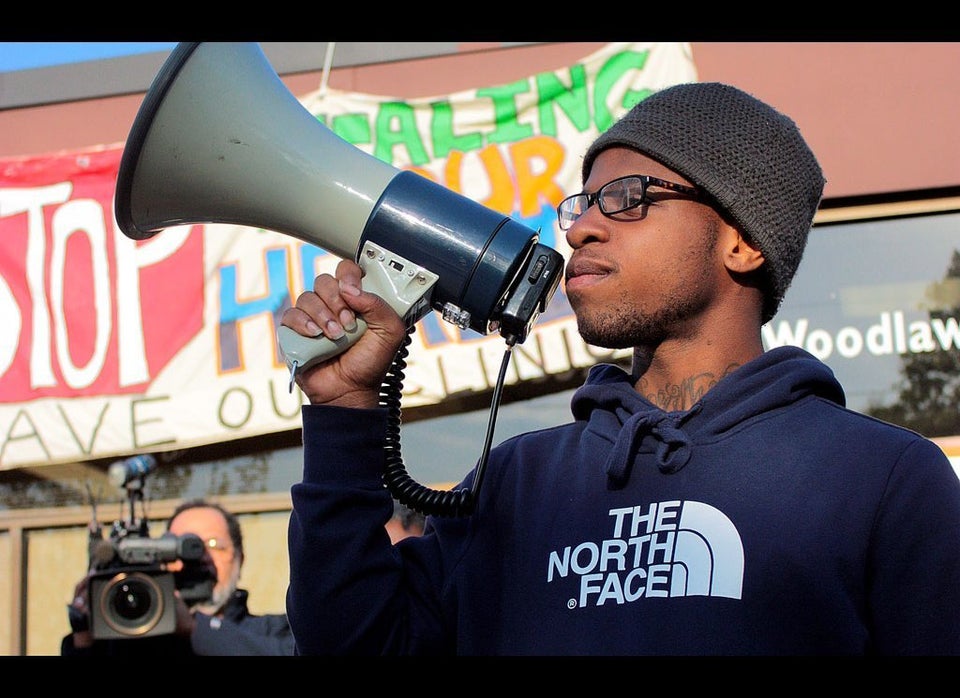 Woodlawn Mental Health Clinic Protest
Popular in the Community