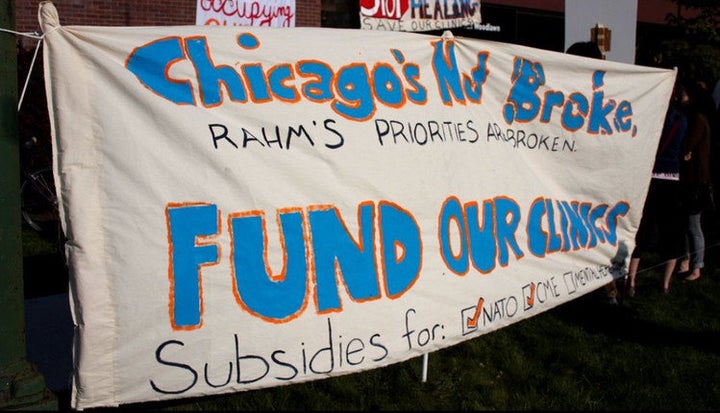 Ten protesters were reportedly arrested late Monday at the Woodlawn Mental Health Center as demonstrations there continue in opposition to the city's planned closure of the South Side Chicago clinic.
So far, 35 people have been arrested since protests began there earlier this month.
In a statement, the Mental Health Movement, a coalition of mental health advocates, said the city's claim that public mental health services will continue uninterrupted for those who rely on them is deceptive.
"Where are our priorities? The clinic closings are already a disaster," Horace Howard, a client of the clinic for the past six years who arrested Monday, said in a statement. "We tried to become a part of the process, but the city refuses to give us access. Mayor Emanuel doesn't want to be a public servant, he would rather that private companies run this city."
Protesters with the Mental Health Movement and Southside Together Organizing for Power (STOP) Chicago last week said in a statement that they plan to maintain "a 24-hour presence" at the clinic "until their demands, including that city clinics remain open, public and fully funded are met."
The city maintains that community mental health providers have been preparing to accommodate displaced patients, and insist that all current clients will be seamlessly transitioned to new care centers. The city further claims that patients' service will actually be improved by the consolidations.
"All who depend on the city for services will continue to have access to quality care and with these reforms, the city is expanding access to mental health services and increasing support for the uninsured," Dr. Bechara Choucair, Commissioner Chicago Department of Public Health, said in a statement.
Mental Health Movement, however, argues that though only one-third of the cuts have yet been made, already 18 patients who no longer can receive mental health care in their neighborhoods have been hospitalized or admitted to the psychiatric ward.
"It appears spurious to cut six community mental health centers, and then say that you are indeed expanding mental health care," Elena Quintana, Adler Institute on Public Safety & Social Justice executive director and HuffPost Chicago blogger, said in a statement. "Sadly, the largest and most accessible mental health provider in Chicago is the Cook County Jail. I think it is our responsibility to be honest about how truly underserved Chicago is in terms of comprehensive mental health care."
In January, mental health advocates released a report detailing the "hidden costs" of consolidating the city's 12 clinics, a move they say disproportionately affects minorities. In the report, the Mental Health Movement points out that the closures will transfer at least 1,100 Medicaid patients to private providers, "effectively giving away federal reimbursement for these services."
Related
Before You Go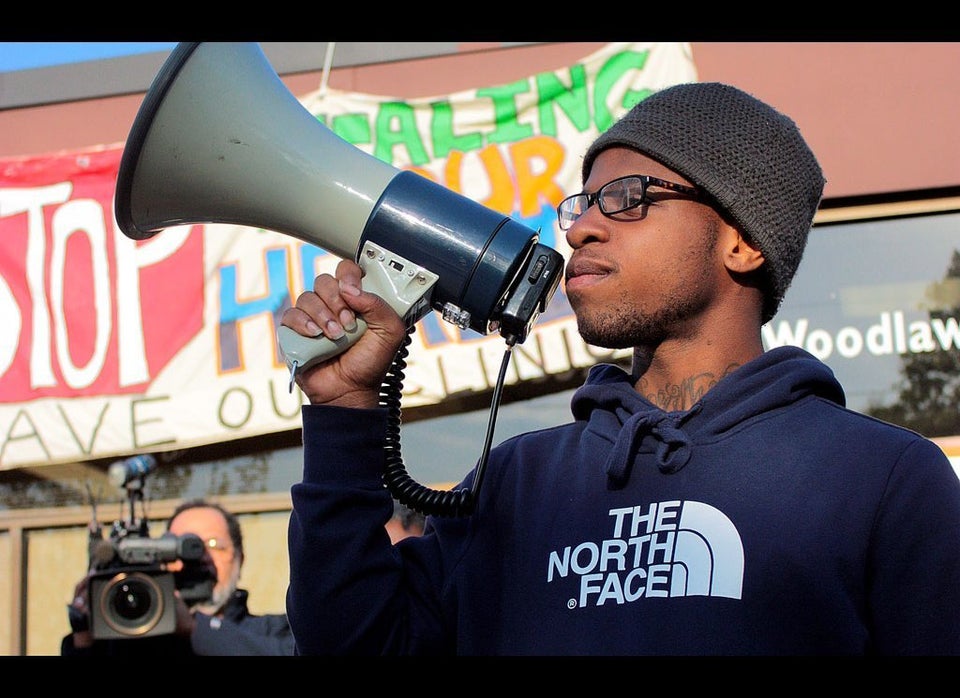 Woodlawn Mental Health Clinic Protest
Popular in the Community