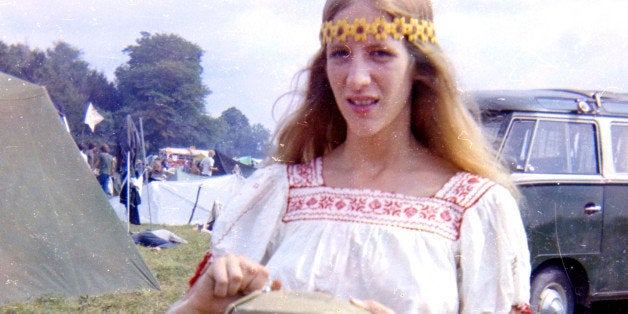 Back in 1969, hundreds of thousands of people converged this week on a 600-acre dairy farm in Bethel, New York -- some 50 miles from Woodstock -- to participate in "Three Days of Peace and Music." Woodstock was the brainchild of John Roberts, Joel Rosenman, Artie Kornfield and Michael Lang. The four of them wanted to earn enough money off the event to build a recording studio. The event, from August 15 to August 18, 1969, attracted many of the best-known musicians of the era. One of those who attended was Annie Birch, who's agreed to share her story and photos as we mark the 45th anniversary of this unforgettable event.
Some people, including me, came prepared with tents and food and camped in an area up behind the stage and the farmhouse -- looking out onto the audience on the hill. The organizers had installed porta-potties and it was a short walk through the woods to the pond. By the time we arrived cars were already parking along the road and we had to walk in. I remember walking in and being blown away at what was happening. There was a yoga session taking place in a field and they were still setting up the stage. We hadn't bought tickets in advance and by the time we got there the word was: "It's a free concert!" I never actually ventured much into the crowd in front of the stage, but skirted it when exploring the area. When one of my favorite bands was performing I'd walk down and stand on the road in front of the farmhouse so I could see them.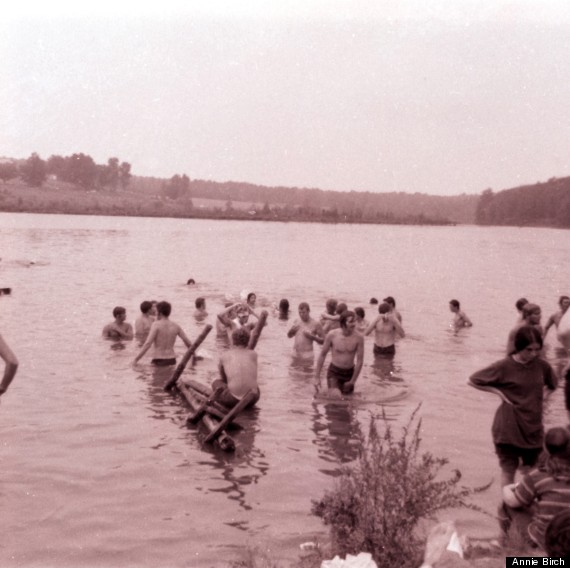 The crowd kept growing and people showed up with just the clothes they were wearing. The Hog Farm served free food for the participants and had a medical station including a tent for people freaking out on acid. I can vividly remember the announcements not to take the brown acid and that a baby had been born and also that someone died by being run over by a tractor. During the entire weekend I never saw or heard a fight or altercation of any kind. There was very little alcohol in evidence. The collective consciousness was what was advertised... peace, love and music.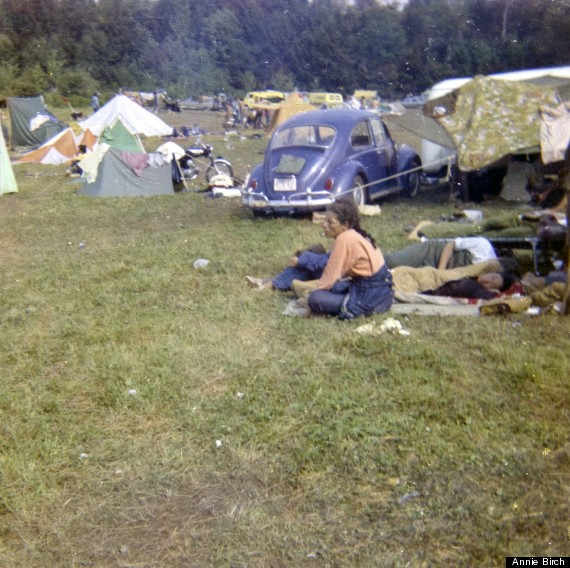 The acoustics were amazing; the sound went out, hit that hill full of people and bounced back to the camping area. I remember (yes, I really do) late Friday night listening to Arlo Guthrie's performance echoing off that natural amphitheater bowl. My campfire in front of our tent never went out during that incredible downpour. Some guy walked in front of the tent, staring into the fire in the pouring rain and then looked at us and said, "Far out!"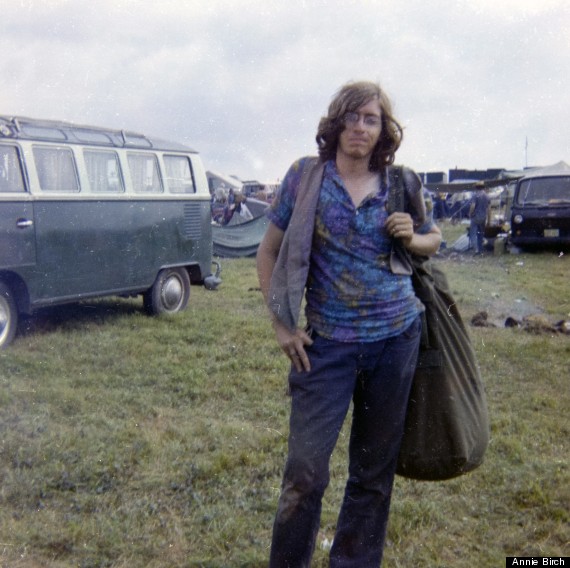 I didn't stay but I think many people remained to clean up what must have been an incredible mess in the wake of all that humanity. Peaceful and very, very stoned humanity. Certain friends now introduce me by saying "Annie was at Woodstock". I may be the only person residing on the African continent who was there. Who knows? It was a truly life-altering experience and one that changed the world.
Love and Peace,
Annie Birch, Tanzania
(Living in Long Branch New Jersey in August, 1969)

Calling all HuffPost superfans!
Sign up for membership to become a founding member and help shape HuffPost's next chapter
BEFORE YOU GO
PHOTO GALLERY
Where Are They Now?