I lived in Woodstock, New York in the 1970s. I was young, in love, fueled by boundless, creative dreams: Life was idyllic. I eventually moved to Paris with my French husband and into another, equally exciting chapter of my life, but throughout the decades-long wild ride that continues to be my existence, no matter where I happen to be in the fall, I always dream of Woodstock.
Every autumn, as soon as the leaves begin to turn, I'm there in my imagination and, fortunately, often physically.
This year finding a place was as simple as posting "Do you know of a fabulous house to rent for a couple of weeks?" on a Woodstock friend's FB wall. In an hour, one of her friends, who I didn't know, had hooked me up with Laura, who rents her hundred-year-old farmhouse on five acres right outside town.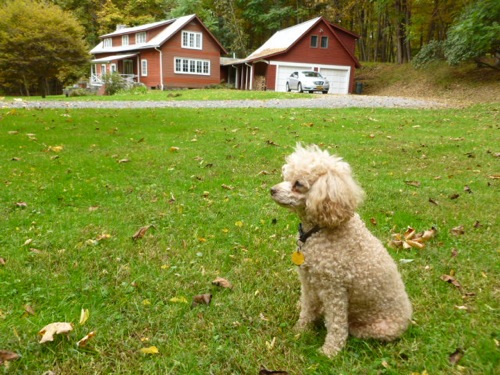 From Los Angeles, I flew to New York City, where the trees outside my apartment there were bathed in autumn colors. After a couple of days seeing friends and eating at some favorite restaurants (Fat Radish, Locanda Verde) I was ready to hit the road. Though there is an Enterprise Car rental right across the street from my apartment on Fulton Street, it was at least a couple hundred dollars less a week to rent a car from the Enterprise in Beacon, New York. I had discovered this last fall when I went to visit one of my all-time favorite museums the Dia:Beacon, created by LACMA's genius executive director Michael Govan. The folks at Enterprise Beacon pick you up at the station after a quick and cheap, gorgeous and relaxing train ride up the Hudson River. (Note: Enterprise Beacon closes from noon Sat. until Monday morning.)
I was underwhelmed by the foliage on the drive to Woodstock, yeah, it was pretty, but not as spectacular as years past; there had been a lot of rain and many of the leaves had fallen before even turning. But, hey, it was fall in New York and, after an Indian summer on the west coast, I was in heaven. Before I checked into Laura's house, I stopped at the Saugerties library where a friend was hosting a photography exhibit and where first person I bumped into was Michael Lang, the organizer of the 1969 Woodstock Festival? What are the chances of that? (He looks exactly the same.)
The house was great, no surprises, which is what you want when you book a vacation rental. And it turned out my timing was impeccable: The Woodstock Film Festival in full swing, and it's a great way to tap into the Woodstock vibe. The laid-back, inclusive festival has very interesting films, Q&As, parties, concerts; it's easy to get tickets and everybody is extremely accessible. I went to the opening in the newly renovated Woodstock Playhouse where a terrific documentary: David Bromberg Unsung Treasure about the iconoclastic musician's musician was followed by a mini-concert by Bromberg himself. Michael Lang was there, too.
During the week, I also saw One Track Heart: The Story of Krishna Das, prior to which KD, once part of the band that became Blue Oyster Cult, led the audience in a some call-and-response kirtan chanting.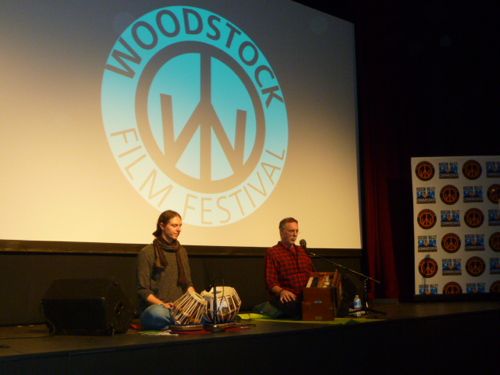 But I wasn't in Woodstock to sit in a darkened theatre, as much as I would have liked to see many if the offerings including "Francine," starring local gal, Melissa Leo, and Dustin Hoffman's directorial debut, "Quartet," starring Maggie Smith.
Whenever I rent a house somewhere, I hook into a yoga class and this year I discovered Barbara Boris's Iyengar Yoga class at Woodstock Yoga. I also liked the Pilates mat class at The Emerson Resort and Spa, if for nothing more than a pretext to steam and sauna afterwards.
On the way back to Woodstock from the Emerson, I would always stop at Bread Alone in Boiceville for homemade soup and a delicious country rye bread. It made up for the fair-to-middling foliage display.
This trip I also discovered Woodstock Meats for their soups and their Butcher's Blend raw pet foods, made right in the shop. They grind up bone to the consistency of grated Parmesan, which I've been sprinkling on my Coco's dinner since the trip.
From Woodstock, I continued north all the way to Vermont, hoping to hit some peak colors.
Along the way, I stopped at MassMOCA, which architecturally was interesting but curatorially a big yawn, and had a very good meal at farm-to-table Mezze in Williamstown.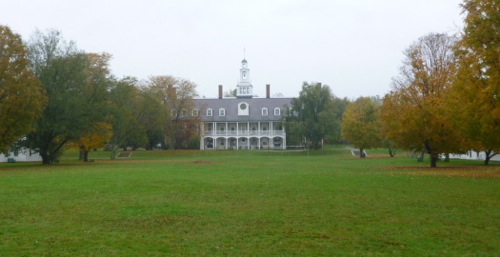 Commons Lawn, Bennington College
The Bennington College campus was spectacular under a misty rain with its mix of old New England and dramatic modern architecture, but I missed the blazing foliage I remembered from my days as a student there years ago.
Ironically, the best foliage I saw all trip was driving back down to NYC on the Taconic Parkway. And my best foliage shot is the one above: a photo of a photo hanging on the wall of the apartment I rented in Pownal, Vermont. Unfortunately, it was better than the view out the window.