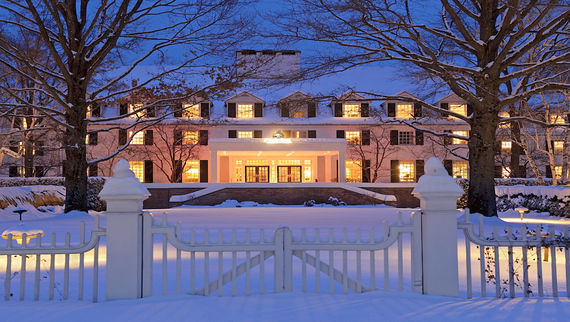 It wouldn't be an exaggeration to call Woodstock, Vermont one of New England's prettiest towns. Nestled in the Green Mountains, Woodstock's covered bridges, storybook town green, church steeples and rolling river present a dreamy panorama steeped in yesteryear charm. A conservationist ethos permeates every aspect of the village, with power players like the Rockefeller family pouring time and money into preserving Woodstock's authenticity and pristine natural resources.
In the middle of this fairytale hamlet sits the Woodstock Inn. This traditional white clapboard building is as inviting as a mug of hot chocolate after a day of skiing on Vermont's icy slopes. Guests of the resort are treated to timeless Vermont hospitality with all the trimmings. It's a four-season resort, but winter offers a frosty wonderland that should please even self-proclaimed cold-weather scrooges.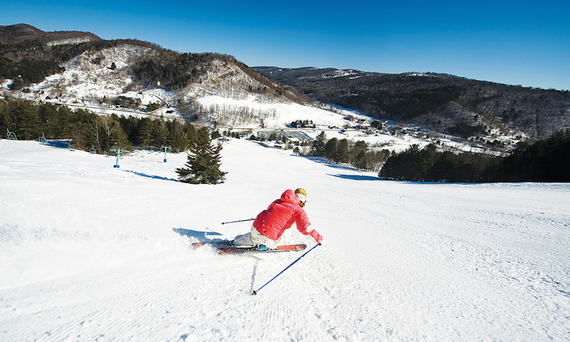 Downhill skiers and snowboarders can traverse a variety of terrain at compact Suicide Six, the resort's ski area. There's a slope to suit all levels, from gentle Easy Mile to the ski-if-you-dare Back Scratcher. The spanking new quad chairlift whisks you to the top of the mountain in a jiffy. Lessons, equipment rentals and a snug base lodge with a roaring fireplace make Suicide Six Vermont's most user-friendly mountain.
The Nordic Adventure Center presents 30 miles of groomed trails for cross-country skiing and snowshoeing. For the adventurous, there are un-groomed wilderness trails worth exploring. If you're ready for something novel, give fat tire biking a try. Pedaling through the packed snow is an invigorating adventure that every cyclists needs to try. Equipment is available to rent, so all you need to bring is your warmest outerwear and toasty long johns.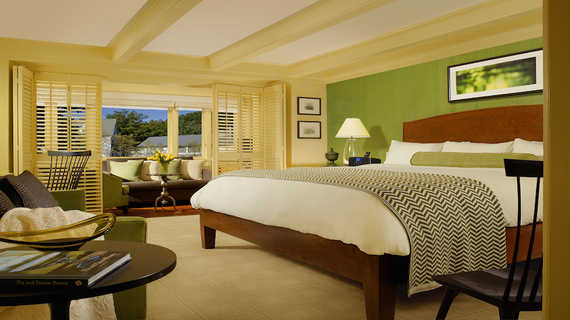 Room décor leans local with handmade wood furniture crafted by New England artisans exuding a sense of place. Cozy touches such as fireplaces and locally made flannel blankets add homespun warmth. Room rates start at $239 per night. Common spaces beckon, so drop by the sun-drenched Conservatory for civilized afternoon tea and cookies or the library for a round of backgammon.
Service throughout the property is personalized, genuine and outstanding in every respect. You'll meet employees like Bill, who started working at the hotel 43 years ago as a high school sophomore. His family has been in Woodstock for generations and he wouldn't dream of living or working anywhere else.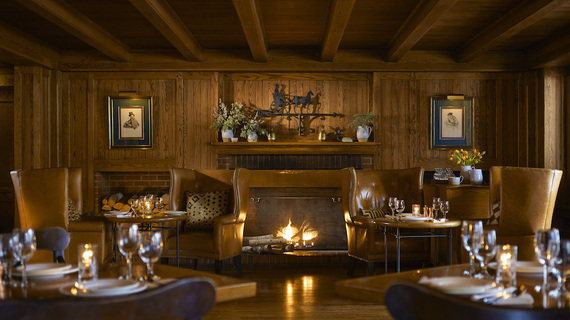 The Woodstock Inn's eateries have their own holistic food supply thanks to the resort's 2.5-acre Kelly Way Gardens. Over 200 varieties of homegrown vegetables, many of them heirloom, provide a fountain of culinary inspiration. A mushroom glen, fruit orchards, herbs and edible flowers round out the just-picked offerings. With all this freshness, it's no wonder green thumb cuisine flourishes at the Woodstock Inn.
Local ingredients presented with panache are a highlight of The Red Rooster's breakfast, lunch and dinner; even a simple turkey sandwich is taken up several notches with the addition of melted smoked Vermont cheddar and fresh apple butter. Reserve for dinner. Richardson's Tavern is open daily for dinner. The wood-paneled, rustic-casual setting draws hotel guests and a local crowd who come for the craft beers and creative small plate offerings. The Billings Farm Cheese Fondue hits the spot after a blustery day of outdoor activities.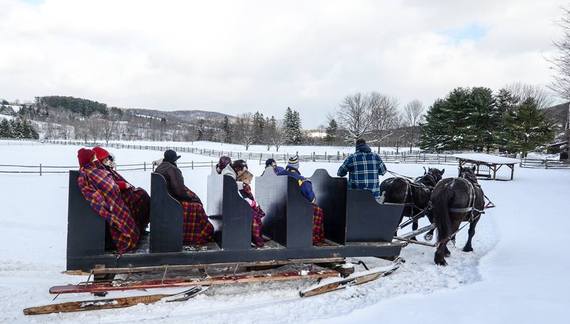 Billings Farm & Museum is a just a short stroll from the town center. It's a fully operating Jersey dairy farm with over 70 Jersey cows, six draft horses and a flock of Southdown sheep. Get up close with the cows at the milking barn and explore the 19th century farmhouse and creamery before you sample some Billings Farm Cheddar. Educational programming and sleigh rides make it extra special if you're traveling with kids. Hotel guests may visit the farm for free.
It's not difficult to visit Woodstock without a car. Take Amtrak from Penn Station to White River Junction, 14 miles from Woodstock. As an alternative the Dartmouth Coach departs from NYC to Hanover, NH, 20 miles away. The hotel concierge can arrange shuttle service from the station for a nominal fee.
Woodstock is a dream of a walking town or take advantage of the resort's efficient shuttle service and hitch a ride to Suicide Six, the Nordic Adventure Center or the Woodstock Athletic Club. This 42,000-square-foot fitness facility--with an indoor pool, yoga classes and cardio equipment--will put your NYC gym to shame.
Photo credits: The Woodstock Inn
Related