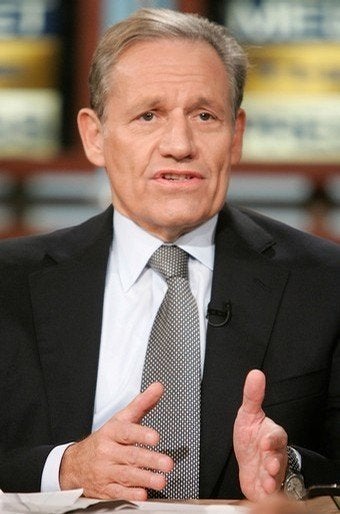 UPDATE: In light of recent tax scandals forcing two of President Obama's nominees to withdraw from contention, Marcy Wheeler wonders what Bob Woodward knew when he predicted more "nanny or household tax problems" for Obama.
[S[omeone had already discovered these problems at least ten days ago--or that's what I assume from this Woodward clip from January 25. At that point, Woodward (in his inimitable "I used to be a journalist but now I'm just the world's best paid gossip" way) was already predicting we'd see more tax problems beyond Geithner (and, of course, we're still waiting for the nannies).

So who told Woodard? Does he have a mole in the Obama vetting process? Why would Obama's vetters pick Woodward, of all people?
Appearing on the Chris Matthews Show Sunday, Bob Woodward offered a rather cryptic prediction of scandal that will plague the Obama White House.
"This may be tantalizing but vague," said the Washington Post scribe. "I don't think the nanny or household tax problems and so forth are over for the Obama administration..."
Matthews pressed ever so slightly for more information, but Woodward did not oblige: "I say it's not over."
It was the type of gossip ginning, insider reporting that makes D.C. journalism what it is. But it wasn't without a glimmer of irony. Earlier in the week, Matthews had shut down similar banter on Hardball when the New York Daily News' Liz Benjamin noted that the unconfirmed rumor mill was saying that Caroline Kennedy had an "affair issue."
"Well, how about let's stick to journalism," Matthews said, over her. "I don't do that here, Liz. Liz, if it's just blogging, let's drop it, OK?"
It was a somewhat controversial segment. But Matthews had his share of defenders. On CNN's Reliable Sources this Sunday, Sally Quinn said that such unsubstantiated gossip had no place in journalism and complimented the MSNBC host for "cutting it off."
Woodward's tip may end up being correct. But it didn't seem to meet the standard of reporting that Matthews set for Benjamin and Quinn seconded. Quinn, it should be noted, is married to Woodward's longtime editor, Ben Bradlee.
Popular in the Community