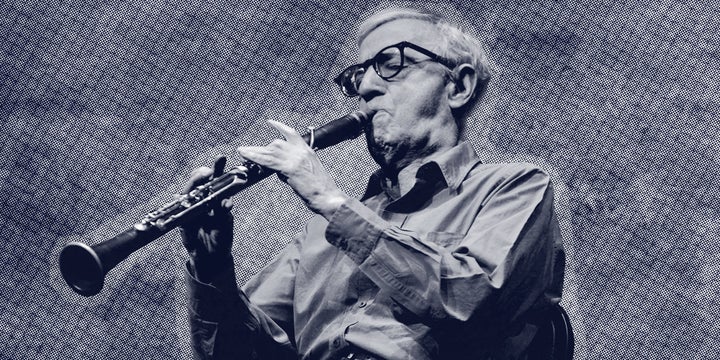 NEW YORK ― On red carpets and in dozens of news articles, actors associated with Woody Allen have fielded tough questions about their decision to work with a director who's faced allegations of sexually abusing his daughter, Dylan Farrow. Some actors have expressed intense regret; others have been shamed for standing by their choices.
But questions about Allen's conduct don't seem to have troubled New York City's elite society. You don't have to look farther than the Upper East Side's lavish Carlyle Hotel for evidence.
On Monday nights, for just $165 a head ($120 if you sit at the bar), patrons can watch Allen play the clarinet in one of the hotel's intimate, jacket-required restaurants. As diners enjoy $235-per-ounce caviar and $23 cocktails, Allen and the Eddy Davis New Orleans Jazz Band play for nearly an hour and a half, in a weekly residency, year after year, at the iconic hotel.
During two recent performances, one in February and one in April, it was clear that legions of Allen fans will still come to see him perform, even as the Me Too movement continues to have far-reaching impact. Earlier in April, The New York Times and The New Yorker shared a Pulitzer Prize for their reporting on rampant sexual misconduct in the entertainment industry.
Many entertainers have lost their jobs, their reputations and the respect of their fans. But Woody Allen, who has vehemently denied the sexual abuse allegations, goes on ― in his own way.
The Carlyle, owned by Rosewood Hotels and Resorts, rakes in thousands of dollars each time Allen picks up his clarinet and plays for an adoring audience.  
Representatives for Allen, the Carlyle and the Eddie Davis New Orleans Jazz Band did not respond to requests for comment for this story.
Many fans apparently don't care about the allegations against Allen. During both visits to the Carlyle Hotel, HuffPost reporters observed a sellout crowd, with people lining up for hours.
Meagan McDonnell, who was visiting New York from Melbourne, Australia, was in line one Monday in April nearly two hours before the Cafe Carlyle opened to make sure she got a seat at the bar. (There are only a handful of bar seats, and a small line had formed to claim them more than an hour before.) For McDonnell, who flipped through a New York City guidebook as she waited in line, seeing Allen had been on her bucket list for 20 years ― ever since she saw "Annie Hall" and "Manhattan," two of Allen's most iconic films.
She was not bothered by the allegations against Allen, she said, and saw nothing wrong with his marrying Soon-Yi Previn, the adopted daughter of Mia Farrow, Allen's ex-partner. "He's been married for the past 20 years," McDonnell told HuffPost. "He's found love. I don't care how he found it. He's happy, she's happy. They've got a family."
The Cafe Carlyle's walls were covered in elaborate paintings from Marcel Vertès. Tuxedoed waiters talked in hushed tones over dimly lit tables, and addressed every woman in the restaurant as "young lady." Audience members strained to take pictures of Allen as he played. When he left the stage, patrons yelled words of praise and thanks. "You're the best, Woody," a man shouted after an April performance as Allen exited through a back door.
At the bar, everyone was from a different country ― the Czech Republic, Italy, Australia, Romania and Argentina. The bartender said it's rare to have two groups from the same country at the bar on a given night.
Allen has long denied accusations that he sexually assaulted Dylan Farrow when she was 7, but Farrow ― now 32 ― recently began calling for renewed scrutiny of Allen as Hollywood reckons with allegations of sexual misconduct against many of the industry's most powerful men. In January, she sat down with "CBS This Morning" to describe in detail what she alleges Allen did to her as a child, and called on other actresses to speak out against Allen. Natalie Portman, Jessica Chastain and Reese Witherspoon are among those who have said they believe Farrow. Allen issued a firm statement after Farrow's interview denying the allegations.
Allen has his defenders. In a New York Times column in February, Bret Stephens suggested everyone regard Farrow's allegations with skepticism, saying they play "to our existing biases." Javier Bardem also defended Allen recently, saying he has doubts about whether Allen is guilty.
At both performances HuffPost attended, Allen, 82, walked into Cafe Carlyle about 20 minutes before his band went on stage. He wore a green sweater over a button-down shirt. He sat at a table in the back and quietly assembled his clarinet. The evening in April, after Allen reached the stage, McDonnell, the Australian tourist, squealed in excitement. "Allen was just four steps away!" she told everyone at the bar.
When Allen joined his band, the room went quiet.
They played upbeat New Orleans-style jazz, and each time Allen took a solo, his mouth and body shaking as he squeaked out the notes, the room would loudly applaud. A few young women standing by the entrance danced along. Toward the end of the set, after some members of the band left the stage, Allen even sang a few numbers. He spent the entire performance either with his eyes closed or looking down at his lap.
Dasha Dare, who was sitting in a booth behind the stage, said she separates Allen's work from the accusations.
"It doesn't really matter to me personally. What matters to me is the art he creates. So I'm here to touch that," she said. "I definitely got what I wanted from the show. Had I had a chance to sit down with him and talk about real life, maybe my aftertaste would be different."
Beth Sparks, who was visiting from Oklahoma and celebrating her mother's 80th birthday in February, said the accusations against Allen don't bother her. The acclaimed director didn't act unsafe or harmful to anyone in the room, Sparks said after the show.
"I didn't care. I'm not a medical person. I feel like whatever indiscretions he's had, there's probably a medical diagnosis that led him down that path, and that made me sad that he didn't have that help," she told HuffPost, while waiting by the coat check in the lobby. "I love that at his old age, he can do what he loves to do and not be judged."
Juliana Rosina came in from New Jersey to see Allen. She said she enjoyed the band, but was disappointed by the director's musical performance.
"Am I the only person who felt like he was playing like me when I was in third grade on the clarinet?" she said. "When he had his solos, I was embarrassed for him. But it was, like, a little bit offensive that people were clapping. I'm like, I don't care where he comes from or who he is, that was bullshit."
REAL LIFE. REAL NEWS. REAL VOICES.
Help us tell more of the stories that matter from voices that too often remain unheard.