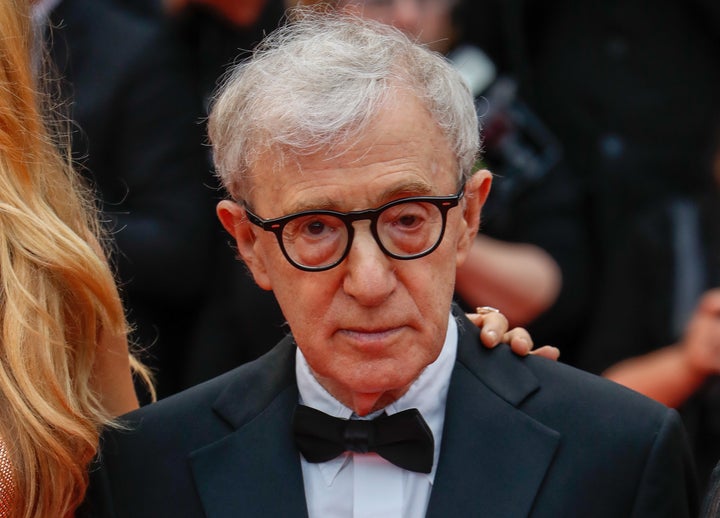 Woody Allen has responded to his son Ronan Farrow's piece in The Hollywood Reporter, admitting that he hasn't read it. We can't say we're surprised, given his tendency to ignore anything and everything published about him.
While speaking to journalists at a luncheon during the Cannes Film Festival, the "Café Society" director was asked about the article, which discusses the sexual abuse accusations against him brought on by his estranged daughter, Dylan Farrow. Dylan came forward with her story for the first time publicly in a 2014 op-ed in The New York Times. 
"I never read anything about me," Allen told the press. "Any of these interviews I do, anything. I said everything I had to say about that whole issue in the New York Times, I don't know if you read it, some time ago. I have moved so far past that. You know, I never think about it. I work, and that's the end of it for me. I said I was never gonna comment on it again because I could just go on endlessly."
When a Variety reporter asked if the director has any plans to read the article, he responded redundantly, saying, "I never read anything."  
"I never read what you say about me, or the reviews of my films. I made the decision 35 years ago to never read a review of my movies, never read an interview, never read anything. Because you could easily become obsessed with yourself," he added. "I've been very productive over the years by not thinking about myself, and not obsessing over myself."
The reporter then pointed out that Ronan's THR piece isn't a criticism of his films, telling the director, "It's your son," to which he responded, "I've said all I have to say about it."
When The New York Times ultimately ran my sister's story in 2014, it gave her 936 words online, embedded in an article with careful caveats. Nicholas Kristof, the Pulitzer Prize-winning reporter and advocate for victims of sexual abuse, put it on his blog.

Soon afterward, the Times gave her alleged attacker twice the space — and prime position in the print edition, with no caveats or surrounding context. It was a stark reminder of how differently our press treats vulnerable accusers and powerful men who stand accused.
Ronan also encouraged journalists to start asking tougher questions when interviewing Allen (and anyone else involved in stories of sexual abuse), and judging by the group of reporters at this luncheon, it seems the call to action was taken to heart. 
The "Annie Hall" director was also asked about Laurent Lafitte's joke about him at the Cannes opening ceremony. Lafitte, the master of ceremonies, quipped, "It's very nice that you've been shooting so many movies in Europe, even if you are not being convicted for rape in the U.S." 
"I'm completely in favor of comedians making any jokes they want," Allen said at the luncheon. "I am a nonjudgmental, non-censorship person on jokes. I'm a comic myself, and I feel they should be free to make whatever jokes they want."
"I'm never offended," he added. "It would take a lot to offend me."
Allen's "Café Society" star Blake Lively, on the other hand, was offended by the joke. The actress told Variety on Thursday, "I think any jokes about rape, homophobia or Hitler is not a joke," adding "it was a hard thing [to] swallow in 30 seconds." 
And while Allen claims not to have read his son's THR column, it seems his PR team did. The Hollywood Reporter's Tatiana Siegel tweeted on Thursday that she was banned from the "Café Society" luncheon, noting, "This is what @RonanFarrow meant by Woody Allen's PR machine." 
We may not have all the answers, and we may not get them, but what journalists can do is continue to ask questions.
REAL LIFE. REAL NEWS. REAL VOICES.
Help us tell more of the stories that matter from voices that too often remain unheard.
BEFORE YOU GO
PHOTO GALLERY
Celebrity News & Photos