Woody Allen's first TV series, Crisis In Six Scenes, is kind of a mess.
Still, as it hops along from one exercise in absurdity to the next, it delivers a decent number of laughs.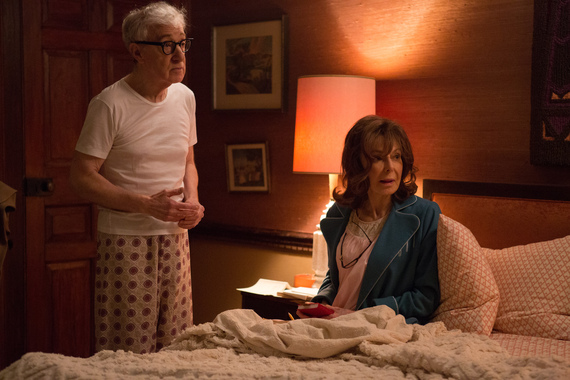 At one point toward the end of Crisis, whose six half-hour episodes drop Friday on Amazon Prime, Allen brings his whole horde of characters together into one massive chaotic cluster at a suburban Connecticut home.
The doorbell rings again and Allen's character, Sidney J. Munsinger, mutters something about who else could possibly show up, the Marx Brothers?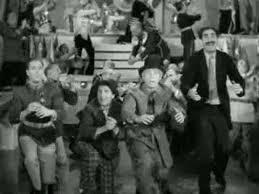 Truth is, they're already there. Crisis in Six Scenes, more than many of Allen's movies, owes to the blueprint set down by Groucho, Chico, Harpo and Zeppo in 1930s flicks like Duck Soup.
Set in the late 1960s, Crisis loosely revolves around Munsinger, a retired advertising copywriter (a Mad Man) who aspires to write profound novels.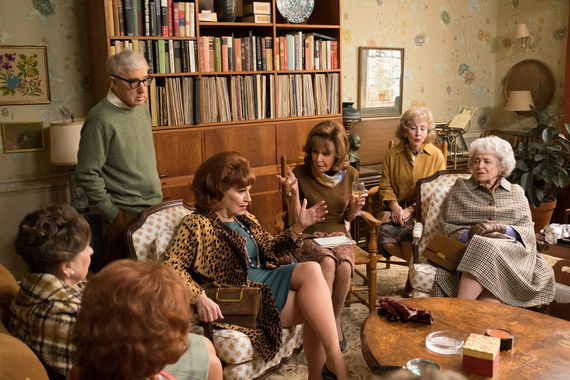 So he now writes bad books while living a comfortable life with his wife Kay (Elaine May), who works at home as a marriage counselor. She also does suburban things like host a book club for a dozen or so women of a similar lifestyle (above).
The Munsingers are aware of and mildly sympathetic toward the protest movements sweeping the country. Sidney is more concerned that he can't figure out how to light his new barbeque grill, so they have to broil the Nebraska steaks inside.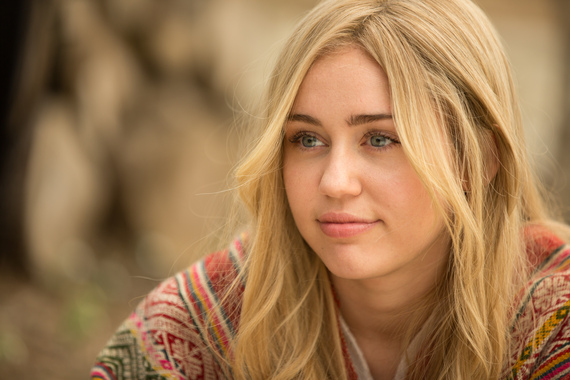 Then one night an old acquaintance of Kay's drops in. Actually, she breaks in. "Lennie" Dale (Miley Cyrus) (above) is the daughter of an old friend, and currently a soldier in the Constitutional Liberation Army. She's also a wanted fugitive who needs to be hidden until she can escape to Cuba.
While Allen made his first movies in the era where Crisis is set, he has never dealt much with the serious side of '60s unrest. He's more a characters-and-comedy kind of guy, which is fine, and probably explains why Crisis uses that unrest mostly as a platform for gags.
That does, however, largely waste Cyrus, since Lennie becomes a caricature of the Serious Sixties Radical. Mostly she sets up jokes and absurdities for the characters around her.
At one point Lennie talks Kay's book club into reading a series of radical polemics and pamphlets. In a classic Allen twist, these semi-elderly ladies devour them, and their at-times befuddled response leads to some of the funniest scenes in the show.
Allen brings in a dozen other characters as well, all carefully crafted to facilitate '60s jokes.
That includes a student boarder, Alan (John Magaro), who was raised in a conservative family and overreacts a bit when he starts to feel the winds of change.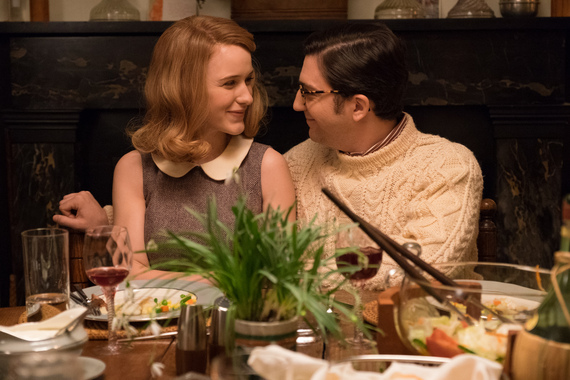 Alan has a debutante fiancé, Ellie (Rachel Brosnahan) (above), with a traditional family of her own. Then there are Kay's clients, whose marital problems are as absurdly hilarious to us as they are serious to the couples involved.
They all converge for the aforementioned confluence of chaos.
Crisis collectively runs longer than most Allen movies, which gives him plenty of room for his primary focus, jokes about human behavior and neuroses. It comes as neither a surprise nor a stretch, for instance, that Sidney is nervous about everything.
Like the Marx Brothers before him, Allen treats out-of-control chaos as a normal situation that characters try to resolve with whatever they can pluck from a passing breeze. He's always been good at turning this into humor, and at 80 he still is.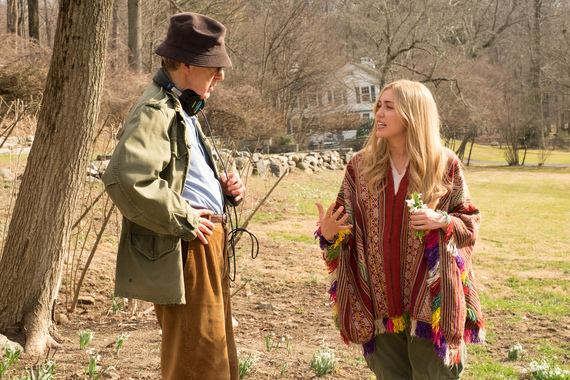 Unlike many of Allen's movies, Crisis In Six Scenes doesn't end up going much of anywhere, and it meanders more than a few times while not getting there.
In fairness, though, Allen said his goal for Crisis was to create light comedy, no more or less.
Calling all HuffPost superfans!
Sign up for membership to become a founding member and help shape HuffPost's next chapter