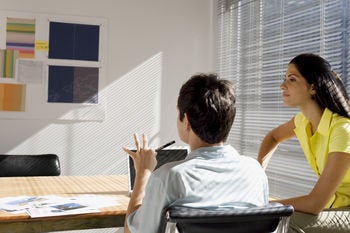 Building a Business by Word of Mouth
Many businesses can prosper by word of mouth advertising. Kentucky Guardianship Administrators (a group I founded and own) is one that did.
In 1990, The Louisville Courier-Journal did a series of articles about guardianship theft. Parents of children receiving money from an injury settlement or inheritance were usually selected to handle their child's funds, even if they had no background in handling money themselves.
The Courier-Journal reported several horror stories where parents took their own children's money. The parents blew it on drugs, limo rides and other things that did not benefit their child.
Even more children's money was lost by parents with no financial experience making poor investment choices.
The Guardianship Reform Act of 1990 enabled District Courts to appoint outside parties as conservators for children's money. It permitted judges to direct money into a blocked bank account, trust or annuity.
We set up Kentucky Guardianship Administrators LLC to serve as conservators and assist in setting up special needs trusts.
I spoke to a number of legal groups and got them interested in how the concept would help their clients. With Judge Stanley Billingsley, I co-authored several articles in legal publications to help people understand all the things a conservator can do.
A conservator is often called on to testify at trial. The job is to let the jury know that an award will be protected and spent on the injured child rather than by others trying to get their hands on it.
According to the Kentucky Trial Court Review, few verdicts in injury cases are for over a million dollars. However, several of my early cases as conservator resulted in million or multimillion dollar verdicts or high profile settlements. The high profile nature of the verdicts, and our involvement, helped to advance the business.
Even in the days before social media, the word still got around.
In 1998, Kentucky Guardianship Administrators added a new service administrating qualified settlement funds. If you want to learn more about the nuances of qualified settlement funds, read "Is a Qualified Settlement Fund Right For Your Client," an article in Trial Magazine that I co-authored with attorney William Garmer.
Qualified settlement funds are normally used to administer funds for large mass torts. Most of our business has been done using smaller qualified settlement funds with just a few claims or claimants.
Adding a new service allows our "word of mouth" marketing to build.
Another important factor helpful to growing a business by word of mouth is having a semi-monopoly. Kentucky Guardianship Administrators was the only business of its kind when it was formed.
In the past few years, a number of people have tried to become conservators and administer qualified settlement funds. That opened up a whole new line of business: cleaning up the messes that others have made.
Several times, we have been called in after an inexperienced financial person was unable to get a qualified settlement fund approved or a guardianship set up.
Since a prominent Kentucky Supreme Court decision in 2010, Branham v. Stewart, trial attorneys live in fear of messing up a guardianship and being sued for legal malpractice.
Branham v. Stewart was considered one of the ten most important Kentucky Supreme Court decisions of 2010. In that case, the court allowed a legal malpractice case to proceed against a good attorney for errors he allegedly made regarding the guardianship process.
That case spurred a lot of interest in finding experienced conservators and making sure guardianships were set up correctly.
By creating a unique niche, developing expertise in that niche and having a useful service, our business grew without spending marketing or advertising dollars.
Some call word of mouth advertising "bootstrap marketing," Our decision to go that route was common sense. The concept of guardianship, conservators and qualified settlement funds are hard to explain in an "elevator pitch."
Attorneys started telling other attorneys about the group. It was the path to growth.
Growing by word of mouth is a path that any business can emulate.
Don McNay, CLU, ChFC, MSFS, CSSC is the bestselling author of the book Wealth Without Wall Street: McNay, who lives in Richmond Kentucky, an award-winning financial columnist and Huffington Post Contributor. You can learn more about him at www.donmcnay.com
He is the Chairman of the Board for the McNay Settlement Group (www.mcnay.com) which provides structured settlement consulting for injury victims, lottery winners, and the families of special needs children.
McNay founded Kentucky Guardianship Administrators LLC, which assists attorneys in as conservators and setting up guardianship's. It is nationally recognized as an administrator of Qualified Settlement (468b) funds.


Related
Popular in the Community