Victoria Kelly's poetry collection When the Men Go Off to War received widespread critical acclaim since being published in September 2015 by the Naval Institute Press. The Military Times hailed it for "her themes of departure, absence and homecoming [which] are universal in place," and esteemed poet Dick Allen called it "Meticulously crafted [and] highly readable ... one of the finest first collections I've read in the last decade."
Victoria holds degrees from the Iowa Writers' Workshop, Harvard University and Trinity College in Dublin, where she was a U.S. Mitchell Scholar. Her fiction and poetry have appeared in the anthologies Best American Poetry 2013 and Contemporary American Poetry, as well as Alaska Quarterly Review, Southwest Review, Prairie Schooner and North American Review. Her debut novel Mrs. Houdini, about the passionate marriage of Bess and Harry Houdini, will be published by Atria Books in March. A military spouse, she lives in Virginia with her husband and daughters.
As part of Words After War's January Book Club, Victoria answers a few questions from Matt Gallagher, author of the forthcoming novel Youngblood.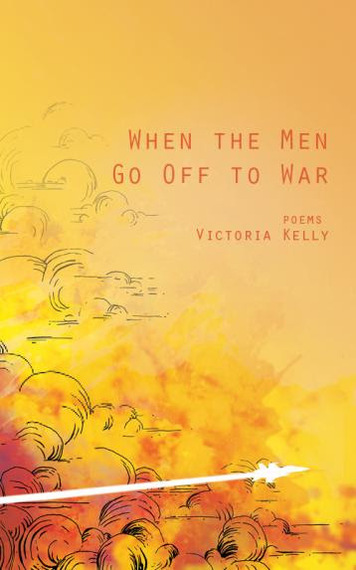 1) What was the first poem in When the Men Go Off to War that you remember writing a draft of? Care to share what was going on in your life at that time, or what maybe led you to that draft?
"Almost" was the first poem I had written in over ten years. I used to write a lot of poetry, but in college, after churning out some pretty bland ones, I took a break; I think I realized I had too little to write about at the time. When my husband deployed in 2011, I was a new bride with my whole life ahead of me, but I was lonely and bored. I was teaching at a university but was off for the summer; I was working on a novel that seemed to have dead-ended. I took a poetry class at a local writing center because I wanted to find another creative outlet. I still remember sitting on my balcony on a very hot day, looking at the speck of ocean in the distance, and thinking about what it would have been like to have chosen a different, safer life, one that took me back to the small town in New Jersey where I grew up. The life I had "almost" lived. By the end of writing it, I realized that the life I really wanted was the one I already had.
2) There's a recurring tension to your narrator, a grappling with and for the military culture she's married into. This is perhaps most directly confronted in the poem "Lessons" - "you can read Chaucer but not the bars/on a uniform" and "you never expected the loneliness, the certainty/of homelessness." What struck me about that tension is that it evolves and devolves through the course of the collection, there's nothing linear about it. Why is that?
Most people in my daily life, until this book was published, didn't know that I went to college at Harvard. Once, someone who knew my background asked me how it felt to have "given up that life for the military." My time at Harvard was a magical four years, but being a part of a military community feels much closer to the life I had before college, when I was going to public school in a small town. When I visit my college friends now, who are doctors and lawyers and businesswomen in big cities, I see how our daily lives have diverged. The military community, to me, feels very contained; bases have moved to largely rural areas, and the conflicts being fought abroad aren't really a part of most people's everyday lives. I felt like it was important to address the discrepancy between these two very different stages of my life. There isn't a linearity to the tension because it is more of an observation; I don't necessarily think it's something that has to be "resolved" in the story arc. I do feel like there should be greater public attention paid to what service members are doing, but at the same time, many of the people I know who are fighting do it so that those in civilian life don't have to be preoccupied with war; they don't have to live fearfully every day. My husband likes to quote John Adams: "I must study Politics and War that my sons may have liberty to study Mathematics and Philosophy."
3) When the Men Go Off to War is structured into three different sections: "Departure," "Absence" and "Homecoming." The titles feed into both the macro themes of the sections, and on a micro level, the connective tissue from poem to poem. Was this structure planned, or something that you decided on as you were compiling your various works into the collection?
I wrote this book initially without a structure in mind, because for a long time I really considered each poem individually, without thinking of one as an extension of another. Each poem draws on a single event, experience or emotion I have had as a pilot's spouse. It was only after the Naval Institute Press wanted to publish the collection that I realized there was an obvious story arc there that I hadn't drawn out. A lot is said out there in movies and literature about the difficulty of returning to civilian life after war, and the stress it can put on a marriage. A story that is less often told (and one I know to be common among military families) is how sometimes the anticipation of war and separation can be just as traumatic. Quite often, the greatest struggles happen before the deployment even begins.
4) Place and memory play such central roles in When the Men Go Off to War. A good example of this is the poem "Prayers of an American Wife" (one of my favorites, and also the title of your chapbook that preceded this collection) - "I would dream back that too-bright place." That idea of "dreaming back" was something I found a lot of in your poems, but in a way that suggested immediacy and activeness over longing for the past or simple nostalgia. How did you convey that dichotomy, and why was it important to do so?
I met my husband when I was still a teenager; our relationship has been full of great adventures, of growing up together. Nostalgia influences a lot of my work; I think the act of "looking back" at the past often turns something mundane into something beautiful. Everything is shinier in memory, and the luster of youth makes things magical. But I didn't want to write about things that had happened, especially pretty things; I thought it was important to write about the grittiness of the "now". Sometimes people forget that being in the military today can be very dangerous; many we have known have died too young. It is sobering. But connecting my current life to the past let me combine magic and realism. In "Prayers of an American Wife", for example, I look back on a time when I first felt truly alone--twenty years old, in a tiny village in Chile--and compare it with the loneliness of being at home during a deployment. Suddenly that little village on the other side of the world became enchanting, almost unreal.
5) What are some of the books and poetry collections that have most influenced you?
The hardest question of all! I tend to love certain authors' styles of writing and have a hard time picking singular works. Some of the (many) poets who have inspired me are: Dick Allen, Jehanne Dubrow, Jack Gilbert, Dorianne Laux, David Lehman, W.S. Merwin, Faith Shearin, Sharon Olds. Some of the (many) fiction writers who have inspired me are: Geraldine Brooks, Willa Cather, Jennifer Haigh, Maile Meloy, Keija Parssinen, James Salter, Elizabeth Strout, Richard Yates. And I have to add, with great sincerity, that the Book Club selections by Words After War are stunningly beautiful and intelligent; I had read almost all of the 2015 picks long before my book was selected.
6) You have a novel coming out in March from Atria Books (whoop, whoop!) called Mrs. Houdini - does your poetry inform your prose, or vice versa? Updike famously had separate writing rooms for his fiction and nonfiction writing - do you find different spaces and environments more helpful depending on the form you're working in?
I always considered myself a "fiction writer" and a "poetry reader" until my husband's deployment inspired me to write When the Men Go Off to War. I will say that this collection was written in great humility because when I began it, I never intended to publish it; it began as a kind of a literary exercise. Now, I feel blessed that I can consider myself both a novelist and poet. For me, physical space doesn't inspire different genres. It is really about the idea. Some ideas are more suited to poetry while I know others would make better novels, or short stories. I knew immediately when I started thinking about Bess Houdini that I had to write a novel about her search to communicate with her dead husband's spirit. But while When the Men Go Off to War also tells a story--of a marriage, tested by war, that ultimately finds redemption--I found it easier to write that story in verse form.
Words After War is a nonprofit literary organization with a mission to bring veterans and civilians together to examine war and conflict through the lens of literature.
Related
Popular in the Community