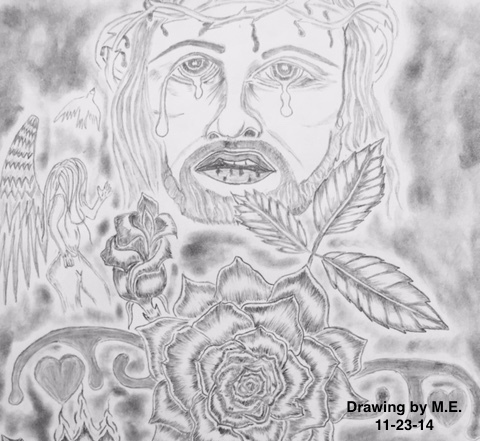 "Wake me up when I'm in heaven." These are the opening words of M.E.'s poem, which speaks to the challenges of prolonged immigration detention. M.E. is the second writer and artist in CIVIC's series of blog posts called "Words Beyond Walls." M.E. has been in immigration detention since June 23, 2013, and he is currently detained at the Worcester County Jail in Snow Hill, Maryland.
Men and women in U.S. immigration detention have limited access to therapeutic activities, such as writing and drawing. In fact, art supplies are difficult to obtain. Some commissaries offer colored pencils, but most artists use small pencils without erasers. With nothing more than a graphite pencil, M.E. draws emotionally charged religious images, such as the one pictured above of Jesus Christ. Despite his limitless imprisonment with little due process, M.E. remains full of hope that soon he will be freed and allowed to remain in the United States with his girlfriend, family, and friends.
Until the U.S. government releases him, M.E. finds joy in visits from family members and the DC Visitation Network, a volunteer-run visitation program that provides friendship and support through monthly visits to people detained at Worcester. M.E.'s artwork is what keeps him motivated between these visits, and his artwork is often accompanied by poetry and dreams of re-uniting with loved-ones on the outside. These are M.E.'s words beyond walls: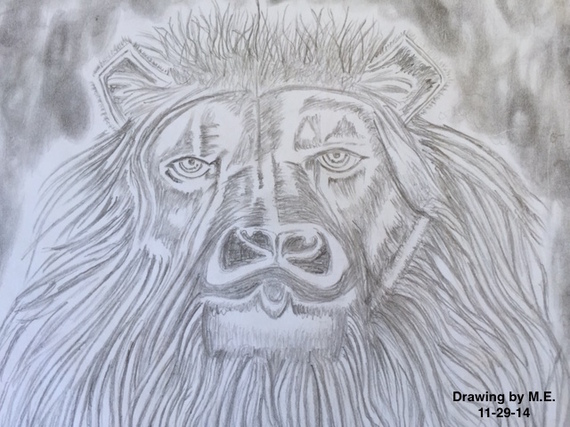 "Wake me up when I'm free in Heaven. I cannot deal with this life of prison: when I'm told I'm not allowed because of my race and color; where people think they can rule over others.
They rule with ignorance.
But my inner eye can see a race of people who live in poverty, working, sweating hard in fields to provide food for their family. Seeking a better life. Seeking for a better future.
Wake me up when I'm free in heaven. Where every man speaks beautifully. Where all races are equal. Where war is gone because it is peaceful.
But I awake from this dream. I see life as a prisoner. I see hate, jealously, foolishness, envy, harassment, hypocrisy, judgment, and poverty.
Wake me up when I'm free in Heaven, for I'd rather have wisdom and be poor than be rich and be a fool.
Wake me up when I'm free in Heaven.
-M.E., June 25, 2013, 2014, 2015, ICE"
This is the second in a series of posts called "Words Beyond Walls." To volunteer as a visitor in the Washington, D.C., area, check out the DC Visitation Network on Facebook! Check back in for more posts in this series in the coming months.
Related
Popular in the Community