Ulises H. is in U.S. immigration detention, but he and his family believe he is a U.S. citizen.
Currently, Ulises is detained at the Polk County Adult Detention Center, which was deemed one of the worst immigration detention facilities in 2012 by the Detention Watch Network. His mother, a dual citizen of the United States and Mexico, believes her son is a U.S. citizen unlawfully imprisoned in U.S. immigration detention.
The number of U.S. citizens held in U.S. immigration detention is unknown, but a 2011 study by U.C. Berkeley researches found that 1.6 percent of people (or 3,600 U.S. citizens!) apprehended by U.S. Immigration & Customs Enforcement (ICE) under the federal program Secure Communities were U.S. citizens. Secure Communities is being replaced by the alarming similar Priority Enforcement Program (or PEP-Comm for short), and ICE is continuing to unlawfully arrest and imprison U.S. citizens. Most recently, an 11-year old U.S. citizen was detained for over a month in New Mexico. Ulises' case is currently before the Fifth Circuit Court of Appeals.
To pass the time, Ulises enjoys transforming his thoughts about the meaning of existence into complex and symbolic drawings. Ulises is the fourth artist and writer in CIVIC's series of blog posts called "Words Beyond Walls." In this blog, Ulises describes his drawing, "Realize, Real Lies, Real Eyes." These are his words beyond walls: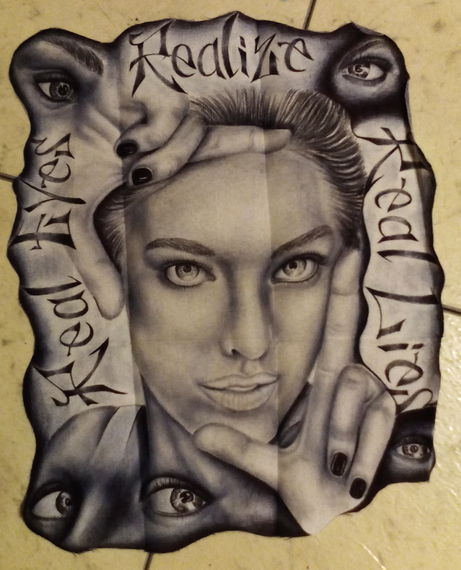 "I believe that there has to be a certain point in your life when you should be able to not only recognize when somebody is lying to you, but also be able to know when and if you are lying to yourself about who you are as a person. We must come to terms with ourselves--be the real person we were meant to be. Once you do that, your eyes will be able to recognize real lies.
We must also know that a lie doesn't necessarily have to be a verbal statement that comes from someone's mouth. It also can be an individual's personality, the way they carry themselves. Their behavior can make you ask, 'Is that really who they are?' The only way to know the answer to that question is to know who you are. At the end of the day, it will always be better to be hated for who you are, then loved for who you're not."
Special thanks to Hope Sanford and Sin Huellas, who visit, support, and advocate for the release of people detained at the Polk County Adult Detention Center and the Joe Corley Detention Facility in Texas. To learn more about immigration detention and how you can support people in detention, join CIVIC on Facebook and check back in for more posts in this series in the coming months.