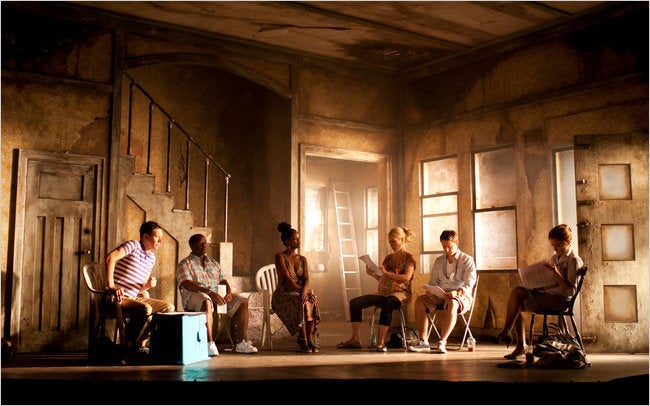 Each time I see a play by Mickle Maher, it reminds me of how much I love words. And it's pretty obvious that Maher -- an Evanston playwright, actor and member of Chicago's Theater Oobleck -- is in love with words, too. Maybe that isn't saying much. What writer doesn't love words? But Maher's one of those writers who lets his words dance -- to exhilarating, terrifying and startling effect. Each of his plays is a fresh reminder of how words can shape the way we see our world and our lives. And how fun words can be.
He's done it again with a clever new script, There is a Happiness That Morning Is, which Theater Oobleck is performing with playful abandon at the Chicago Department of Cultural Affairs' Storefront Theater, 66 E. Randolph. As always, the quirky Theater Oobleck is putting on the play as a team effort, without any director in charge. And as usual, Maher is drawing on earlier works of literature for his inspiration. Maher doesn't do literary adaptations so much as post-modern variations on his source material. He mashed the writings of Albert Camus together with a debate between George W. Bush and John Kerry in The Strangerer. He transformed The Hunchback of Notre Dame into a sequence of debates about music and sound in The Hunchback Variations. And he turned Faust into a stark (and funny) monologue, An Apology for the Course and Outcome of Certain Events Delivered by Doctor John Faustus on This His Final Evening. (All of these rank up there among my the best plays I've seen in Chicago in recent years.)
This time, Maher's jumping-off point is the poetry of William Blake. But the play is also about having sex in public. And college lectures. And it's in rhymed verse. (Well, a lot of it is, anyway.) In a note in the program, Maher says Blake's poems seem like little plays. "And, like the theater, because of the directness of their address, and their sometimes unpredictable meter and rhyme schemes, I always experience them as being composed or happening in the moment," Maher writes. Maher and the cast succeed in capturing that some feeling of spontaneity in There Is a Happiness That Morning Is.
Colm O'Reilly and Diana Slickman are wonderful as two college professors lecturing about Blake's poetry on the morning after they were caught copulating on the campus grounds. As O'Reilly's character, Bernard, goes off on flights of rapture about his love for Slickman's character, Ellen, he makes Blake's poetry and Maher's dialogue feel spontaneous and downright physical. There's a good deal of slapstick in his performance, starting with the hilarious way he writes with chalk on the blackboard in the play's opening moments.
Ellen has a more rueful take on this love affair, and Slickman plays the character as more prim and pent-up than Bernard. Clearly, they're heading for a relationship collision. That argument does arrive, but like everything in Maher's plays, it's far from predictable. Oh, and then there's another character, James, played by Kirk Anderson, who shows up -- well, saying anything more about that would spoil some of the more delightful surprises.
By the end of There is a Happiness That Morning Is, it feels like you've just sat through the strangest college lecture of your life. And words feel like living creatures.
Photo: Colm O'Reilly and Diana Slickman in Theater Oobleck's There Is a Happiness That Morning Is. Photo by John W. Sisson Jr.

Calling all HuffPost superfans!
Sign up for membership to become a founding member and help shape HuffPost's next chapter