How a musician from a small German town learned to stay one step ahead.
In recent years, even some of the most accomplished songwriters and producers have been singing a common refrain: the onset of streaming has made it increasingly difficult to earn a living. In the context of what many see as the end of the music industry as we know it, the example of Frankfurt-based multi-instrumentalist, composer, producer and mix engineer Marc Mozart provides an inspiring example of how it is possible to adapt to a changing business and thrive.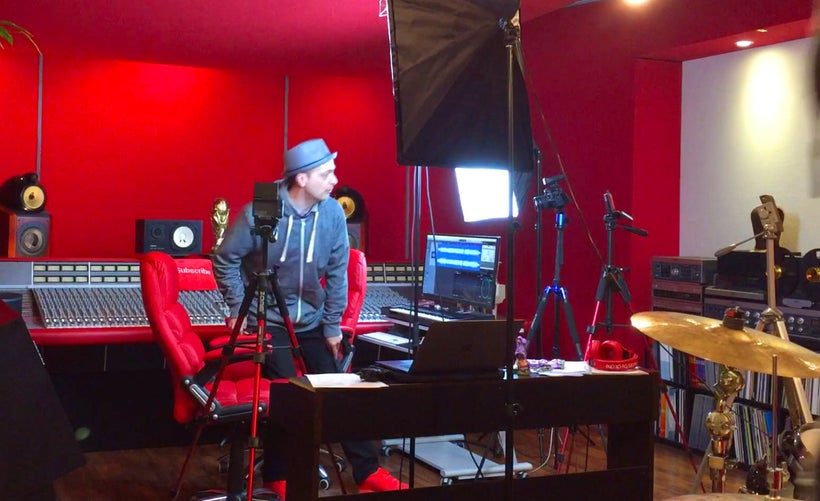 Mozart, who grew up in the small town of Giessen, about 30 miles outside Frankfurt, has been making music professionally since 1991. His father René Giessen is a composer and classical musician who played clarinet in an orchestra, and--random fact alert--is famous for playing classical repertoire on the harmonica. "I had piano lessons as a young kid, and my father gave me lessons in music theory but I was more interested in becoming a footballer," Mozart says. "But as a teenager I realized I could get girls with rock and roll, nothing special, the usual story I guess."
His father tried to talk Mozart out of pursuing music, in 1988 one of his father's friends, Siegfried Mai, a big-name composer and producer from former East Germany, visited and discovered that young Marc had a little studio in the basement. "He heard what I was doing, loved it and told my father. And my father completely changed his mind, 180 degrees, from 'forget about making music for a living,' to 'I always knew you had it.'"
By the age of 15, Mozart was spending every penny he had on music equipment. Prince was his hero, so Mozart learned to passably play every instrument. He set up a drum set in his bedroom, and taught himself the ins and outs of writing and recording. "This was in the era before computerized recording so I had to really learn to play. I took every job I could get arranging and recording stuff for people, but at one point I realized I needed to connect with some record labels. This was in the day when you could call up a secretary of some A&R guy on the phone and get a meeting."
In 1991, Mozart attended a Dave Stewart concert in Frankfurt, and was lucky enough to get invited up on stage and jam with him. Stuart even gave him a guitar. The concert happened to be broadcast live on German TV, and Mozart took advantage of the exposure and was able to set up meetings with key German record labels. Once he had his foot in the door, and was able to meet executives at labels, Mozart played them what he describes self-deprecatingly as his "sophisticated tasty fantastic music," and the rest, as they say, is history. Mozart never had a job other than making music.
"I was a bit lucky because Frankfurt was the birthplace of dance music and techno in Germany, and a commercial version of that—known as Eurodance—was arising." Mozart saw that trend happening, so he and his friends from school would go to a club called Dorian Gray at the Frankfurt Airport, which was the epicenter of electronic music in Germany at the time. Because Sony music had an office in Frankfurt, they were signing a lot of the emerging artists. The labels in Hamburg felt they were missing out on a "scene" and Mozart saw an opportunity.
"I got myself a job as a DJ at a local club because I knew if you want to successfully produce dance music you have to play it in a club, you have to see what makes people dance, that's how it works still to this day. So I started mixing beats with hooks, and my musical education came in handy because I could write melodies." Beginning in the early 1990s, Mozart began getting his Eurodance projects licensed with Polydor and Warner Music in Hamburg, but also with legendary Sony Music-label "Dance Pool" alongside their top-acts Culture Beat and Jam & Spoon, including East Beat Syndicate ("1000 Nights and One"), Jesse Lee Davis ("Like a flame"), Coco ("I had a dream") and Zed ("Groovy Little Thing").
"At that time you could make a couple hundred thousand dollars a year with "failures" in Eurodance music. Compilations would sell 250,000 and be considered a flop. Eurodance was such a hot thing that you could sell 100,000 singles on CDs a week. Think about that: normal people would go into a record store every week and buy a bunch of CD singles—spending about $7 dollars for one song."
Mozart rode the wave of this trend for several years. "Looking back I was a young dude and I was pretty lucky that I didn't have a huge hit that made me millions because I was really not business savvy. But it was enough money to sustain me. At the time, a lot of my friends thought it was a big achievement to get a deal with a major label in Germany, but the demand was so huge and supply in the early 90s was still relatively small. The stuff that Snap and Culture Beat did made their producers and writers millions of dollars (and the labels hundreds of millions…) because some of it went worldwide and even hit the US Billboard Top 20.
Of course, no musical trend lasts forever. In Germany, the entire scene broke down around 1998, when boy bands started to supplant the popularity of Eurodance. In America hip-hop was crossing over on MTV, and that influence was also felt in Germany.
After feeding the Eurodance market for years, Mozart found himself suddenly failing for the first time. "Around 1998, I suddenly realized that I couldn't go into the studio and do a 4 on the floor beat anymore—it was like, that's enough now. The Eurodance market suddenly collapsed."
For many producers and writers, that was a career-ending moment. But Mozart saw that Max Martin, who had also gotten his start in the Eurodance, was able to seamlessly evolve and find more success in new opportunities. For Mozart, this period marked the low point of his career. But he kept looking for new opportunities. In 1999, he heard about a tech company called Rocket Network who had the idea to connect recording software to the internet.
"Their idea was appealing to me. I wasn't new to the music tech and software field, as I had developed the concept of a music recording software called "Live" with a friend as a side project, and in 1991 sold all the rights to a company called "Soft Arts" in Berlin." The goal of Rocket Network, which had Microsoft co-founder Paul Allen as an investor, was to connect all recording studios around the world to create a big virtual recording party and jam session. Mozart went into partnership with Rocket Network, through which he met a professor of film music at NYU named Brane Zivkovic. Brane mentioned that his son was interning at Bad Boy. The son was Izzy Zivkovic--who now manages Kanye West.
"At the time I had no money," Mozart recalls, "but my dad always did a lot of classical music in Turkey, and the president of Turkey had his own orchestra and wanted a proper recording of his symphony. So I said, What if I get the president of Turkey to fly in this professor from NYU and we record the symphony? In one of the weirder footnotes of musical history, Mozart managed to arrange for the president of Turkey to fly an NYU professor from New York to Istanbul to record with him, and he happened to bring along his son.
"We got paid a lot and I gave all the money to Brane and Izzy, because I wanted to create a pathway forward for myself into New York." Mozart's generosity paid off a few months later when Izzy and Bad Boy A&R person John Eaton invited him to join a songwriting camp in New York (financed by British broadcast impressario Ashley Tabor of Global) to come up with songs for a British boy band. The camp was a total failure commercially, but Mozart got to spend a couple months in New York, and on some days, got to be a fly on the wall in Puffy's studio. "I wasn't a hip-hop guy but if you spend half a year in Manhattan around Puffys crew, you suddenly understand how hip-hop works. And that helped me a lot later on, because I went back to Germany and they were casting their second band for a show called Pop Stars."
"I knew I could do this pop meets hip-hop sound in a way that other German producers didn't know how to because I was a techno producer who had been through an internship with hip-hop in New York." Mozart didn't know it at the time, but this was another major turning point in music. Popstars was a precursor to Idol and The Voice, and in 2000 the show's first offering, a pop girlgroup called No Angels, was a huge surprise hit. They sold millions of albums and it was clear to Mozart this would be a trend for the next few years. His latest demo-reel got him the job, and he went on to produce for all of the biggest selling acts for the Popstars franchise, including Bro'Sis, Monrose and the No Angels.
This led to a string of successful releases in Germany including platinum-selling albums "Never forget (where you come from)" by Bro'Sis and "Temptation" by Monrose, both of which where topping the German charts. The Mozart-produced Bro'Sis-songs "Oh No" and "Peace of Soul" both went Top 10 on the German single-charts. And in 2009, Mozart landed a publishing deal with the German subsidiary of John de Mols TV giant Talpa, that enabled him to sign his own stable of writers.
"I got really lucky because I had learned to figure out the business side of things, I had my own company and we figured out how to navigate the contract side of the music business. The truth is, in retrospect, nobody should have invested in songwriters in 2009 because by then streaming was on the horizon."
The publishing money allowed Mozart to sign and manage a team of songwriters. But times were changing again, and while Mozart and his team worked hard and managed to secure some song placements, they never had a huge mega hit. "I think it was clear to everybody involved, the writers, the people who funded it, that this whole thing wasn't going to end well—once you get your statements in you see that a huge number 1 hit in Japan doesn't pay back the investments necessary to develop songwriters."
In 2012, Mozart became friends with American songwriter and industry veteran Jack Ponti, who educated Mozart about what was going on behind the scenes in the music industry--secret contracts were being signed between streaming companies and the major labels which would effectively undermine the financial role of songwriters and music creators. "Jack opened my eyes and I realized I needed to completely re learn everything. While I was always good at smelling opportunity I wasn't completely stupid about continuing on a path that wasn't working. One of the things I learned to hate over the years was having major labels as a middle-man between me and whatever was happening. So I started to search for a solution."
Over the years, while Mozart had primarily been a songwriter and producer, he had also been responsible for completing finished recordings of songs and delivering them to labels. "I had been a mix engineer for many years without knowing it," he says. "Because in Germany there wasn't any difference between producer and mixer. Especially in the dance world, the producer would mix the record. So I kind of specialized in mixing, as I worked in all these genres from being influenced by Prince to making electronic dance music to learning about hip-hop--I realized I could improve the sound of anything any one would give me."
Over the last few years, Mozart has stayed busy, mastering and remixing compilations for artists like DMX, Bob Marley, and Sly Stone. In 2014, Mozart's career took yet another twist, when he wrote the book "Your Mix Sucks," a self help book that would enable any musician and songwriter to improve the sonic quality of their music. The book is entirely self-published and has gone on to sell ten-thousand plus copies.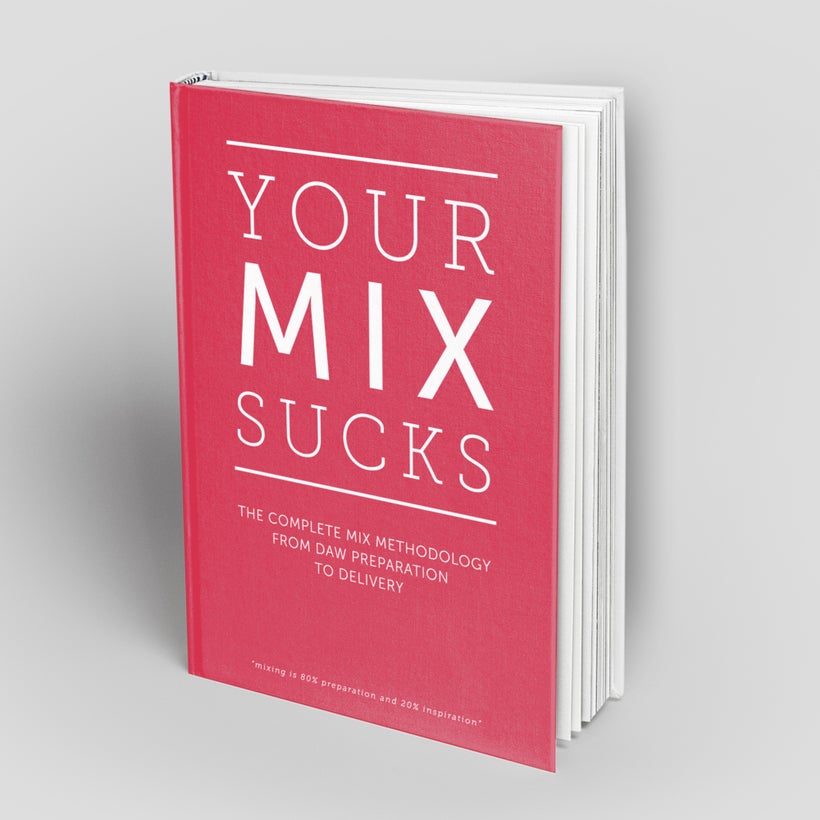 "All my songwriter friends would say, your mixes sound great, what are you doing differently? I would often hear people say, Yo, my mixes suck! I had developed my own methodology over the years for how to systematically approach the path to a great mix. What I told my friends would eventually become the book: "YOUR MIX SUCKS!". People beat me up on social media in the beginning but anyone who has read it says it works for them. People email me every day and say, this works!"
The next step in his ongoing evolution was for Mozart was to plant his flag in the social media landscape. He started posting articles and created a blog and website (mixedbymarcmozart.com). The site included a small pre order link for the book, and soon pre order sales starting picking up.
"I'm marketing the same proven knowledge as before, it's just more accessible if you look at this simple formula: instead of mixing 50 songs for major labels paying $2000 each, I am now helping 2000 people to improve the sonics of their music by paying $50 for a book. The financial result based on that is exactly the same. And people come back for a lot more - individual coaching, software products, collaborations of all sorts, I interact with more people than ever."
Under the brand "Mixed by Marc Mozart." he is now operating from what looks like a museum of recording history. "I use recording technology from all decades. 1950s tube compressors, 1970 tape machines, a massive 1980s Solid State Logic 4000G mixing console, all of the current computer recording software, a collection of old and new kitchen radios, and even a pair of 22.000 US$ speakers that have tweeters made from diamond dust."
Mozart's marketing and branding efforts are following social media guru Gary Vaynerchuk's gameplan. "Basically, the idea is to give people a lot of value for free. And pretty soon, I stopped pitching the book, and instead I do a lot of free consulting, mastering and mixing on Facebook Live, Instagram, YouTube, Snapchat, Musically and make a great living from the attention I get on there. Because surprisingly people want to pay me for what I am doing. It was a complete no-go to work for free or work for spec in this field. Everyone says it is the devil. But I have a feeling for where opportunity is, and now I am building a brand."
These days, Mozart is busy selling his book, selected recording plugins and software that he endorses, and when he isn't mixing and mastering records for money, he is on social media as much as possible. It's paying off. His Facebook page is now at 65,000, he's also very active on Instagram, Snapchat and Musical.ly. When he does a mix, he keeps his iPhone broadcasting on Facebook live. "While I work, I get messages and comments and enter a lot of one on one conversations. As Gary V. says, 'If you're not producing written word, recording audio or video, and publishing on the 5 to 7 apps that people pay all of their attention to on their phones, all day, you will be dead in 5 years. You don't even exist.' Because the people who crush it on these channels, will take all of your business."
For an ever-evolving musician, producer, publisher, and now blogger, vlogger, and author like Mozart, one thing is certain—whatever the future holds, he will not only survive but find a new way to thrive.
Because technology changes, and the song doesn't remain the same.
Calling all HuffPost superfans!
Sign up for membership to become a founding member and help shape HuffPost's next chapter
This post was published on the now-closed HuffPost Contributor platform. Contributors control their own work and posted freely to our site. If you need to flag this entry as abusive,
send us an email
.