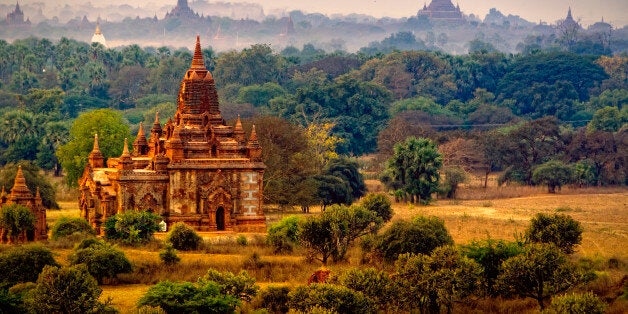 A public official giving an interview in which he calls members of an entire religion less than citizens of his country. And a celebrated and overwhelmingly elected champion of the people remains silent as many of those people are persecuted. The circumstances sound like Nazi Germany but they describe today's Burma.
Newly appointed Minister of Religious Affairs, a former military general, Aung Ko, told Voice of America that while Buddhists are "full citizens" of Burma, Muslims and other minorities count only as "associate citizens". This statement implies that Muslims are foreigners who do not deserve the full rights accorded citizens of Burma, or even that they are sub-human.
The Minister of Religious Affairs then followed up with a visit to U Wirathu, the firebrand extremist leader of Ma Ba Tha, the leading extremist group that is blacklisted in a 2015 US budget bill. The minister offered the extremist monk a cash donation while bowing to him. The newly elected government will be better off asking this minister of "religion" to resign.
Sadly, the new minister is following the old "solution" as offered by the former President of Burma who officially asked the United Nations to resettle all Rohingya Muslims in a third country. Rohingya are indigenous people living in their ancestral land who have always been citizens, and have always voted and elected their representatives in Burma until the racist and Islamophobic policies of the military regime took away their citizenship.
Hundreds of thousands of Rohingya have fled to neighboring countries after their homes were burned down and thousands of them were killed. Almost 125,000 are living in what the New York Times describes as the 21st-Century Concentration Camps.
Pres. Obama and others have called for Rohingya citizenship to be restored. And as chair of Burma Task Force USA, I co-chaired a conference at the Nobel Peace Institute last year when seven Nobel peace laureates joined hands in calling the persecution of Rohingya "a textbook case of genocide".
This statement of the "religious" minister comes up with a fictional category of "associate" citizenship & officially expands the state-sanctioned Islamophobia beyond the Rohingya population to other Muslims in Burma.
While Rohingya Muslims have been the main target of hate and bigotry, the rest of the Burmese Muslims have also suffered heavy discrimination and some attacks. Burmese Muslims believe they number about six million; almost half of them are Rohingya and the rest are Chinese-speaking Muslims on the border of China, Muslims of Indian heritage and even Muslims who are ethnically Burman, the majority race of Burma. Since in the recent Burmese census the government refused to follow the UN guidelines, there's no authentic way of assessing the real numbers of ethnic groups.
Furthermore, there are about 10 ethnic groups, mainly Christians, who have been fighting with arms for their rights in Burma, where ethnic groups constitute almost 30% of the population. The only minorities which aren't involved in an armed struggle are Rohingya and other Muslim minorities.
Instead of rewarding their peaceful struggle for freedom, the Burmese government is persecuting them the most. What type of message are they giving to Muslims of Burma? Unfortunately Norway, which chairs the peace process of Burma, has all the armed groups of Burma around the table minus the Rohingya and other peaceful minorities. That is simply shameful. We must negotiate with and reward those who are using peaceful means for their freedom instead of pushing them towards the terrible armed conflict which other Burmese ethnic groups were forced to opt for.
This is dire news, but something can and must be done to reverse the situation. For the new government of Burma to prove itself moving towards freedom and equal rights for all Burmese, under the leadership of the Nobel Peace Laureate Aung San Suu Kyi, it is critical to set the right tone in the first hundred days of the new government.
A necessary start will be a strong condemnation by Aung San Suu Kyi of the statement Mr. Ko has given. If she does this swiftly, indicating that the National League for Democracy in no way shares the anti-Muslim bigotry of Mr. Ko, and that measures will be taken to stop Mr. Ko from promulgating that sentiment or turning it into policy, that will truly signify that Burma is changing. Her silence, on the other hand, might be negatively interpreted in the light of recent revelations that she complained about being interviewed by a Muslim correspondent of the BBC.
The transformative process from military dictatorship to pluralistic democracy must continue unabated - with equal benefits to all people, all considered full citizens. Full citizenship for non-Rohingya Muslims is enshrined in Burma's Constitution, which states that Islam is a recognized religion of Burma. It further states, "The Union may assist and protect the religions it recognizes to its utmost." The Constitution makes no reference to these "associate citizens" and such rhetoric should be immediately abandoned. Rather, the government of Burma should take steps to protect these suffering minorities and maintain their integration with the rest of Burmese society. Burmese Muslims must remain full citizens as the new government restores Rohingya's citizenship as well.
This is the time for Burma to be open to all Burmese.
Popular in the Community