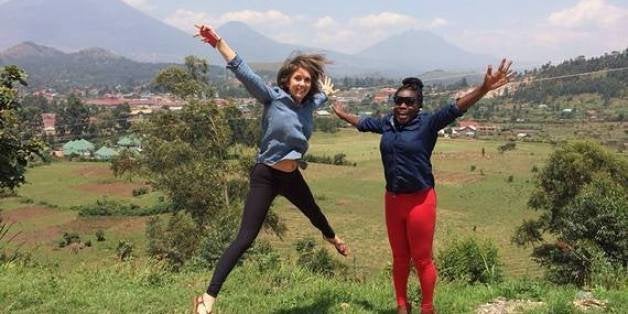 Theresa Conroy was a reporter for 26 years when she quit her job to become a yoga therapist and open Yoga On The Ridge. She was a crime reporter for the Daily News in Philadelphia and dealt with some of the most horrifying cases the city had to offer. "I would literally leave death penalty verdicts, rush to my yoga teacher training and plop on the meditation cushion before even having a chance to blow the stink of the courthouse off my skin," Theresa told me in a recent chat.
This chat was one of many I've had over the last two weeks as I prepared for my upcoming course Rock Your Purpose. It started with a few Facebook posts. I wanted to hear from people who left their jobs to follow a new path, a bigger vision or a dream that had been eluding them. And the response blew me away. Turns out there are lots of people with the courage, the drive and the skill to make the shift. And to inspire those of you on a similar journey, I am sharing pieces of their stories and the wisdom that came when each one took the risk to change their life.
Wisdom Gem #1: It's ok to be scared.
The shifts Theresa made terrified her. "I felt like there were dead bodies hanging on my body," she remembered. The emotional ghosts of what Theresa experienced witnessing death penalty verdicts and listening to stories of murder were still digging their claws into her heart. Theresa's shift was a drastic one and it wasn't easy. Despite the horror, she adored her journalism career, but the faces she saw when she took people out of savasana were the exact opposite of those she saw in courtrooms. While it was hard for her to step out of "that place of death and harshness" she did it and she never looked back.
Wisdom Gem #2: Start following your curiosity.
For Eileen Flannigan, who left a 20-year career in marketing and development to start Girls on Fire Leaders, a nonprofit that empowers the most vulnerable girls in the slums of Kenya by transforming them into community leaders, curiosity was key. At 40 years old she was exhausted and in an ongoing rut at work because her talents were not center stage. But it was curiosity that led her to India with the intention of growing her inner GPS. There she started engaging with street kids, many of which were sold into prostitution at a young age.

Eileen's connection with these children over seven weeks paved the way for the transformation that nipped at her heels. "I realized I was able to be with them in a really honoring way. In that moment it was a big discovery." Eileen remained curious, which eventually opened the doors to opportunities that led her right where she needed to be.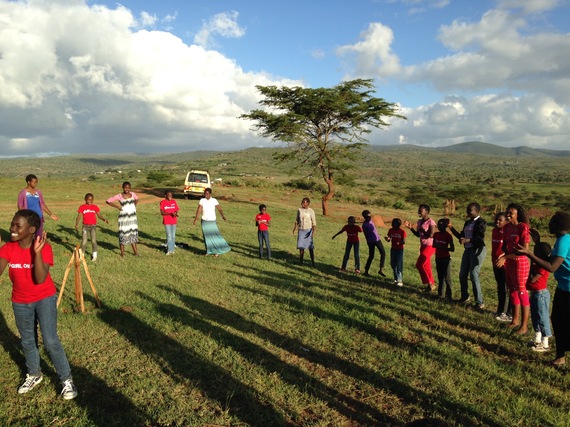 Photo Credit: Girls on Fire
Wisdom Gem #3: Take one small step today.
Communications consultant Jessica Lawlor is all about the plan and remembering- "a whole lot of little steps make up the big ones." She recently left a six-year career in public relations to focus on her blog Get Gutsy, teach yoga and build her private consulting business.
Jessica started by writing just one blog post, which turned into a successful blog and has grown into a full-blown business. Now she's documenting her every step because she feels it's important to be real about the process. "People often think it's sexy to quit your job, but I want them to really see what it's like to quit your job and start your own business."
Wisdom Gem #4: Listen to the signs telling you to make a change.
Jennifer Kreatsoulas's body screamed at her until she was forced to listen. A year after the birth of her second daughter, she was hospitalized for a relapse with an eating disorder she battled with when she was 18. "Part of my journey since the relapse has been bringing things into my life that support my recovery," Jennifer explained.
In February Jennifer left her eight-year career in medical writing to focus her full-time efforts on Chime, a business offering various yoga and wellness services where she can use the "best parts of herself."
Jennifer's life came full-circle when she was hired to teach yoga at an eating disorder treatment center and started a program to help individuals with eating disorders navigate the daily challenges of recovery with yoga. "I felt like my entire life clicked into place," Jennifer told me. "I've found my voice. I have something to offer. My feet are really on the ground."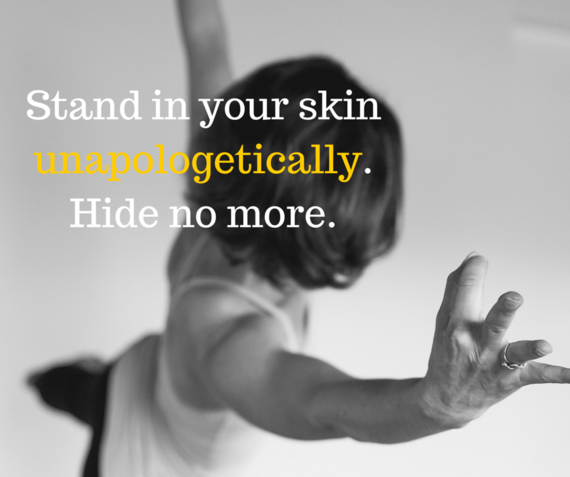 Wisdom Gem #5: Stop thinking and start doing. Be in action.
Gina Ward is familiar with taking action. As an overachieving academic researcher whose list of accomplishments fed an aching desire for her to feel important and needed, Gina used her career to distract from the tumultuous hardships life seemed to pummel upon her. Her parents divorced when she was 13, her mother died when she was 19 and in 2014, after the deaths of all four grandparents, Gina's father committed suicide.
Two weeks later, Gina signed up for her second yoga teacher training as a way to continue to flee from her problems. But something changed. In the safety of her new yoga community, she finally opened up to receiving and in that process it helped her to let go and grieve.
"I was holding onto so much anger. Then everyone left and I had to let the anger go." Before she even completed her yoga teacher training Gina was making plans to leave her 6-figure job to open her own studio, Moonshine Power Yoga.
Wisdom Gem #6: Put Yourself in the Process to Discover
Creativity and serving others has always been a theme in Wendy Sheridan's life. So when she started an interior design business with her best friend over 12 years ago she was fulfilled in many ways. "It was so much fun until it wasn't," Wendy recalls. She began to navigate the process of letting go of the business while honoring her friendship. She received training in many spiritual practices and realized she wanted to help people connect with their soul level truth. At this point she didn't have a clear plan but she jumped anyway.

Last March, Wendy launched Akaskic Mandala marrying two powerful forms of self-discovery, Akashic readings with the creation of mandalas to help her clients discover their soul's blueprint. Her friendship survived and despite the personal challenges that have tumbled upon her in the past year, Wendy is committed to her path of discovery and helping her clients connect to their own truth.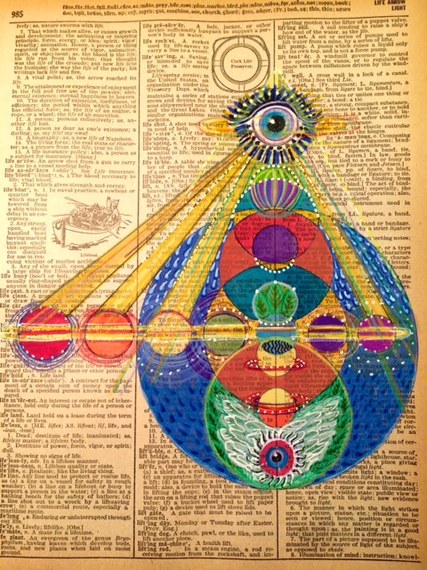 Picture of Wendy's Akashic Mandala artwork.
Wisdom Gem #7: Make the appropriate shifts and have a financial cushion.
Jacque Maldonado's advice is very practical despite the fact that her business is anything but. Last February, Jacque left her corporate managerial position, where 500 emails flooded her inbox daily and in November opened The Prana House, an organic new age apothecary. This wasn't something she simply jumped into. As a single mother Jacque had to consider more than just her own future, so she started planning and making the appropriate shifts both financially and emotionally.
Still Jacque took a big risk, inspired by her mother's courage to take a leap and pursue something she loved. "I was reminded of my mother's journey from Guatemala to America and how she took such deep risks. I thought how could I not follow in her footsteps."
Wisdom Gem # 8: Seek the support of mentors or professional coaches.
Melanie Fitzpatrick sought out a life coach to help her wade through the murky waters of low-grade depression she experienced after her 28-year career in corporate sales was radically affected by the market crash in 2008. Working with a coach helped her to understand she had lost her "mojo" and was still holding on to the regret of missing the opportunity of opening a boutique in her mid-40s.
In March of 2014 Melanie retired from her job to begin her "mid-life reinvention" and created a platform dedicated to helping women live from their authentic, true selves. In 2015 she launched Live Your Truth, where she specializes in working with women navigating mid-life transitions and her podcast Live Your Truth Radio.
Wisdom Gem #9: Ask for and accept help.
Moira Lethbridge attributes the strength she gained to leave a 20-year career as CEO of a 35 million dollar business to the two women she calls her "angel tribe." With their love and guidance Moira was able to remember who she was -- a person she hadn't seen since she was 13.
Moira had lost her identity and realized she had to take off the "CEO armor." It was her angel tribe that helped her to strip away the remnants of a career that while fulfilling for a long time, no longer fed her. Four years ago Moira left her job to start a coaching business dedicated to "putting the light back in women's eyes." And even though Moira has never had more uncertainly in her life, she has never felt better.
Wisdom Gem #10: Constantly question whether your decisions are being made from a place of love or a place of fear.
When Taylor Hendricks returned home in 2014 from a world-rocking service trek in Nicaragua she was completely resolved to leave her current position with a nonprofit organization working on US health policy to find work in the global health/development field. She created a "budget for freedom," started saving money and searching for an organization she could volunteer with. But one massive fear held her back. She was afraid to leave her relationship of five years.
But it's funny what happens when you put yourself on the path of your soul. Shortly after she put this plan into action, her relationship dissolved in an unexpected and incredibly painful way. As heart wrenching as the experience was, she knows it was exactly what she needed. "I remember looking up into the sky the very day that happened and saying thank you to the universe -- even through my uncontrollable tears I knew this was the universe conspiring for the highest good, basically forcing me to make the changes that had been stalling in my life."
In the summer of 2015 Taylor left for Uganda and is currently serving one year as a Global Heath Corps fellow with Save the Mothers in Uganda and her life is forever changed because she followed her heart and let go of her fear.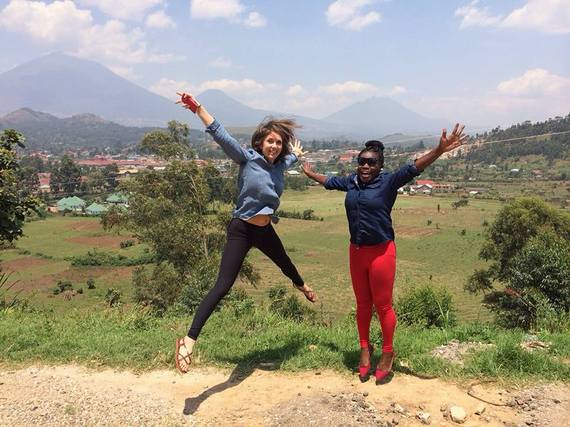 Inspired to make your own powerful life changes? I'd love to help. Check out my upcoming online course Rock Your Purpose to find out more.
Related