Conviction. Optimism. Passion for results. Innovation.
All words that describe the entrepreneurial spirit -- all apt descriptions of what drove the 18 women who graduated Monday night in New York from the 10,000 Small Businesses program, sponsored by Goldman Sachs and the Tory Burch Foundation.
It was on the faces of the graduates, their friends and families, and others who were at the event to celebrate their success. I left grinning ear-to-ear, sharing in the victories of all of these courageous women, and in particular those I have come to know as Accion clients. All had inspiring comments to offer, each walked across the stage with that diploma, manifesting their new confidence and renewed determination to grow their businesses.
It was a sight to see -- women business owners demonstrating that we are good investments, not just good deeds; as small businesses owners we drive the economy, bring about innovation, and execute; and that the American dream is alive in the hands of enterprising women of all ages.
One of the graduates of the Goldman Sachs' 10,000 Small Businesses Program was fashion designer and Accion client Sandra Nieto. Sandra Nieto moved to the United States from Colombia with the dream of running her own business. At first, Sandra took on whatever jobs she could find: babysitter, maid, and beauty salon assistant. In the back of her mind, she knew what she really wanted to do was design clothing.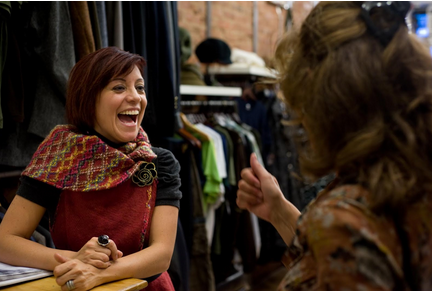 Sandra began devoting all her free time to designing, cutting, and sewing her clothes. With no advice and no money to hire help, she traveled with her handmade work to trade shows, where she had some success. Her challenge was not having enough capital to continue to design.
Sandra received a microloan from Accion to rent space and host two fashion shows. With her new earnings, she continued to gradually build and expand her business. Sandra, like many other business owners, have the drive and desire, but often times lack the capital and formal business education -- barriers to growth and success.
Programs such as 10,000 Small Businesses along with access to capital help to decrease those barriers. According to an outcomes study we recently published, we found that microloans not only contribute to increases in small business owner take-home pay and business revenue, but also allow small businesses to expand and contribute to the local economy.
Sandra's microloan allowed her to do both. And now, with the business education she obtained through the 10,000 Small Businesses Program program, she has the tools she needs to create a powerful business and contribute to sustainable economic growth.
Congratulations to Sandra and her entire graduating class! I am proud that Accion played some role in these remarkable stories and that we have been able to partner with such wonderful organizations to create the access to opportunity that helps these businesses soar.
Calling all HuffPost superfans!
Sign up for membership to become a founding member and help shape HuffPost's next chapter