Ever since Pussy Riot's anti-Putin performance in a Russian cathedral, the activist band has drawn worldwide attention. But with an absence of protest art in Russia, journalist Masha Gessen wondered how exactly they got started.
She decided to find out, and she shares the story in her new book, "Words Will Break Cement: The Passion of Pussy Riot." But Gessen faced a dilemma: Pussy Riot members Nadya Tolokonnikova and Maria Alyokhina were in prison. She joined HuffPost Live to share her "very bizarre" experience corresponding with the imprisoned women.
Gessen's book explores the roots of the founding members of Pussy Riot and outlines their evolution into an activist band that has had and continues to have a tremendous global influence.
"One of the things I was trying to figure out was where people like this come from because protest art is fairly unfamiliar to Russians. Protest art that's seen in the punk tradition and the radical feminist group tradition is completely foreign to Russia," Gessen said.
Gessen told host Marc Lamont Hill how she navigated interviewing Tolokonnikova while she was in prison.
"I had the right to correspond with her through this email system, and I basically gave her writing assignments. That's how it worked. I could pay for her to respond to me, and I had to pay for a certain number of pages. So I would ask her questions and then I would ask for five pages, basically a five-page essay on this particular issue," she said.
Gessen used a similar approach for contact with Alyokhina.
"Same with Maria, but I corresponded a little bit less," she said. "What I was able to do with her -- she actually gave me access very generously to letters she had written from prison to friends and family. So they were much more open and incredibly frank. I included some in the entirety in the book because I think that they speak volumes."
Learn more about Masha Gessen's new book "Words Will Break Cement: The Passion of Pussy Riot," in the full HuffPost Live segment below.
Related
Before You Go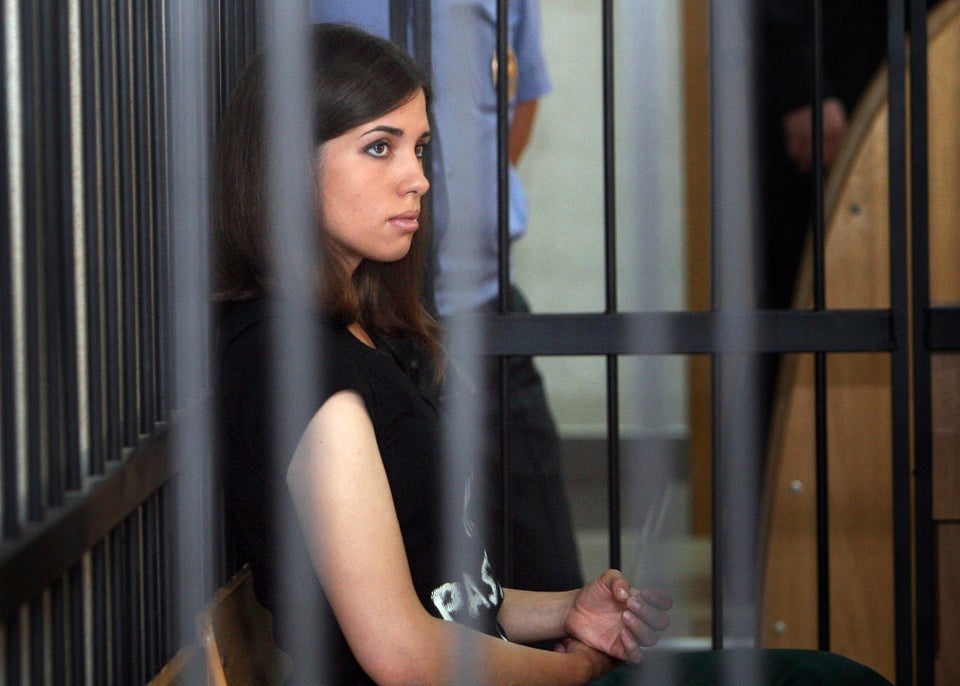 Pussy Riot
Popular in the Community