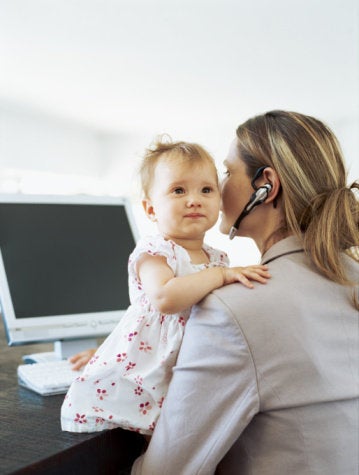 Being a working mom is no longer an anomaly. The US Census reports that 61% of mothers with young children work full or part-time. I'm one of them and I will be the first to admit that my life is hectic. I feel like I never sit down. When I'm awake, I'm either focused on work or focused on my family. With the bits of time that remain I try to keep the laundry basket from overflowing and the refrigerator from being empty. I've given up on most everything else.
Like most people, I work from everywhere -- the office, home, my (parked) car, the airport, the local coffee shop. Work is where I am, not a place that I go. That is true of most people. In fact, in surveys we at DEGW have conducted over the several years, we've found that people report spending at least 20% of their time working outside of the office. The vast majority (men and women) say they'd like to work from home 1-2 days a week. Many organizations consider this a perk or a privilege, but for many of us -- and for working parents in particular -- I would argue that it is a necessity. Sometimes I feel that the only time I have to sit down and concentrate is early in the morning before the rest of the house is awake, late at night after my son has gone to bed, or on the rare meeting-free day that I decide it is not absolutely necessary to go into the office.
Whether you work from home on occasion, once a week or full-time, doing so successfully is not as simple as just being there. Herewith, five tips for the working parent who wants to make working from home work:
First and most importantly, remember that working from home is not a childcare solution. Caring for children (especially young ones) is a full-time job itself so if you have another full-time job, you should not expect to be able to do both. While working from home does provide more flexibility and can seriously reduce the time you spend commuting, working exclusively during nap time and after bedtime really isn't sustainable -- personally or professionally. Find an appropriate in-home or nearby childcare solution that works for your job and your family. This will enable you to focus on work when you need to and give your family your undivided attention the rest of the time.
Second: Establish a dedicated workspace. Sure, we all work from the kitchen counter, the dining room table, (bed?) on occasion, but if you're working from home full or part-time, it is best to have a space dedicated to that. No, you don't need to go out and buy a house with a home office, but you should have some sort of desk space, (and if you are working from home more than 2 days a week, an ergonomic chair). This space should be in a place where you can concentrate -- whether for focused work or phone calls -- and should not be in the middle of your living room or another place where your child(ren) are apt to want to be during the course of the day if they are also at home. Full disclosure: I don't currently have this kind of space in my house and as a result, I don't often work from home. (See the last point for alternatives.)
Third: Set boundaries -- about when you work and when you don't -- and keep them.
One of the advantages of working from home is the flexibility that comes with it. Even so, it is best to establish a general routine, just as you would in the office. One of the greatest challenges of working from home can be knowing when to stop working. (It is okay to stop working.) As a result, it is best to define when work "begins" and "ends." This will give you, your colleagues and your family structure to the day and ensure that you have enough time to dedicate to both work and "play."
Fourth: Remember to that frequent communication with your manager and your colleagues is critical.
The benefits of frequent communication should not underestimated. It is easy to get into a groove and forget to check-in, but this is an important aspect of working remotely. (Some managers are better at managing by results than others.) Be proactive about communicating what you're working on, asking for feedback and engaging in team discussions. And please don't reply exclusively on email and IM. Sometimes, by picking up the phone you can work out an issue or answer a question in a fraction of the time it would take via email. Using a variety of communication methods (including spending some time in the office every now and then) also ensures that you keep relationships current -- which is critical to being a successful remote worker.
Lastly: Know the "third places" in your neighborhood -- and get out of the house!
We all need a change of scenery now and then. Chances are there are any number of great "third places" where you can get work done so make a conscious effort to get out and work someplace else now and then. Your local library or coffee shop will likely have free wireless and space for you to spend a couple of hours. (I'm currently sitting in a coffee shop 2 blocks from my office because I know it is a place I can spend an hour or two free from distraction.) Or, if you are in need of short-term office space (or a meeting room) for a few hours try a nearby coworking space. (Check out LiquidSpace.com or Loosecubes.com to find something near you.)
Separation of work and life is futile. Working from home can be a game-changer -- enabling you to both spend more time with your family and more time "at work." (Respondents to our surveys report feeling more productive working from home; have more time to work have higher job satisfaction due to a greater sense of autonomy and report that they give more time they save from commuting back to their companies.) In order to manage personal and professional commitments however, you do need to be proactive in your approach. Don't use working from home as a crutch, use it as a tool.
Georgia Collins is the managing director of DEGW North America, an AECOM company.