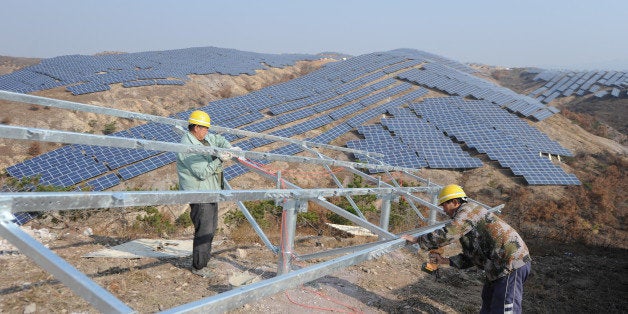 2015 has been a remarkable year for development, with new agendas agreed on financing for development, reducing disaster risk, and the Sustainable Development Goals (SDGs).
Agendas and goals, however, are one thing; implementing them is another. Much will depend on whether the world can provide the decent jobs and livelihoods for all which would underpin further human and sustainable development.
Full and productive employment and decent work for all is a central plank of the SDGs, including Goal 8's explicit emphasis on work: "Promote sustained, inclusive and sustainable economic growth, full and productive employment, and decent work for all".
Tackling climate change, for example, will require structural changes in every economy. New work will be created. Some jobs will change, or disappear altogether. Climate goals will not be achieved without this shift - and nor will sustainable development in general.
But just as work will be one of the means by which we tackle these challenges, impacts on people's wellbeing must also be mitigated. Concerns over jobs, in every country, offer a powerful - if sometimes short-sighted - counter weight to global action in many areas. Thus, this year's global Human Development Report, focusing on work for human development, launched this week by UNDP, could not have come at a better time. For this is a time of major change in the world of work. Economic and social shifts are having profound impacts on when, how, and where people work - creating new opportunities, but also new risks.
Consider the dramatic demographic changes happening around the globe. Populations of older people are growing rapidly worldwide. By 2050, for the first time in history, people older than sixty will be equal in number to those younger than fifteen. Societies worldwide are rethinking the roles which older people play in the workforce, and reconsidering the age of retirement. Meanwhile unemployment haunts more than 200 million people. Young people are particularly affected: they are almost three times more likely than adults to be out of work. How can we better prepare young people to be part of the 21st Century workforce?
Globalisation and the digital revolution continue to gather speed. There are now around as many mobile phone subscriptions - seven billion - worldwide as there are people. That has dramatic impacts on the world of work, as it does for all aspects of economies and societies.
To understand the impact of development fully, one needs to look at how it is affecting people's lives. That simple idea has been at the heart of every human development report in the past 25 years. Changes in the world of work have major implications for people's lives - which is why this new report is so timely.
Work helps people escape poverty. It can also help forge stronger communities, develop skills, and give people a sense of purpose. Work is much more than a pay check: it is a foundation for both the richness of economies and the richness of human lives. Although people overall are healthier and better educated, and a much smaller proportion is living in extreme poverty than ever before, major inequities and challenges continue to create barriers to work force entry.
Consider women, who, worldwide, face many disadvantages in the world of work. Women are far more likely than men to do unpaid work. And when they do paid work, overall they are paid less. Three out of every four hours of unpaid work are done by women. Compare that to men, who do two of every three hours of paid work. Pressures on women will increase as countries age, because it is women who still do most of the care work.
Yet not only do women end up doing more unpaid work than men; when they get paid, they are paid less. Women earn an average of 24 per cent less than their male colleagues worldwide, and hold only a little more than a fifth of senior business leadership positions worldwide.
Societies urgently need new policies, institutional reforms, and more equitable access to care services. Equal pay; decent parental leave; and tackling the harassment and social norms which exclude so many women from paid work are all vital.
The digital revolution and deepening globalization have brought greater workforce flexibility and new working patterns for some people, but they have also heightened insecurity and vulnerability for many. There are more opportunities for highly skilled workers and those with access to technology and the internet. Digital technologies connect producers to consumers in global marketplaces, improving access to goods, services, finance, technology and ideas. Those with skills in demand in the digital global economy can command salaries set in global labour markets.
But these same changes bring risks for others, including those without access to the internet. Many routine jobs, such as clerical work, will continue to disappear. Globalisation also means that jobs will continue to move abroad.
Work provides the means to tackle poverty, empower minorities by being inclusive, and protect our environment - if jobs are green in a green economy. The challenge is to design policy responses to the changing world of work which will ensure that human development benefits from that change.
REAL LIFE. REAL NEWS. REAL VOICES.
Help us tell more of the stories that matter from voices that too often remain unheard.